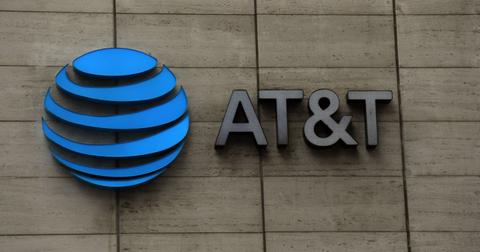 What to Watch for in AT&T's Q3 Earnings
By Ambrish Shah

Updated
AT&T is scheduled to release its third-quarter earnings report on Oct. 22 before the markets open. Let's look at analysts' consensus expectations for AT&T in the third quarter.
Article continues below advertisement
When is AT&T's earnings date?
AT&T will likely report its third-quarter financial results on Oct. 22 during the pre-market trading session. The wireless service provider has scheduled an earnings conference call on the same day at 8:30 a.m. ET.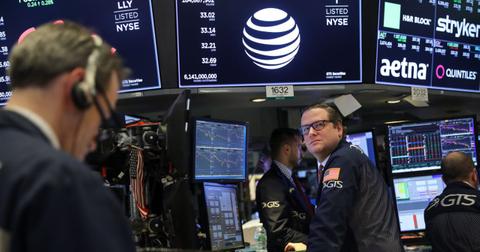 Article continues below advertisement
In the third quarter, Wall Street analysts expect AT&T to post sales of $41.61 billion, which would be 6.7 percent lower than $44.59 billion in sales in the third quarter of 2019. Analysts also expect AT&T to post an adjusted EPS of $0.76 in the third quarter compared to $0.94 in the same quarter a year ago. In the second quarter, AT&T reported an adjusted EPS of $0.83 and sales of $40.95 billion.
AT&T is expected to report video customer losses in the third quarter due to competition from over-the-top services like Netflix and Amazon Prime. Investors should watch for management's commentary on 5G.
What is AT&T's stock price?
AT&T stock trades on the NYSE under the ticker symbol "T." The stock was up about 0.3 percent at $26.97 in pre-market trading on Oct. 22 as of 7:53 a.m. ET. The stock fell 1.7 percent on Oct. 19 and closed at $26.88 with a market capitalization of $191.5 billion.
AT&T stock has fallen by 3.1 percent in the last five days and 29.6 percent in the last year. The stock is trading 32.3 percent below its 52-week high of $39.70 and 3.1 percent above its 52-week low of $26.08.
Article continues below advertisement
What is AT&T's dividend yield?
As of Oct. 19, AT&T's dividend yield stands at 7.74 percent. Currently, the company pays an annual dividend of $2.08 per share. AT&T's next quarterly cash dividend payment will be made to stockholders of record on Nov. 2.
How many shares you need of a specific stock to EARN $1K in annual dividends

291 shares of $MO

610 shares of $KO

200 shares of $MCD

77 shares of $AVGO

481 shares of $T

407 shares of $VZ

212 shares of $ABBV

Layer into your positions and build them over time

— Dividend Seeker 📈💰💵 (@Dividend_Dollar) October 16, 2020
Article continues below advertisement
What is AT&T's stock forecast?
Currently, analysts' stock price forecast for AT&T is $31.96, which suggests an 18.9 percent upside. The highest target price of $43 implies a 60 percent upside, while the lowest target price of $17 suggests a 36.8 percent downside. Among the 30 Wall Street analysts tracking AT&T, nine recommend a buy, 20 recommend a hold, and one recommends a sell.
AT&T's investor relations
AT&T has scheduled a third-quarter earnings conference call on Oct. 22 at 8:30 a.m. ET. Media and investors can access the live webcast of the call on the company's investor relations website.