Volkswagen Is Following Tesla's Tune, but Can It Match Its Success?
There's been a shift from pure-play EV (electric vehicle) stocks like Tesla (TSLA) and NIO toward legacy automakers such as Ford, General Motors, and Volkswagen. VWAGY, Volkswagen's OTC stock, is up 57 percent year-to-date. Should you buy the stock now, or sell on the rise?
Article continues below advertisement
The consensus is that the automotive industry is headed for a zero-emission future, meaning EVs, fuel cells, or any other alternative fuel technology that could come up over the next decade.
About a year back, it looked that legacy automakers were lagging in the EV race. They were slow to spot the pivot from ICE (internal combustion engine) cars, their bread and butter for decades. However, things have changed. Automotive companies that can capitalize on the trend are set to win.
Article continues below advertisement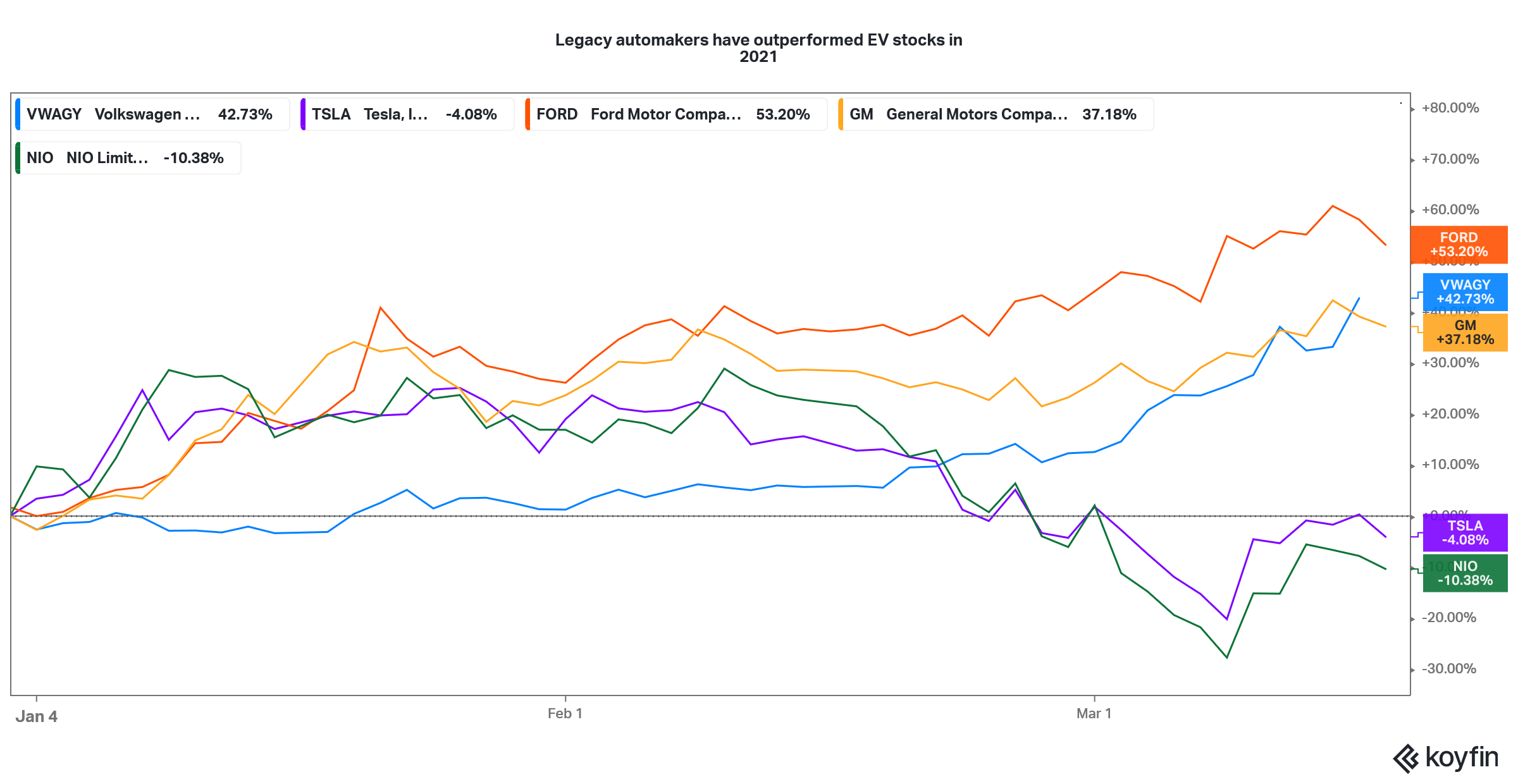 Volkswagen versus Tesla
To compete in any race, you first need to recognize your competitor's strengths. In 2019, while Tesla was being ridiculed by some legacy automakers, Volkswagen CEO Herbert Diess recognized Tesla's software capabilities and opposed the view that Elon Musk would drive the company into bankruptcy. Diess also said that he "admires Tesla as a company and loves driving Tesla cars," an opinion shared by droves of car buyers and investors—Tesla's market capitalization is more than four times that of Volkswagen.
Article continues below advertisement
Fast forward to 2021, and Tesla now has more cash than debt on its balance sheet thanks to a $13 billion stock issuance in 2020.
Article continues below advertisement
Volkswagen Power Day
Tesla holds an annual battery day, where it provides an update on its battery plans. The battery is the key cost element in an EV, and can be the main differentiator between companies. Tesla has a lead over most automotive companies when it comes to battery technology.
Taking a leaf out of Tesla's book, Volkswagen held "Power Day," where it talked about building more facilities to make batteries and lower battery costs. The company intends to bring down its battery production costs to below $100 per kilowatt hour.
Article continues below advertisement
Volkswagen is focusing on solid-state batteries
Battery costs have been falling over the last decade, allowing Tesla to lower its car prices and sustain profitability. Volkswagen intends to follow suit and transition to solid-state batteries. It has also backed QuantumScape, which focuses on solid-state batteries and listed in 2020 through a SPAC merger.
Article continues below advertisement
Additionally, Tesla is using its Superchargers to compete, offering free Supercharging to increase sales at the end of a quarter. Likewise, Volkswagen plans to have 18,000 EV charging points in Europe by 2025.
Article continues below advertisement
VWAGY versus TSLA
UBS has forecast that, by 2022, Volkswagen will match Tesla in terms of EV sales—the brokerage expects both companies to sell 1.2 million EVs each that year. Volkswagen has already beaten Tesla in the European EV market, despite being late to the party. Volkswagen just started delivering its all-electric ID.3 (a name that may be a reference to Tesla's bestselling Model 3) in Sep. 2020.
Should you buy or sell VWAGY stock
VWAGY's NTM (next-12-month) enterprise value-to-EBITDA multiple is 8.6x, while General Motors' (GM) and Ford's are 7.4x and 15.4x, respectively. These multiples are just a fraction of Tesla's 70x.
Article continues below advertisement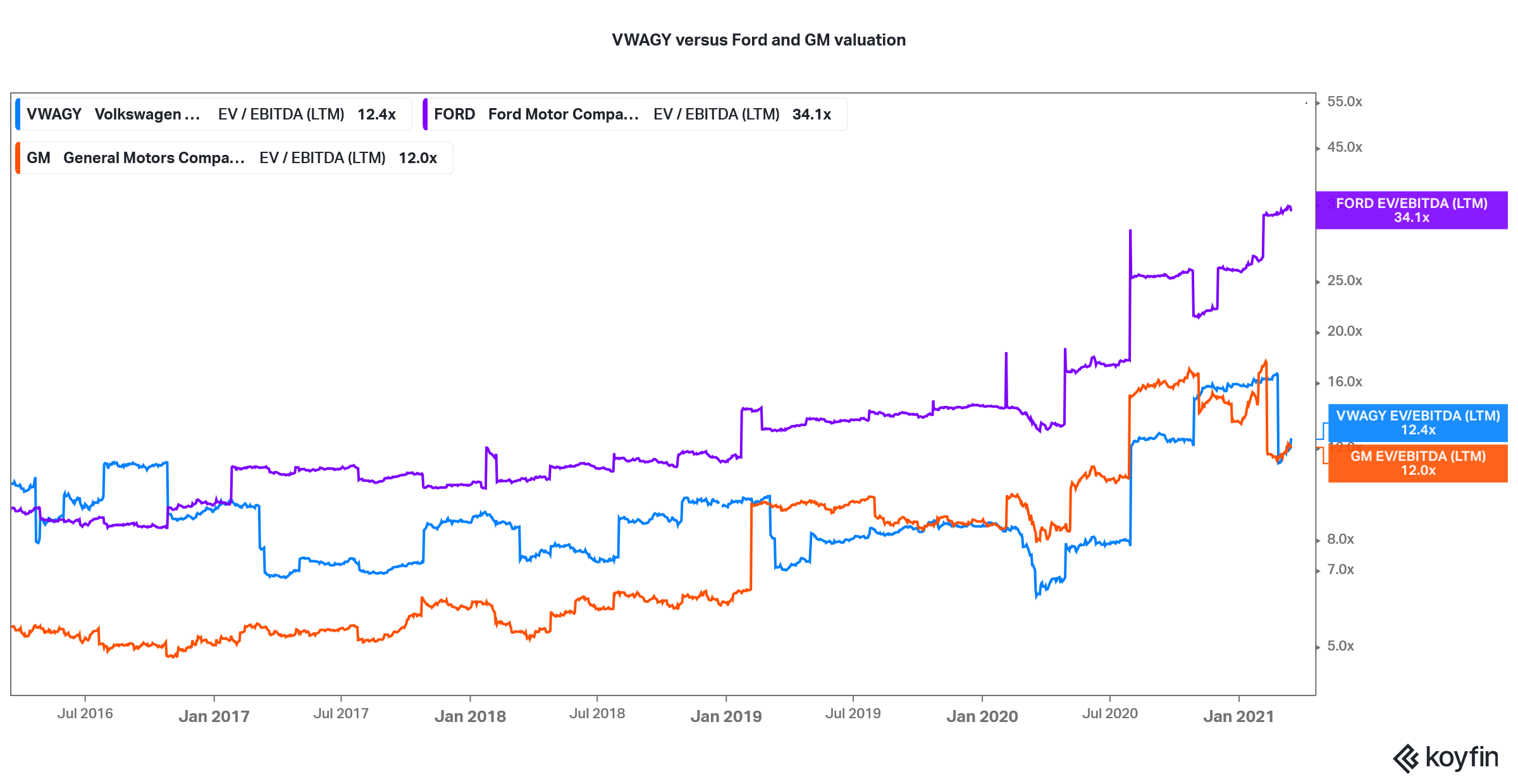 No one really expects VWAGY's valuation multiples to catch up with Tesla's. However, as Volkswagen ramps up its already-leading software and battery capabilities, it could offer stiff competition for Tesla. Overall, VWAGY looks like a good stock to buy.