How Much Do You Get for Installing Solar Panels in Texas?
By Mohit Oberoi, CFA

Updated
Solar and renewable energy stocks closed with losses on Wednesday despite U.S. stock markets soaring and the Nasdaq gaining 3.9 percent. Fading hopes of a blue wave put renewable energy stocks under pressure, as the Democrats generally have friendlier policies toward the nonrenewable energy sector than Republicans, who have favored the oil and gas industry. Rebates drive the renewable energy sector. Let's look at solar rebates and incentives in Texas.
Article continues below advertisement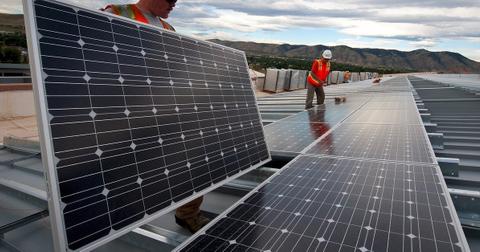 Solar energy government rebates
The solar panel rebate and incentive program in Texas is multilayered. With the federal solar tax credit, you get a dollar-for-dollar reduction against your income tax. This year, the tax credit is 26 percent, provided your solar system is installed before the end of the year. That credit is set to fall to 22 percent next year and zero in 2022.
Article continues below advertisement
Renewable energy stocks fell Wednesday as Republican wins in key Senate races cast further doubt on the ability of a potential Biden administration to enact green energy proposals. Shares of First Solar fell -8.55% at $79.78. Rebound in renewable energy stocks seen on Thursday.

— Day Trading Academy (@DTradingAcademy) November 5, 2020
Solar panel rebates in Texas
Texas has some of the highest property taxes in the U.S. However, the state offers a property tax exemption after the installation of a solar system, as the property value increases. Additionally, you can enroll in the TXU Energy Renewable Buyback Plan to sell the excess energy your solar system produces.
Article continues below advertisement
While Texas doesn't have a statewide rebate for solar system installation, several local governments and utilities do. For instance, if you're a CPS Energy or Austin Energy customer, you can get incentives for solar panels. The City of Sunset Valley, Garland Power & Light, and Guadalupe Valley Electric Cooperative also offer rebates for installing solar panels.
Alternate energy companies in Texas
According to Energyacuity, the top five renewable energy companies in Texas are EON Climate & Renewables, NextEra Energy Resources, Invenergy, Lincoln Clean Energy, and Apex Clean Energy.
Article continues below advertisement
I live in Texas and we bought our solar and own the panels. They make 1/3 of our electric and in five years we will be in the money. In 5 years I think electric costs will be higher so they would be higher with or without the solar. Power company gave big rebate as did the fed

— David Sobel 100% Disabled Veteran, Retired (@Buckeyes1953) May 10, 2018
Solar power stocks
Solar power stocks have outperformed the markets this year, while non-renewable energy companies' stocks are falling due to the sharp fall in energy prices. First Solar, Enphase Energy, NextEra Energy Partners, and Solar Edge Technologies are among the leading solar stocks. Over the next decade, Tesla might also emerge as a player in solar. Last year, Tesla CEO Elon Musk said the company's solar business might become as big as its automotive business.
Solar ETFs
Invesco Solar ETF is a pure-play solar ETF. There are also several ETFs focusing on clean energy, such as the First Trust NASDAQ Clean Edge Green Energy Index Fund, ALPS Clean Energy ETF, iShares Global Clean Energy ETF, and VanEck Vectors Low Carbon Energy ETF. Solar and clean energy stocks might see more fund inflow as environmental, social, and corporate governance investing takes centerstage.