Beyond Meat makes plant-based meat alternatives. Its products include substitutes for beef, pork, and chicken. Beyond Meat stock is listed on the Nasdaq exchange and trades under the ticker symbol "BYND."
Article continues below advertisement
People are shifting to plant-based foods to avoid many lifestyle diseases. As a result, Beyond Meat's sales have been soaring and BYND stock has become popular with investors. If you think that plant-based meat alternatives are the future, you may want to add BYND stock to your portfolio and hunt for other stocks like BYND.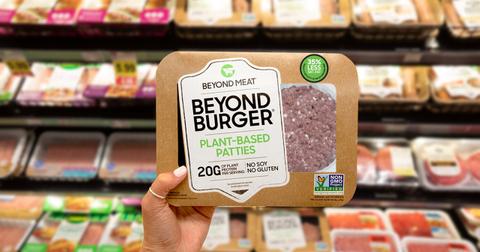 Article continues below advertisement
Why do investors like BYND stock?
Beyond Meat's products target people seeking healthy foods. The demand for healthy foods continues to rise around the world. When it became clear that the COVID-19 pandemic was a significant risk for people with pre-existing medical conditions, many people turned to plant-based foods to boost their immune system. The healthier trend fueled the demand for Beyond Meat products and BYND stock.
Investors like BYND stock because the plant-based meat substitute industry has bright growth prospects. The global plant-based meat products market is on track to exceed $8.1 billion in annual sales in 2026 from $4.1 billion in 2017. Since Beyond Meat has only captured less than 1.0 percent of this market opportunity, its growth potential is enormous. Investors like Beyond Meat's prospects. The company should be able to continue growing its revenue for many years to come.
Article continues below advertisement
every major fast food chain is picking up "beyond meat" or "impossible burger." that tells you everything you need to know in terms of nutrition and quality.

— Chelsea Williams | MPH, CCPH (@HiThatsChelsea) November 10, 2020
Many investors like BYND stock because they think that the company is taking the right steps to take full advantage of the opportunity in the plant-based meat products industry. For example, Beyond Meat continued to expand its footprint overseas with a new manufacturing facility in China. The company has also set up an online shop to sell its products to consumers directly instead of relying on restaurant distributors. Investors like how Beyond Meat continues to expand its product line and grow its brand recognition and reputation.
Article continues below advertisement
Is BYND stock risky?
There's risk in every investment. Investors should know their risk tolerance when evaluating stocks. There aren't many risks in BYND stock. However, since Beyond Meat doesn't operate in a vacuum, it does face competition. Any missteps could result in Beyond Meat losing business to competitors, which could slow down its growth and hurt the stock.
There was a sell-off in BYND stock after McDonald's unveiled its plant-based meat products line McPlant. The sell-off arose from confusion over Beyond Meat's role in McPlant. While Beyond Meat said that it would be a supplier for McPlant products, McDonald's didn't confirm the claims. Investors were concerned that McDonald's planned to take the McPlant supply business to Beyond Meat's competitors.
Article continues below advertisement
Competition is a risk that all companies like Beyond Meat face. Beyond Meat's major competitors are Tyson Foods, Nestle, which owns the Sweet Earth brand, and Kellogg, which owns the Morningstar Farms brand.
OUCH! After tumultuous day, Beyond Meat shares collapsing in after-hours trading following big earnings miss. Beyond Meat says it's feeling "full brunt" of Covid-19. Consumer stockpiling & ongoing slowdowns at restaurants that Beyond supplies drove the lower-than-expected results pic.twitter.com/f7i5180eV7

— Holger Zschaepitz (@Schuldensuehner) November 9, 2020
Article continues below advertisement
Beyond Meat has also listed its reliance on a handful of distributors for most of its revenue as a risk factor. The company relies on third-party suppliers. If Beyond Meat couldn't secure enough supplies, it would impact its production and sales. Relying on third-party suppliers is a risk that plant-based meat products companies like Beyond Meat face. The industry is still in the early stages of development.
Is Tyson Foods a safer bet in the plant-based meat industry?
The plant-based meat products industry continues to expand at a healthy pace. The industry should be able to support multiple successful companies. Tyson Foods stock may be a good option for investors looking for Beyond Meat stock alternatives. Compared to Beyond Meat, Tyson Foods is a more established corporation. The company has survived many economic downturns. Also, Tyson Foods pays dividends, which makes it a safer bet for income-seeking investors.
What are some of the other top growth stocks like Beyond Meat?
Investors looking for stocks like Beyond Meat have many options. Besides Tyson Foods, other stocks like Beyond Meat in the plant-based meat products business include Kellogg, Kroger, and Nestle. Kellogg owns the Morningstar Farms plant-based products brand. Impossible Foods is another Beyond Meat competitor, although it's currently private and its stock isn't easily accessible.