SNPR SPAC Joins the EV Charging Bandwagon With Volta Merger
While EV (electric vehicle) stocks were a red-hot commodity in 2020, the baton seems to lie with EV charging companies in 2021. There have been a series of SPAC (special purpose acquisition company) transactions in the EV charging space this year. SNPR is the latest SPAC to join the bandwagon and has announced a merger with Volta Industries.
Article continues below advertisement
This is the third major SPAC transaction in the EV charging industry this year. Prior to the SNPR merger announcement, Climate Change Crisis Real Impact I Acquisition Corp (CLII) SPAC announced a merger with EVgo. TPG Pace Beneficial Finance (TPGY) has announced a merger with EVBox. Last year, Newborn Acquisition (NBAC) also announced a merger with Nuvee.
Article continues below advertisement
Why EV charging companies' stocks are rising
Among the listed EV charging companies, Blink Charging stock has soared over the last year. DPW stock rallied last year after one of its subsidiaries, Coolisys Technologies, said that it would install EV charging stations at national fast-food restaurants.
The reason EV charging stocks are soaring is because of the anticipation of faster EV adoption over the next decade. The rise in EV sales will benefit companies like Tesla, which expects its deliveries to rise 50 percent annually over the next few years. It would also mean higher demand for charging networks as EV charging points gradually replace gasoline stations.
Article continues below advertisement
SNPR-Volta Industries merger
SNPR has announced a reverse merger with Volta Industries. After the merger, the entity would trade on the Nasdaq under the ticker symbol "VLTA." The merger is expected to close in the second quarter of 2021 subject to approvals.
Article continues below advertisement
The deal values the combined entity at a pro forma equity value of $2 billion. Volta expects to receive net proceeds of around $600 million from the transaction, which should accelerate its charging network.
"We have looked for an opportunity where our capital could be the catalyst to unlock the full potential of a high-growth business with a market-leading position, and have drawn upon our expertise in the EV-space," said Vince Cubbage, SNDL's chairman and CEO.
Article continues below advertisement
He also said, "Volta is a clear leader in EV infrastructure with exceptional unit economics and a truly differentiated business model. The visionary management team led by founder and CEO Scott Mercer, and co-founder and President Chris Wendel only reinforced our belief that Volta will be a leader."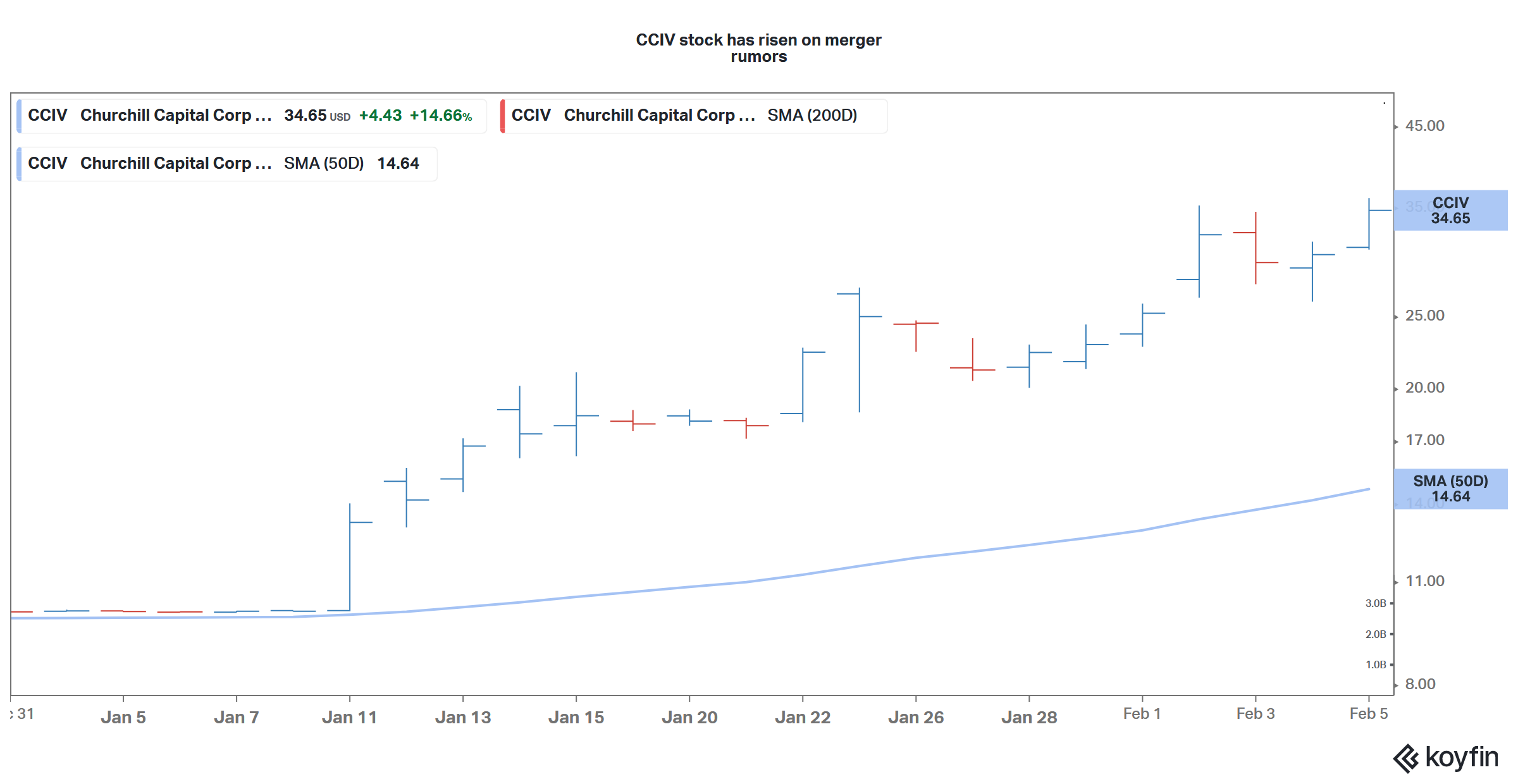 Article continues below advertisement
SNPR stock soars on announcement
After the announcement, SNPR was trading over 35 percent higher in early trading on Feb. 8. The rise in its stock isn't uncommon as SPAC stocks tend to soar after they find an appropriate target for a merger.
In fact, markets don't even wait for a formal announcement. Stocks even rise on merger rumors, which was the case with Churchill Capital IV (CCIV) SPAC. There are rumors that the SPAC will merge with Lucid Motors. There has been a sharp rise in CCIV stock, which you can see in the graph above.