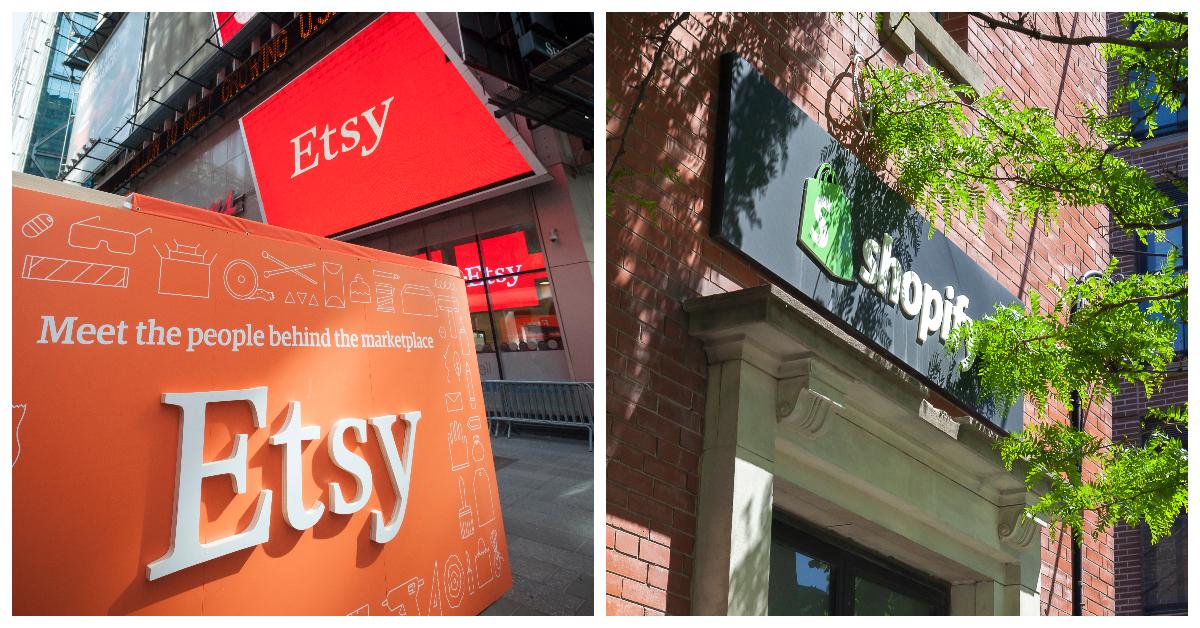 Etsy Versus Shopify: Which Is Best for Your Business?
By Ruchi Gupta

Sep. 2 2020, Updated 7:09 a.m. ET
Many merchants have a lot to learn before selling online, and one decision they face is selling on Etsy versus Shopify. This decision should be easy to make if you know how these platforms work—that way, you can identify which best suits your online business and its goals.
Article continues below advertisement
Article continues below advertisement
The differences between Etsy and Shopify
For merchants seeking to sell their products online, Etsy and Shopify are often the first two platforms to come to mind. But which is the right one for you? Let's examine some of the major differences between Etsy and Shopify.
First, Etsy is a marketplace where merchants can create an account to list their items for sale online. Shopify, on the other hand, is an e-commerce platform where merchants can set up and run their own online store. You may think of Shopify as a digital landlord. 
Article continues below advertisement
Whereas Etsy is primarily a marketplace for selling handmade and vintage items, you can sell virtually anything on Shopify, as long as you're running a legal business. In Canada, for instance, some top online marijuana product stores are hosted on Shopify. 
Article continues below advertisement
Also, while Etsy takes care of marketing to bring potential buyers to shops and the marketplace in general, Shopify merchants run their own marketing. Shopify has, however, partnered with Walmart and Facebook Shops to give its merchants greater exposure to potential buyers. 
Article continues below advertisement
Etsy merchants must do their shop branding and layout within the parameters set by Etsy. In contrast, Shopify merchants have access to a range of tools that allow them to be more creative with store branding and layout.
Is it cheaper to sell on Etsy or Shopify?
There are costs associated with selling on both Etsy and Shopify. Etsy currently offers three plans: 
Etsy Standard, which is free to set up. 
Etsy Plus, which costs $10 per month.
Etsy Pattern, which costs $15 a month. 
Article continues below advertisement
All three Etsy account types charge a $0.20 product listing fee per item and a 5.0 percent transaction fee. Etsy premium accounts offer more tools and listing flexibility for merchants to customize their storefronts and grow their business.
As for Shopify, most plans have a monthly fee starting from $29. But it also offers a special low-cost plan, Shopify Lite, which costs $9 per month. Whereas there's no listing fee on Shopify, credit card transactions have a processing fee.
Article continues below advertisement
Etsy versus Shopify: Which is right for you?
Choosing between selling on Etsy versus Shopify need not be a tough choice. Smart merchants can take advantage of both to drive online sales. However, a small business testing the market on a tight budget may find Etsy better to start with, considering its low upfront costs.
Then, as the business grows, the merchant could expand to a Shopify digital store. Shopify provides cash advances that merchants can use to grow their online business quickly, and as there is no listing fee, an unlimited number of items can be posted without driving up operating costs. By eventually using both Etsy and Shopify, you can determine where products sell the best and gain the best of both worlds to grow your online business.