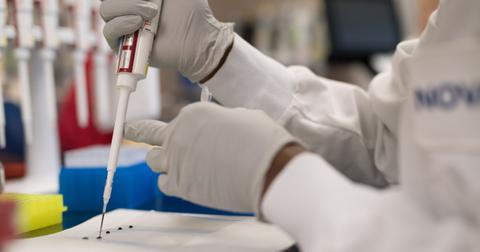 Novavax Inches Closer to COVID-19 Vaccine, Stock Reacts to Updates
By Ambrish Shah

Updated
Novavax is a key player in the COVID-19 vaccine race. The company is developing and testing its experimental COVID-19 vaccine candidate NVX-CoV2373. On December 28, 2020, Novavax announced that it would start recruiting for a Phase 3 clinical trial for its coronavirus vaccine candidate in the U.S. and Mexico. What is the Novavax vaccine and how has NVAX stock reacted to updates?
Article continues below advertisement
The COVID-19 pandemic has killed millions of people globally. Currently, the U.S. has more than 20.8 million COVID-19 cases based on data compiled by Johns Hopkins University. At least 353,621 deaths in the U.S. have been linked to the coronavirus pandemic.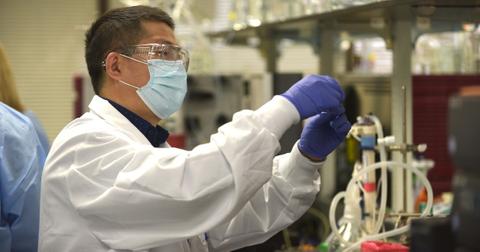 Article continues below advertisement
Status of the Novavax vaccine
On Dec. 28, Novavax announced that it's commencing the Phase 3 clinical trial for NVX-CoV2373. The company plans to enroll up to 30,000 volunteers for the PREVENT-19 study across 115 sites in the U.S. and Mexico. It would be reasonable to expect efficacy and side effect clarity. Novavax is also undertaking a Phase 3 study of its coronavirus vaccine in the U.K., in addition to early-stage clinical trials in the U.S., South Africa, and Australia. The data from these trials will likely arrive in the first quarter of 2021.
Novavax has received support from the U.S. government's Operation Warp Speed. The biotech company has received $1.6 billion in funding from the BARDA (Biomedical Advanced Research and Development) for its coronavirus vaccine efforts.
Article continues below advertisement
Novavax stock reacts to updates
On Dec. 28, Novavax stock dropped 10 percent after the company initiated a Phase 3 efficacy trial in the U.S. and Mexico. The stock rose about 11 percent on Nov. 30 after the company updated investors on its various coronavirus vaccine trials. Novavax announced that it completed the enrollment of its 15,000 volunteers for its clinical trial in the U.K.
Novavax stock was trading at $4 at the beginning of 2020 and the stock price went as high as $180 in August 2020. Currently, it's trading at about $113 per share.
Article continues below advertisement
Will Novavax be able to catch Pfizer and Moderna?
Novavax's competitors in the coronavirus vaccine race are Pfizer and Moderna. In December 2020, both of them received approval from the FDA for emergency use. Pfizer's BNT162b2 and Moderna's mRNA-1273 are already being administered across the U.S.
Since Novavax is just entering the Phase 3 clinical trial, it's behind Moderna and Pfizer. However, the Novavax vaccine has various advantages. It uses spike proteins to protect patients from the coronavirus, while Pfizer and Moderna's vaccines both use m-RNA. In a press release, Novavax said, "The purified protein is encoded by the genetic sequence of the SARS-CoV-2 spike (S) protein and is produced in insect cells. It can neither cause COVID-19 nor can it replicate."
Article continues below advertisement
Novavax can manufacture 2 billion doses annually when at full capacity in 2021 — a large number that should create various opportunities for the vaccine globally. The Novavax vaccine is stable at 2 degrees–8 degrees Celcius, which is better than the super-freezing temperatures needed by certain rival products.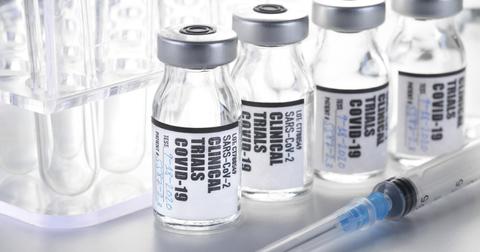 Article continues below advertisement
Outlook for Novovax stock in 2021
Novavax stock gained popularity among many investors in 2020. The stock has gained nearly 2,372 percent in the last year. With that big spike, is Novavax stock still a good investment? The most bullish analyst sees more than a 97 percent upside potential in Novavax stock from the current level to $223 in 12 months. In contrast, the most bearish analyst sees a 34 percent downside in Novavax stock to $75.
Novavax stock is a good investment
Novavax stock looks like a good investment based on the strong growth outlook. The company's coronavirus vaccine could be better than those offered by rivals. Currently, the U.K. is facing a highly contagious and mutated coronavirus strain. Novavax stock can surge significantly if the company's vaccine is approved in the U.K. The demand for Novavax's vaccine could skyrocket if it protects against both the original virus and the new mutation.