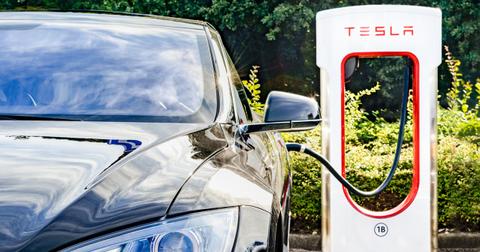 Morgan Stanley Upgrades Tesla, Turns Constructive on Its Battery Prospects
By Anuradha Garg

Updated
Morgan Stanley boosted Tesla's target price and upgraded the stock on Thursday. Morgan Stanley turned more constructive on the EV maker due to its prospects of building an EV battery supply business.
Tesla's stock price is on a tear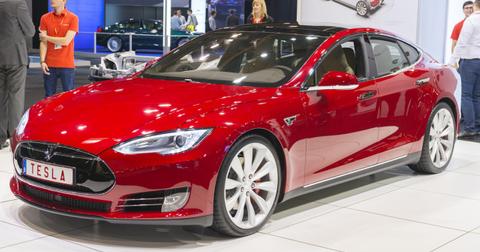 Tesla achieved four straight quarters of positive net profits. The performance has also upped Tesla's chances of being included in the S&P 500. Tesla's market capitalization has surpassed Toyota Motors, which makes it the most valuable automaker in the world. Tesla's bet on China with the start of the Shanghai Gigafactory also seems to be paying off. The Model 3 has been consistently among the best-selling EVs in the world's largest EV market.
When is the Tesla stock split?
Due to a consistently strong operational performance and positive updates, Tesla's stock price is reaching higher highs. As a result, the company had to do a stock split. On Aug. 11, Tesla announced a 5-for1 stock split. The split will take effect on Aug. 31. Due to the surge in the stock price this year, Tesla's stock price is not affordable for some retail investors. The company announced the stock split to make its shares more affordable for investors. While a stock split does not fundamentally change the value of the stock, investors were happy about the split. The stock surged by 13 percent on Aug. 12.
Morgan Stanley upgraded Tesla stock
However, there is more good news for Tesla. On Thursday, Morgan Stanley analyst Adam Jonas upgraded Tesla from equal weight to overweight and raised its target price to $1,360 from $1,050 per share. According to The Fly, Jonas said that his "model now assumes the benefits of a transfer of supply of batteries and EV powertrains to 3rd party OEMs." The current scenario is his base case scenario compared to his bull case previously. The integrated battery supply business could be a big thing for Tesla. Jonas thinks that Tesla's current valuation "largely discounts" the OEM battery opportunity.
What is Tesla's stock price today?
Apart from Morgan Stanley, Bank of America also upgraded Tesla stock to neutral from underperform today. Bank of America hiked its target price from $800 to $1,750. According to The Fly, a Bank of America analyst thinks that Tesla has "unfettered access" to low-cost capital, which is a key advantage. Due to these positive developments, Tesla's stock price was trading 2.9 percent higher in pre-market trading at 8:30 a.m. ET today.
Tesla's battery day
Investors are eagerly waiting for Tesla's battery day, which will likely take place on Sept. 22. At the event, the company is expected to provide exciting details about its battery business. During the company's first-quarter earnings call, Tesla CEO Elon Musk said, "I think it would be one of the most exciting days in Tesla's history and we're just trying to figure out the right timing for that."
Will Tesla bring price parity between EV and ICE cars?
On May 14, Reuters reported that Tesla is planning to introduce a new long-life and low-cost battery in its Model 3 in China later in 2020 or early in 2021. Musk's vision is to bring price parity between EV and ICE (internal combustion engine) cars. Innovations in battery technology are important to achieve this objective. Notably, batteries are the most expensive components of EVs, which limits vehicle purchases. Battery advancements could open up a huge market opportunity for Tesla and other EV makers.