Koss Stock Might Be a Short Squeeze Target for WallStreetBets
By Mohit Oberoi, CFA

May. 26 2021, Published 11:21 a.m. ET
Koss stock gained almost 23 percent on May 25 and opened higher on May 26. Previously, the stock was targeted by Reddit group WallStreetBets, which triggered a short squeeze in many stocks including Tilray, GameStop, and Naked Brands. Is Koss stock the next short squeeze target for WallStreetBets?
Article continues below advertisement
Koss stock hit a 52-week high of $127.45 but now trades at a sixth of those price levels. Most of the stocks targeted by WallStreetBets have fallen sharply from their peaks. However, they are still up sharply for the year. Koss stock is still up over 500 percent YTD.
What happened to Koss stock?
There was a broad-based rally in the so-called "meme stocks" on May 25. Apart from Koss, AMC Entertainment, GameStop, and Naked Brands also gained sharply. There wasn't any real company-specific news or a price-moving event. The rise seems to be associated with another rally in meme stocks.
Article continues below advertisement
Koss stock valuation
Koss stock trades at an LTM EV-to-revenue multiple of 9.6x. The multiple has only averaged about 1x over the last year. This basically means that the stock is trading over 10x higher on the metric compared to the long-term averages.
Article continues below advertisement
Koss stock forecast
None of the Wall Street analysts cover Koss stock. We don't have forecasts or forward earnings estimates for the company. However, a simple glance at the company's financials reveals the terrible finances. Its revenues have fallen every year in the last four fiscal years. The company's revenues in the first six months of fiscal 2021 increased 5.9 percent from the same period in 2020.
Koss has been losing market share in the headphone market and doesn't expect the trend to reverse anytime soon. While the company's gross margins improved to 33.4 percent in the trailing 12 months, up 5.5 percentage points from fiscal 2018, Koss has had a mixed track record on profitability. The company has been swinging between losses and marginal profits in the last five years.
Article continues below advertisement
Koss stock WallStreetBets
Article continues below advertisement
Koss stock short squeeze
Koss stock had a short interest ratio of 34.9 percent on May 25, according to Fintel. The short interest looks high and could make Koss a target for a short squeeze.
Article continues below advertisement
AMC short squeeze, explained
AMC was another short squeeze triggered by WallStreetBets. The stock rose sharply as the fundamental reopening story was further ignited by the short squeeze. Like many other companies pumped by WallStreetBets, AMC also issued shares and raised cash. The company is still burning millions of dollars of cash every month even though it reopened nearly all of its U.S. cinemas in March.
The most epic short squeeze was in GameStop stock. At its peak, more GameStop shares were sold short than its total float. This triggered a massive squeeze and the near demise of hedge fund Melvin Capital, which was short on GameStop.
Article continues below advertisement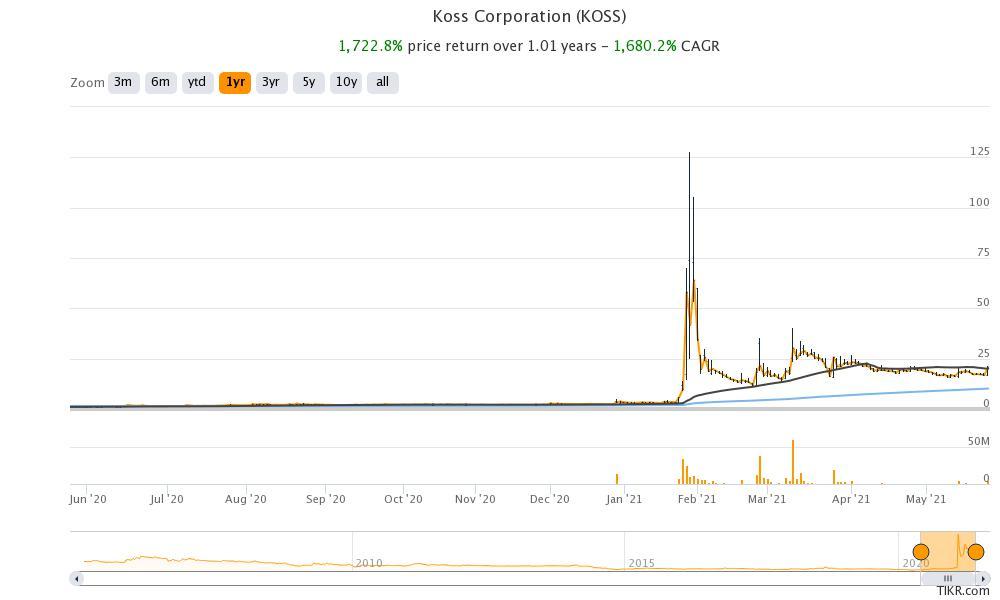 Koss stock isn't a good buy.
Looking at the financials, Koss stock doesn't seem a good buy at least for risk-averse investors. The stock fell hard after the previous short squeeze rally and we might see similar results this time.
What price to buy and sell Koss stock
Investors could use the rally in Koss stock to exit the positions. The stock might see selling pressure after the rally in meme stocks fizzles away.