Why Amazon Stock Isn't Overvalued After Its Sharp Rally
As U.S. tech stocks rallied over the last year despite the COVID-19 pandemic taking a toll on the economy, many investors raised concerns about them getting overheated. Amazon (AMZN) was the second-best FAANG stock in 2020, while Apple was the best performing FAANG for the second consecutive year. Does Amazon stock look overvalued after the sharp rally in 2020?
Article continues below advertisement
As the saying goes "the beauty lies in the eyes of the beholder." When it comes to stocks, especially doing fundamental analysis, the valuation (or the overvaluation) depends on an individual's opinion and analysis. Even small differences in projections can make a huge difference to how analysts value a stock.
Article continues below advertisement
How to value Amazon stock
There are various metrics that you can use to value an asset or stock, including:
The income approach or DCF (discounted cash flow) approach values stocks based on their future earnings by discounting them at an appropriate discount rate.
The market approach or relative valuation values stocks based on the prices of comparable assets. Stocks are valued based on many multiples like the PE multiple, PEG (price-to-earnings-to-growth), and price-to-sales ratio.
The asset approach values stocks based on their assets and book value. However, the approach isn't very useful for valuing tech companies, like Amazon, that have few tangible assets on their balance sheets.
Amazon stock's valuation
We will value Amazon stock based on the market approach and do a time series analysis of how its multiples have trended. We will also look at current and future growth to see whether the stock is overvalued or whether the expected growth justifies the valuation.
Article continues below advertisement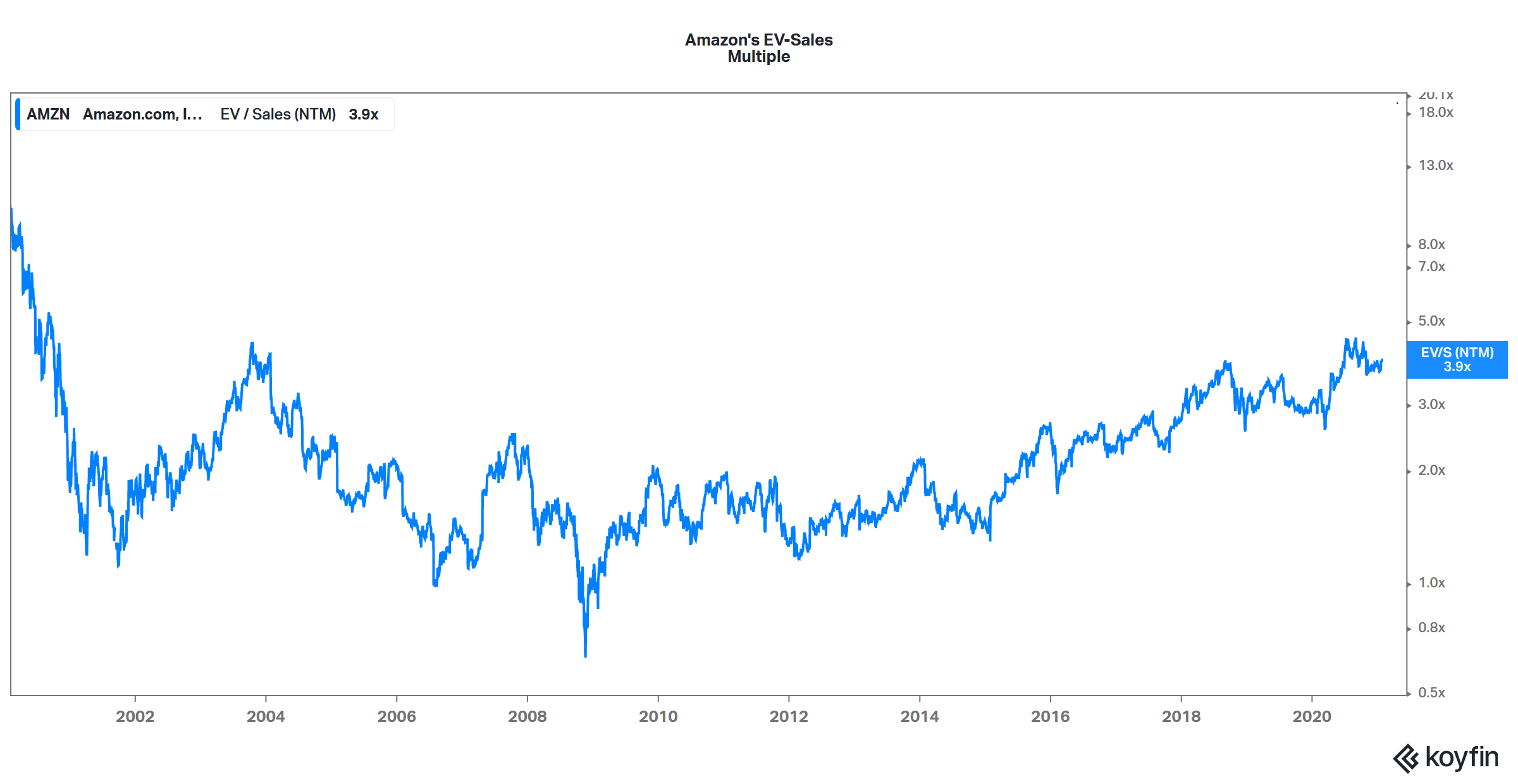 Amazon's valuation multiples
Amazon stock trades at an NTM (next-12-month) EV-to-sales multiple of 3.9x. While the valuation multiples have come down from the 2020 highs, they are still higher than their historical multiples. If we ignore the dot-com days where the steep rally in Amazon stock prompted the company to do three stock splits in two years, the stock has only traded at these multiples in 2003 and 2018.
Article continues below advertisement
AMZN's earnings estimates
As the chart above shows, the valuation multiples corrected after the NTM EV-to-sales multiple reached around 4x. In 2020, the stock's NTM EV-sales multiple peaked near 4.5x in July and has since come down. The multiple has fallen because of movement in both the numerator and denominator. Amazon's market capitalization has come off its 2020 highs amid the fall in its stock price. Secondly, the NTM earnings estimates have risen since July 2020. For example, Amazon's revenues are expected to rise 35 percent in 2020 and 19 percent in 2021.
Article continues below advertisement
Amazon's PE multiple
While Amazon might look overvalued based on the EV-to-sales multiple, the NTM PE multiple gives a divergent picture. The stock trades at a NTM PE multiple of 85x. While it isn't cheap by any standards, it's below its five-year average. In 2015, Amazon was trading at a NTM PE multiple of almost 300x.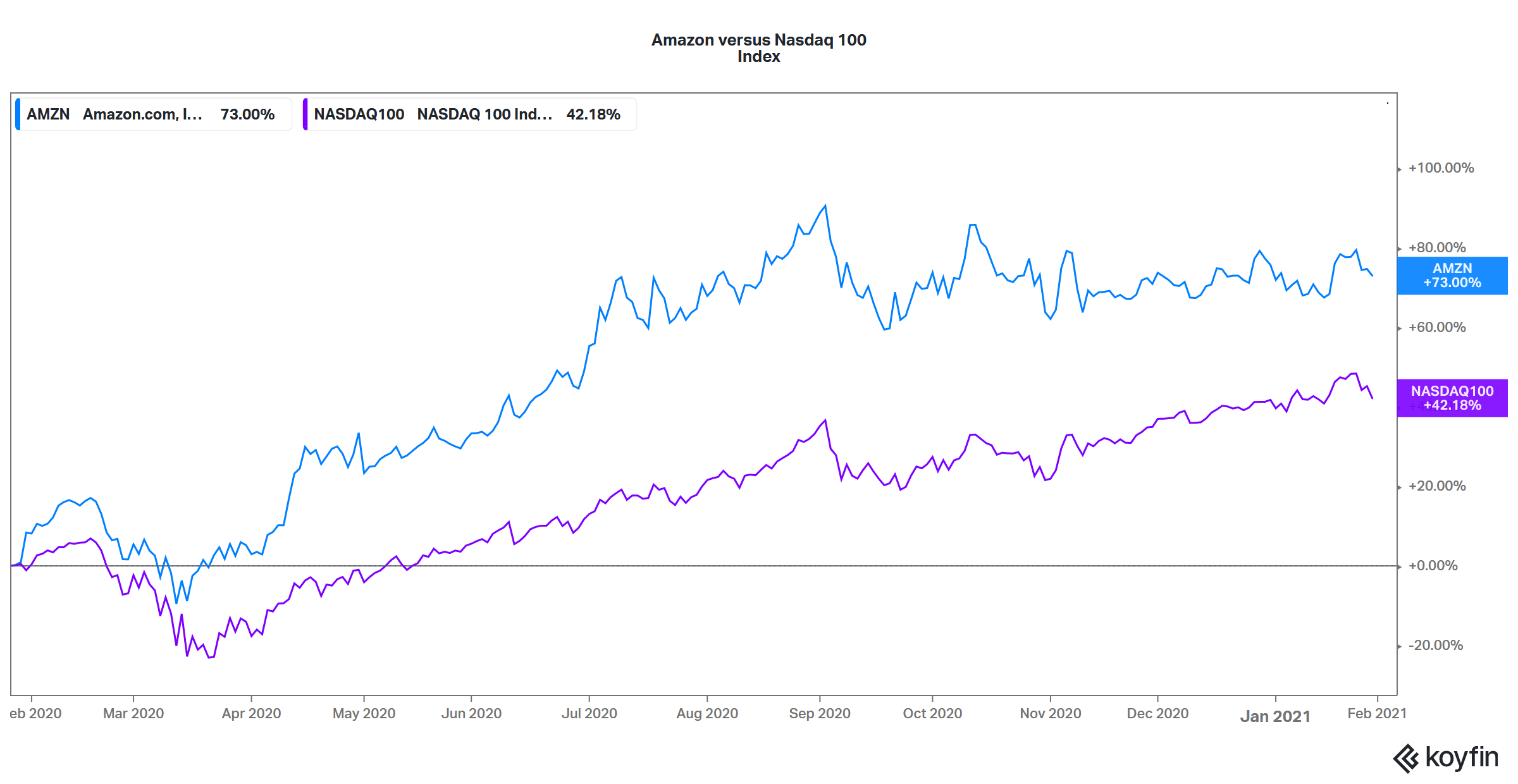 Article continues below advertisement
Since then, Amazon's PE multiple has come down because the earnings have increased sharply. Amazon's earnings growth has outpaced the revenue growth for many years. The trend is expected to continue in the near future. In 2021, analysts expect its adjusted net income to rise 34 percent, which is 15 percentage points higher than its expected sales growth.
Is Amazon overvalued?
Amazon stock isn't overvalued at least on a relative basis. There has been a rerating of the entire tech space over the last year. For example, Apple is trading at multiples we last saw in 2007. Some of the newly listed tech companies are also trading at very high valuations. Looking at the expected growth in both e-commerce and cloud, which are the two growth engines for Amazon, the stock looks reasonable at these multiples.