GIK Stock Is a Good Long-Term Bet Before Lightning eMotors Merger
By Mohit Oberoi, CFA

Apr. 12 2021, Published 8:27 a.m. ET
There has been a sell-off in SPACs and stocks in the green energy ecosystem. GigCapital3 (GIK) ticks the boxes on both of these. The stock has fallen almost 42 percent from its 52-week highs and is trading near its IPO price of $10. What's the forecast for GIK stock and is it a good buy now near the $10 price level?
Article continues below advertisement
To be sure, several SPACs have fallen below $10. Investors have been increasingly apprehensive of speculative names. While SPACs that have announced mergers aren't speculative per se, investors are now questioning the valuations, which in many cases soared to astronomical levels.
GIK has been a casualty of the sell-off in both green energy stocks and SPACs. While green energy stocks soared in 2020, they have been under a pressure this year. It has been a broad-based sell-off and even Tesla is down sharply from its 52-week highs.
Article continues below advertisement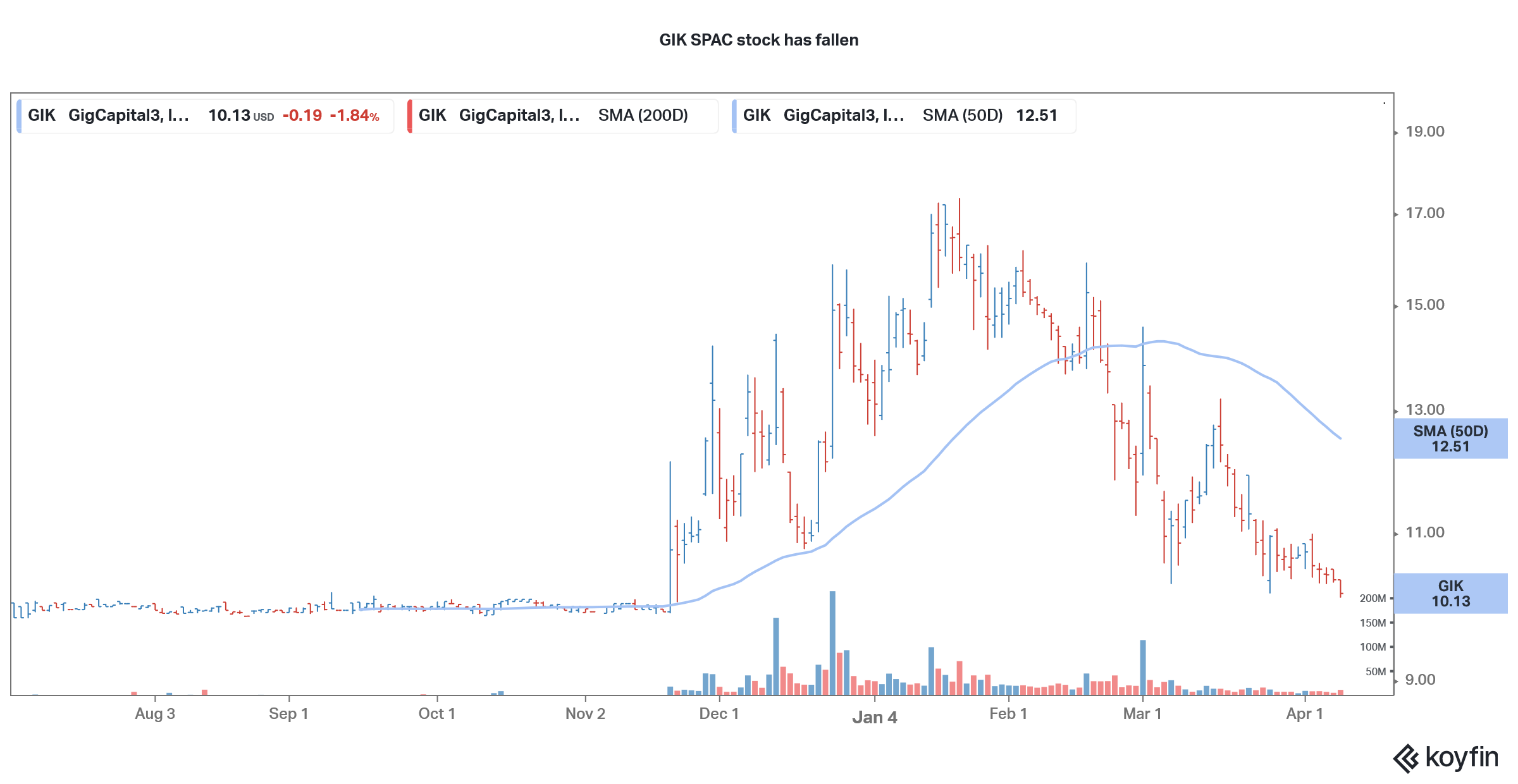 While there have been positive developments like President Joe Biden re-joining the Paris Climate Deal and the administration committing billions of dollars to the green economy, all of these positives were factored in as green energy stocks soared sharply after Biden won the election.
Article continues below advertisement
Forecast for GIK SPAC
Now, since GIK is a blank-check company, its forecast depends on the outlook of the merger target, which is Lightning eMotors in this case. The merger vote is scheduled for April 21. After shareholder approval, GIK will merge with Lightning eMotors.
Lightning eMotors offers fleet electrification. The company powers commercial vehicle platforms and sells directly to big fleet customers. It also provides financing solutions through its partner Generate Capital. Lightning eMotors provides analytic service for fleets, which is a recurring revenue stream for the company.
Article continues below advertisement
The company also provides charging solutions for EVs (electric vehicles). Under the American Jobs Plan, the Biden administration plans to increase the EV charging stations in the U.S. to a whopping 500,000 by 2030.
Article continues below advertisement
Now, unlike its peers like Nikola, Hyliion, and XL Fleet, Lightning eMotors already has zero-emission vehicles operating in the fleet. Its assembly plant has been functional since 2018, unlike its peers. Having already delivered to customers, Lightning eMotors has proved its manufacturing mettle, while many of its peers face execution risk related to manufacturing.
Article continues below advertisement
Is GIK stock undervalued?
The GIK and Lightning eMotors merger valued the combined entity at a pro forma equity value of $823.2 million. In the investor presentation, Lightning eMotors said that it expects to post revenues of $1.165 billion in 2024, which would mean a 2024 price-to-sales multiple of 0.7x. 
It expects to be EBITDA neutral to positive as early as 2022 and expects to post an EBITDA of $155 million in 2024, which would mean a 2024 enterprise value-to-EBITDA multiple of 4.2x.
Article continues below advertisement
Article continues below advertisement
It's worth noting that all of these numbers are based on the forecasts provided by the respective companies and not analysts' estimates. Looking at the lower relative valuations, GIK SPAC stock looks undervalued at these prices.
Is GIK a good stock to buy?
Lightning eMotors has a first-mover advantage in the electric fleet market and has delivered Class 3, 4, 5, 6, and 7 EVs, which has a TAM (total addressable market) of $67 billion. The fall in GIK stock has made it look attractive for investors who are looking at a long-term bet on the electric fleet market. Overall, GIK stock looks like a good stock to buy with the price now trading very near the IPO price of $10.