Eli Lilly stock was down in early trading on Tuesday, Oct. 27. The company reported disappointing third-quarter earnings during the pre-market session. Eli Lilly is one of the drug companies working on COVID-19 treatments.
Article continues below advertisement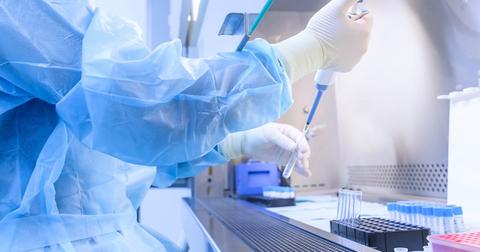 What weighed down Eli Lilly stock?
Eli Lilly reported revenues of $5.7 billion. Even though the revenues were above $5.5 billion reported last year, they fell short of the consensus estimate at $5.9 billion. The company posted an EPS of $1.54. Although the EPS rose from $1.48 last year, it missed the consensus estimate at $1.71. Investors decided to exit Eli Lilly stock after its disappointing earnings.
Article continues below advertisement
Eli Lilly's COVID-19 drug
Eli Lilly is one of the drug companies racing to combat the COVID-19 pandemic. The company is developing an antibody-based treatment for the coronavirus. President Trump received an antibody treatment when he contracted COVID-19. He praised the COVID-19 antibody therapy and wants it extended to all Americans who get the disease.
Humans are hopeful and relentless, and Lilly's purpose – to create medicines that make life better – has never been more important. We're bringing the full force of our scientific and medical expertise to attack the #COVID19 pandemic around the world. #WeAreLilly pic.twitter.com/6ltDsNYQfi

— Eli Lilly and Company (@LillyPad) October 26, 2020
Article continues below advertisement
The trial for Eli Lilly's COVID-19 therapy remains on track. With the antibody treatment, Eli Lilly targets patients with mild to moderate COVID-19 symptoms rather than critically ill patients.
In addition to the weak earnings, Eli Lilly stock was also down early on Oct. 27. Investors expressed concerns about the company's rising costs to develop a COVID-19 treatment. Eli Lilly expects its research and development costs related to the COVID-19 treatment to be about $400 million. Some investors think that the costs are too high. As a result, they want to reduce their exposure to Eli Lilly stock.
Article continues below advertisement
What is Eli Lilly's stock price today?
Eli Lilly stock fell 5.0 percent to $134.70 pre-market trading on Oct. 27. The stock continued to trend down after the opening bell. At one point, the stock fell more than 5.6 percent and traded at $133.74. The decline in Eli Lilly stock can be attributed to the company's disappointing third-quarter earnings. So far, the stock is up 7.0 percent in 2020.
What to expect from Eli Lilly stock
The most bullish analyst sees more than a 40 percent upside potential in Eli Lilly stock to $200 in 12 months. Even the most bearish target price of $144 implies some upside potential for Eli Lilly stock.
Article continues below advertisement
Is Eli Lilly stock right for your portfolio? First, investors seeking stocks with a dividend may find Eli Lilly stock appealing. The stock has a long dividend history. Eli Lilly's next dividend payout date is set for Dec. 10, when it plans to distribute a dividend of $0.74 per share.
Second, success with the COVID-19 drug should propel Eli Lilly stock higher. Companies like Eli Lilly can be ideal long-term investments considering that the healthcare sector tends to do well in all economic climates. For investors with a long-term view, the pullback in Eli Lilly stock may be an opportunity to get on board at a discount.