Does Tesla's Stock Price Make Any Sense at These Levels?
By Mohit Oberoi, CFA

Dec. 21 2020, Updated 9:17 a.m. ET
Tesla stock made a record high on Friday a day before its inclusion into the S&P 500 on Dec. 21. The stock is up 730 percent so far in 2020 and is the biggest gainer among large-cap companies. But are the current stock prices justified? Let's explore whether the sharp rally in Tesla stock makes any sense.
Article continues below advertisement
To be sure, the rally is not limited to Tesla alone. All major stocks in the electric vehicle ecosystem have rallied in 2020. NIO, which seemed headed for an imminent bankruptcy earlier this year, is up 1,060 percent for the year. XPeng and Li Auto, which listed this year, have also rallied amid the euphoria over the vehicle electrification story.
Article continues below advertisement
Does Tesla's stock price make sense?
Tesla has a market capitalization of over $650 billion. In comparison, Toyota Motors has a market capitalization of only about $250 billion. Tesla's market capitalization is now more than Toyota Motors, Volkswagen, Ford, Fiat Chrysler, and General Motors combined. In 2015, when Tesla's market capitalization was above Ford, many scoffed at the prospect of a loss-making niche automaker having a bigger market capitalization than a mainstream profitable automaker.
Tesla's stock price continued to make headlines in 2020. Its market capitalization crossed Volkswagen and then Toyota Motors which was the biggest automaker by market capitalization. While critics scoffed at every milestone that Tesla stock made, it continued to rise further.
Article continues below advertisement
How's Tesla stock doing?
But then, Tesla has changed the dynamics of the automotive industry. In 2014, Fiat Chrysler's former CEO Sergio Marchionne, referring to Fiat Chrysler's electric 500e, said, "I hope you don't buy it because every time I sell one it costs me $14,000." Fast forward to 2020, every automaker sees electric vehicles and autonomous driving as the future.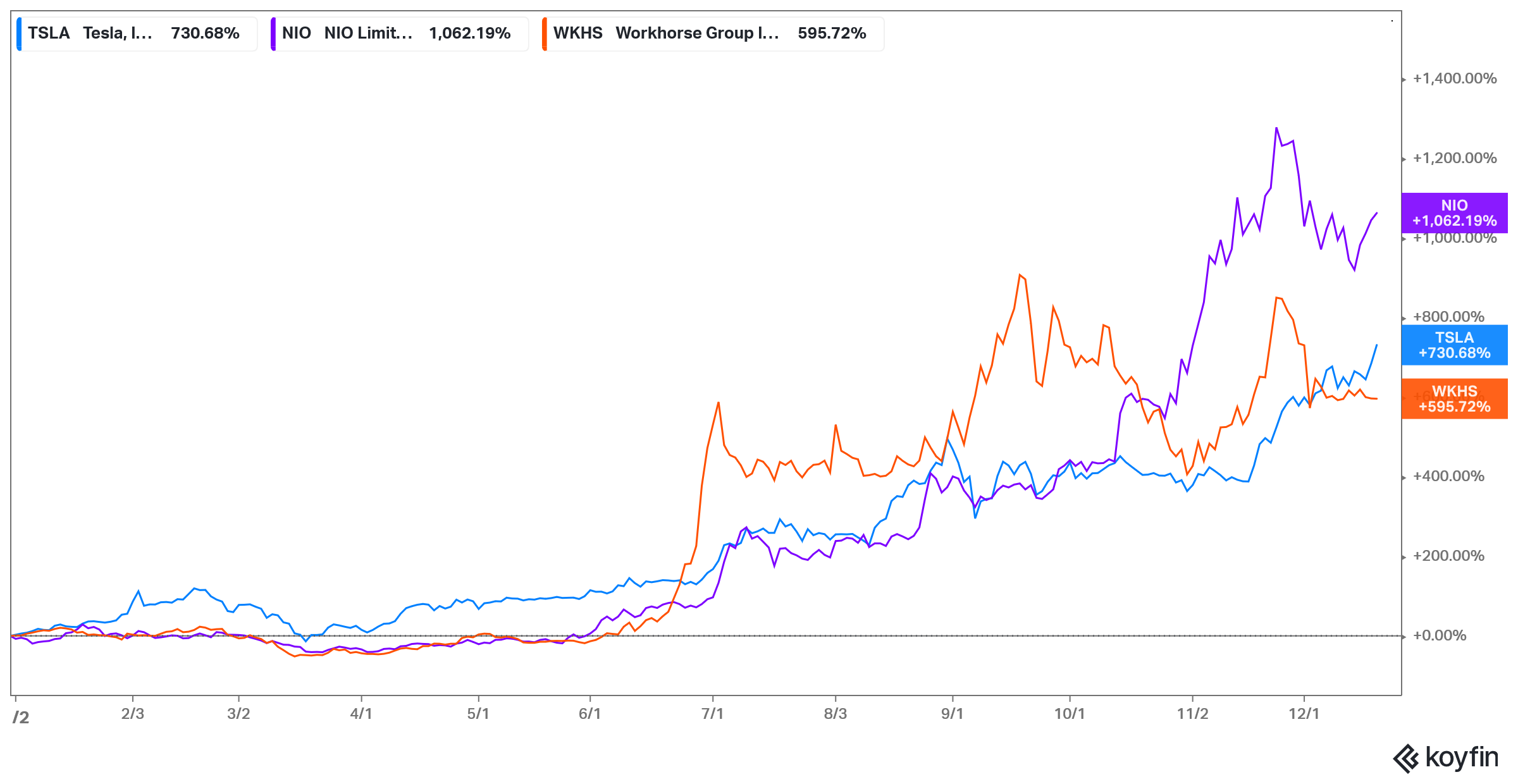 Article continues below advertisement
A few years back, many predicted a bankruptcy for Tesla amid its massive cash burn. Now, Tesla has posted a net profit for five consecutive quarters that earned it a place in the S&P 500. It also posted positive free cash flows in 2019 despite its massive capex program. Tesla is now a net debt positive company after three rounds of capital issuance in 2020. Tesla's deliveries are growing at a fast pace and it expects to deliver half a million cars in 2020. This is unlike other automakers that are battling falling sales.
Is Tesla stock a buy or sell?
Looking at Tesla's price action, it is always tough to recommend a short sell on the stock. Short sells have got butchered this year, to say the least. Famous Tesla short-seller Jim Chanos who said in April that he's "maximum short" on the stock, has also lowered his bearish bet on the company.
Article continues below advertisement
Again, it is tough to recommend a buy on Tesla stock either, especially for someone who cares for valuation multiples. But then, Tesla is a story and like all stories, they are meant for believers. Those who doubt Tesla and its vision have lost out on among the most incredible growth story of our times.
Article continues below advertisement
Wall Street is more divided than ever when it comes to valuing Tesla. There is a big dispersion in Tesla's target price. While JP Morgan expects the stock to fall to $90, Ark Investment expects it to double from even current levels. Tesla stock has consistently traded above its target price for more than a year now. But then, when the "dean of valuation" Ashwath Damodaran got it so wrong on Tesla's valuation, we should not be blaming other "mortal" analysts.
Even Tesla's CEO Elon Musk got Tesla's valuation wrong and tweeted earlier this year that he finds the stock price high. If Tesla knew how far its shares could rise, it wouldn't have issued shares twice before December. To sum it up, Tesla stock was never a buy for a valuation "purist" and might never be, even if it loses more than half of its value. For Tesla enthusiasts, Tesla is a buy at every price. Over the last year, Tesla bulls seem to be having the best of bears. Could the tables turn in 2021? Let's see.