Should You Buy CLII SPAC Stock Before Its Merger With EVgo?
By Mohit Oberoi, CFA

Jan. 22 2021, Published 6:11 a.m. ET
Over the last year, some SPACs (special purpose acquisition companies) have attracted a buying frenzy before their merger. Chamath Palihapitiya, "the king of SPACs," is now investing in a climate change company. Climate change stocks have been on fire since Joe Biden was elected president, and this year, Climate Change Crisis Real Impact I Acquisition Corp (CLII) SPAC stock is up almost 25 percent. Is the CLII SPAC a good stock to buy amid reports that it's merging with EVgo?
Article continues below advertisement
Almost all climate change stocks have rallied over the last year. EV (electric vehicle), fuel cell, EV charging infrastructure, and renewable energy stocks have soared as investors are betting on a renewed push toward green technology.
Article continues below advertisement
Who owns the CLII SPAC?
The CLII SPAC held an IPO last year, offering 23 million shares at a price of $10. CLII is co-sponsored by private funds affiliated with PIMCO, which has over $150 billion in sustainability investments across different portfolios.
In a press release, CLII said it would look at merger targets that "may be in the business of either avoiding carbon emissions into the atmosphere from the residential, commercial or transportation sectors or in the business of removing CO2 already in the atmosphere."
Article continues below advertisement
Will CLII merge with EVgo?
CLII has said that it will look for companies involved in renewable energy, EV infrastructure, the circular economy, reforestation, sustainable agriculture, carbon capture, and energy efficiency for mergers. It's looking for companies that have a scalable business model. And now, Bloomberg has reported that CLII will merge with EVgo, an EV charging company.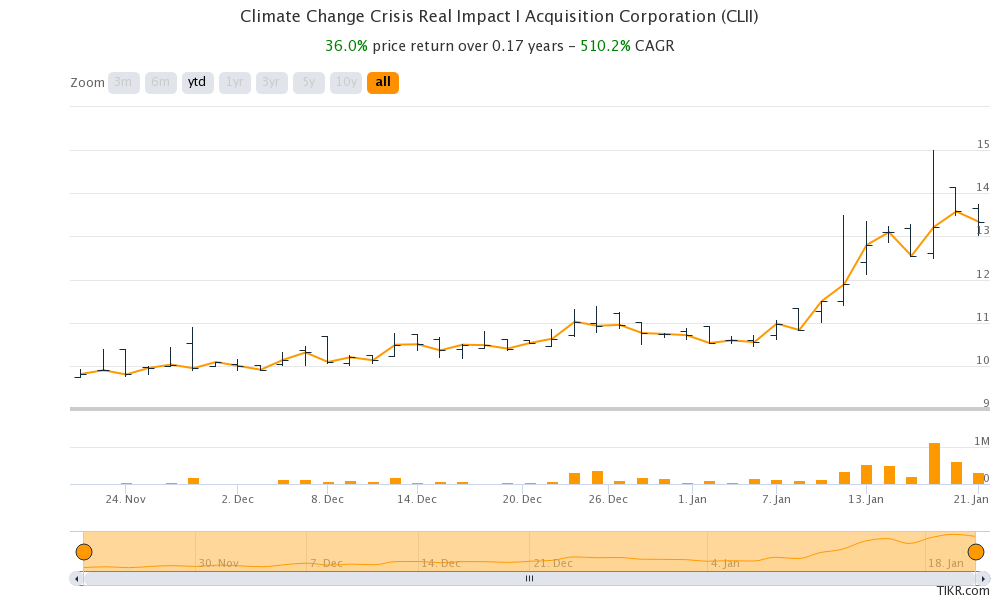 Article continues below advertisement
How CLII has performed
CLII SPAC stock has gained 36 percent from its IPO price. It lost 1.8 percent on Jan. 21 but has skyrocketed in premarket trading today. The stock is up 35 percent from its IPO price based on Jan. 21 closing prices
Should you buy CLII stock before the merger?
SPACs are known as "blank-check companies." An investor buying a SPAC before a merger is basically betting on the reputation of the sponsor. We've seen a flurry of SPACs from Bill Ackman, Chamath Palihapitiya, and Bill Foley. Even SoftBank jumped into the SPAC fray last year.
Article continues below advertisement
That said, there's no guarantee that CLII will merge with EVgo. The CCIV-Lucid Motors deal is still in limbo, and there are rumors that a merger might not happen. Similarly, Bill Ackman was not able to merge Airbnb, which eventually held a successful IPO on its own.
If the CLII-EVgo merger succeeds, however, it would be a good stock to buy considering the positive outlook for EV charging stocks, most of which have ballooned over the last year.