These Cheap EV Stocks Could Be the Next NIO in the Making
By Mohit Oberoi, CFA

Jan. 15 2021, Published 12:30 p.m. ET
EV (electric vehicle) stocks were among the biggest gainers in 2020. They have continued their good run in 2021 as well. The kind of valuation multiples that EV stocks like Tesla and NIO are commanding would even put some of the high growth tech stocks to shame. While most of the EV stocks are trading at exorbitant valuations, there are some cheap EV stocks that you can still buy.
Article continues below advertisement
The demand for electric cars is expected to soar over the next decade. Pure-play EV companies and legacy automakers will fight it out to get a share of the pie. Some of the newly listed EV makers will be launching their models to take on existing electric cars.
Article continues below advertisement
Why investors buy EV stocks
Investors have bought stocks across the EV value chain, including parts manufacturers for electric cars and charging infrastructure companies. They expect an all-electric future for the automotive industry. As the demand for electric cars increases, so will the sales for electric cars and all of the other companies in the broader EV ecosystem.
Cheap EV stocks to buy
Right now, some of the cheap EV stocks are:
DPW Holdings (DPW)
SPI Energy (SPI)
Aurora Mobile (JG)
Aemetis Inc (AMTX)
Kandi Technologies (KNDI)
These companies are spread across the EV value chain. 
Article continues below advertisement
First, DPW Holdings is a play on the EV charging network. In 2020, one of the company's subsidiaries announced plans to set up EV charging points at national fast-food restaurants. DPW Holdings has also started accepting preorders for its residential EV chargers on Amazon. 
SPI Energy announced a subsidiary to produce electric cars in 2020. Currently, its market capitalization is below $200 million. If the company's EV plans are successful, it could be a multi-bagger from here.
Article continues below advertisement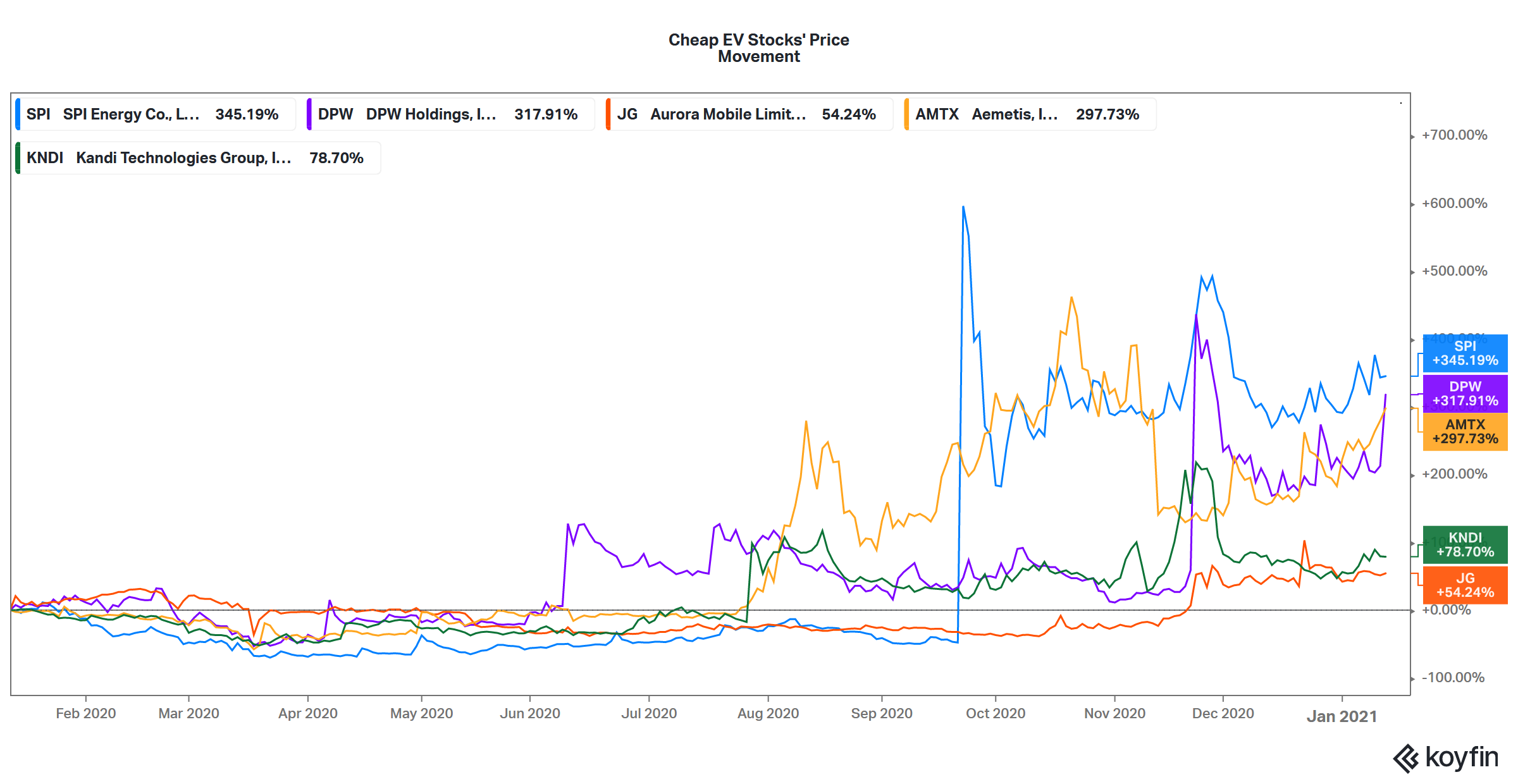 Aurora Mobile is another interesting EV play. It's a penny stock with a market capitalization below $350 million. Last year, Aurora Mobile announced a partnership with China-based EV maker Dongfeng Motor Group for smart mobility solutions. Smart mobility is part of the broader EV ecosystem and Aurora Mobile is a cheap stock to play the theme.
Article continues below advertisement
Aemetis is another cheap stock in the EV space. Last year, the company announced plans to enter the EV market by purchasing a stake in Nevo Motors, which produces zero-emission heavy-duty trucks. Nevo expects to launch its product in the first quarter of 2021. 
Kandi Technologies is another cheap EV stock with a market capitalization of around $600 million. Kandi Technologies is a play on the Chinese EV market. In 2020, Hindenburg Research accused the company of fraud. It had also accused Nikola of fraud, which led to a slide in Nikola stock.
Article continues below advertisement
How to buy EV stocks
You can either buy individual EV stocks through your trading account or invest in green energy ETFs that also invest in EV stocks. However, ETFs might not have much exposure to cheap EV stocks.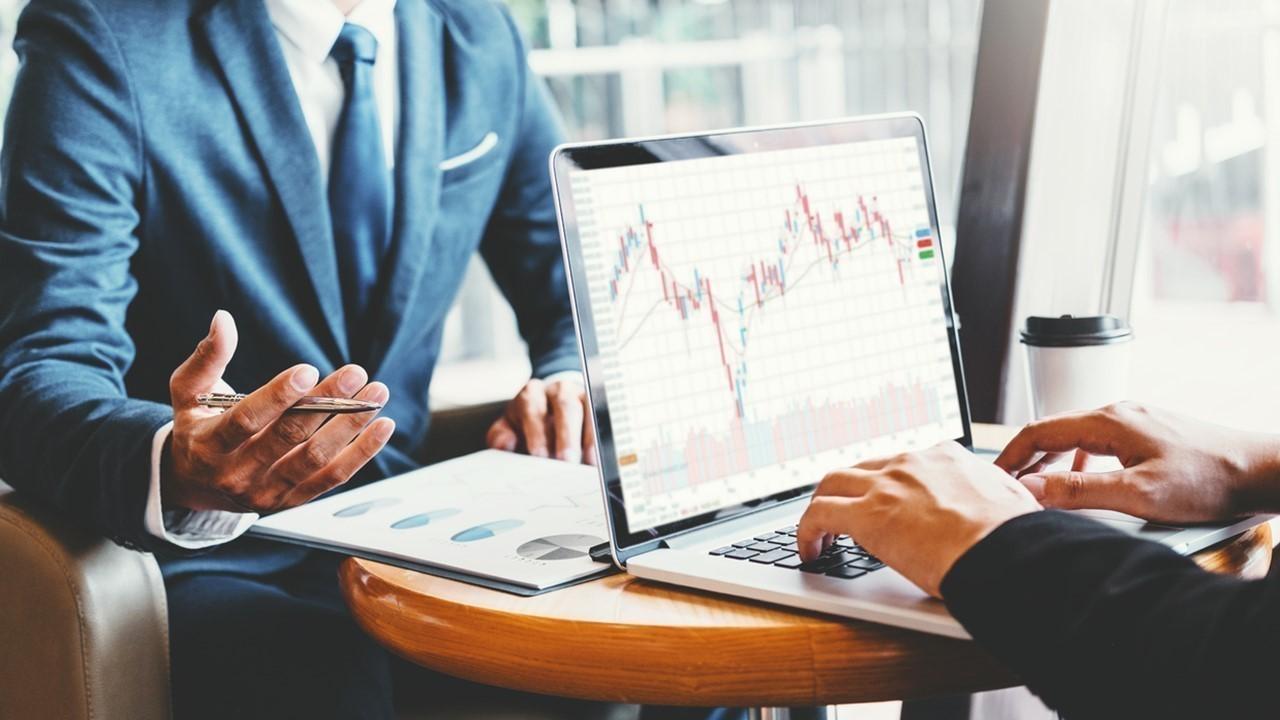 Article continues below advertisement
Outlook for the EV sector
The outlook for the EV sector looks positive especially with Joe Biden set to become the next U.S. president. There's a global push for renewable energy and zero-emission cars, which will benefit the EV industry.
Buying cheap EV penny stocks is risky
In general, penny stocks are riskier than large-cap companies. However, NIO's market capitalization is now almost $100 billion. The company was also a penny EV stock in 2020. The stock soared over 1,100 percent in 2020 and is now valued higher than General Motors.
It isn't guaranteed that any of the cheap EV stocks discussed above will deliver similar returns as NIO. However, EV penny stocks do have good potential if you are willing to take the associated risk.