Trivago (TRVG) Stock Isn't a Buy, CDC Keeps No Sail Order in Place
By Mohit Oberoi, CFA

Mar. 25 2021, Published 11:04 a.m. ET
Trivago stock lost 5.5 percent on March 24 and was trading lower in early trading on March 25. In October 2020, the CDC extended the no sail order up to November 1, 2021. While the cruise line industry wants cruise activity to resume by June as more people get COVID-19 vaccinations, the CDC isn't willing to lift its no sail order. Travel stocks, including Trivago (TRVG), fell sharply on March 24 after the news. Should you buy Trivago stock after the CDC's decision on the no sail order?
Article continues below advertisement
Trivago is mainly a hotel search company. The stock fell in 2020 when the travel and tourism sector was hit hard by the COVID-19 pandemic. 
However, these stocks have bounced back amid hopes that normal business activities will resume soon due to COVID-19 vaccinations. TRVG stock is up almost 230 percent from its 52-week lows of $1.25.
Article continues below advertisement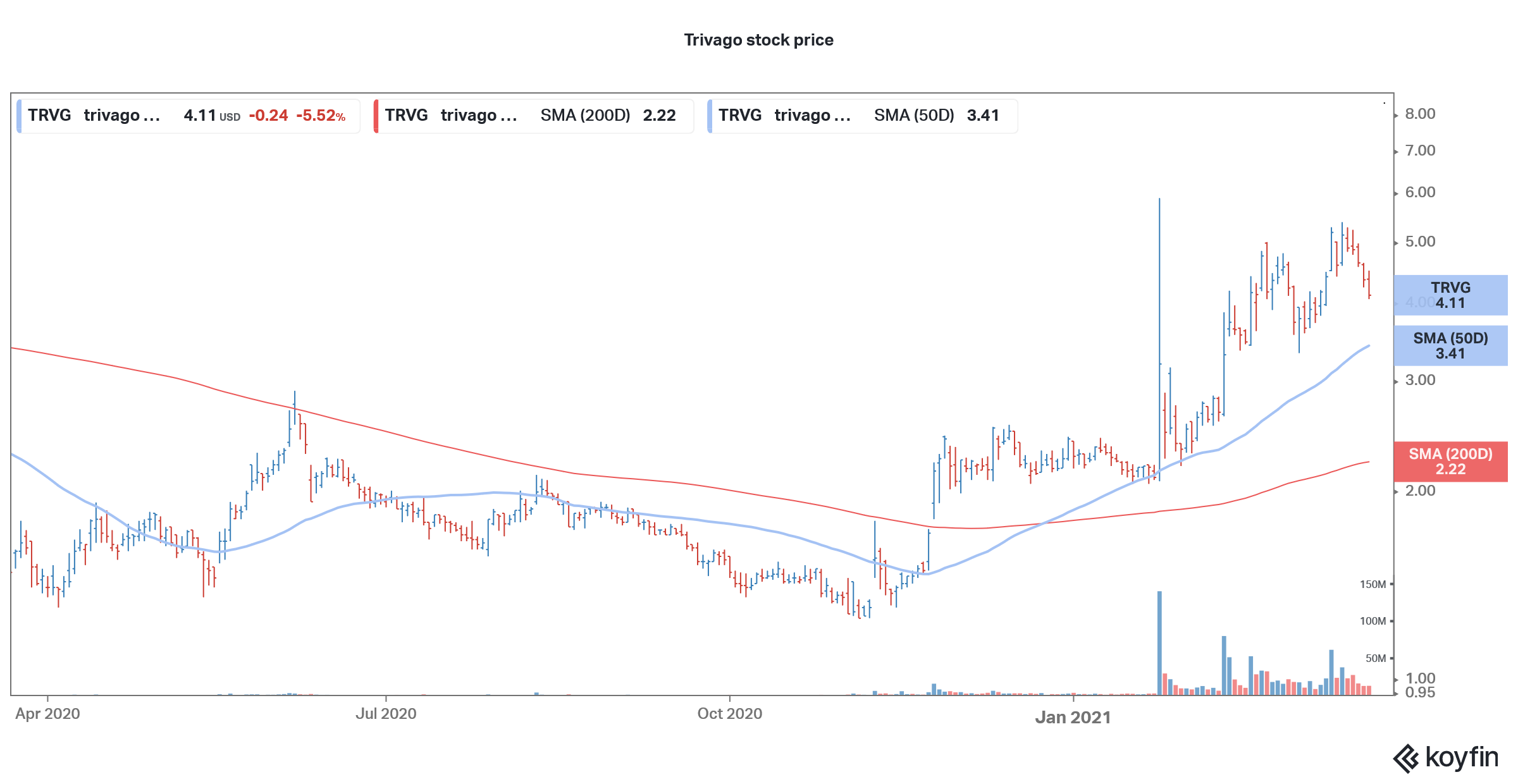 CDC's no sail order in 2021
The CDC hasn't issued a new order in 2021. The previous no sail order halted all cruise activities until November 1, 2021. However, the order was issued in October 2020 when the coronavirus cases were rising rapidly in the U.S. Now, the daily cases have come down considerably and more people are getting vaccinated.
Article continues below advertisement
According to CDC data, 25.7 percent of the U.S. population has received one dose, while 14 percent are fully vaccinated. Despite most business activity resuming, the CDC doesn't plan to remove its no sail order right now.
Trivago stock WallStreetBets
Trivago isn't among the most popular stocks on WallStreetBets. That space is reserved for meme stocks like GameStop and AMC Entertainment. A post on WallStreetBets that was upvoted over 1,000 times, talked about the possibility of Expedia buying the stock between $6 and $8. It also talked about Trivago's cash pile and its asset-light business model.
Article continues below advertisement
Trivago's stock forecast
According to the estimates compiled by CNN Business, TRVG has a median target price of $2.68, which is a discount of almost 35 percent over the current prices. The stock's lowest target price is $1.28, while its highest target price is $3.57, which means that it's trading 13 percent above its street high target price.
Article continues below advertisement
Among the 11 analysts covering the stock, only one recommends a buy, while two recommend a sell or some equivalent. Eight analysts have a hold rating on the stock.
Article continues below advertisement
Is Trivago a good stock?
Trivago has an asset-light business model but that doesn't fully offset the pain the that travel industry is going through. However, there's hope that we'll see "revenge travel" demand in 2021. People who were confined to their homes during the COVID-19 pandemic might want to go on vacation.
However, there are a lot of uncertainties for travel companies including the ongoing COVID-19 pandemic. We're already seeing the third wave in Europe and the second wave in India. Trivago has a reasonably strong balance sheet. The company had cash and cash equivalents of almost $250 million at the end of 2020, which would help it cope with the current hard times.
Article continues below advertisement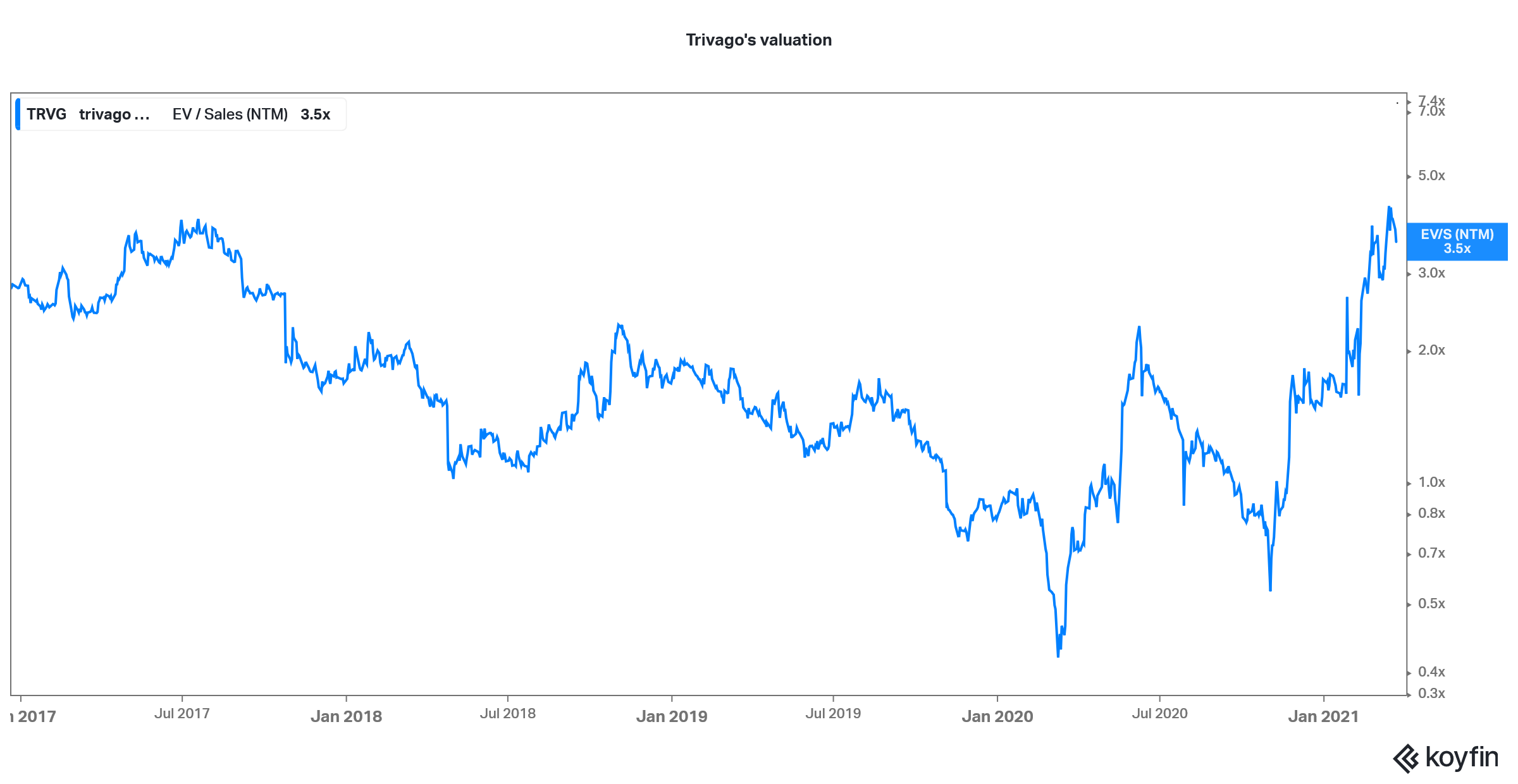 TRVG stock isn't a buy for investors.
Looking at the valuations, TRVG stock doesn't look like a good buy at these prices. It generated a net income of around $20.3 million on revenues of $890 million in 2019. We won't look at the 2020 numbers since they were impacted severely by the COVID-19 pandemic.
Even looking at the 2019 numbers, TRVG stock is valued at 1.6x its pre-pandemic revenues and at 71x its pre-pandemic earnings. Both of the multiples look high considering the uncertain economic environment.