After All the Hype, Nikola Needs to Execute Its Business Plans
By Mohit Oberoi, CFA

May. 5 2021, Published 11:15 a.m. ET
Startup EV company Nikola (NKLA) will release its first-quarter earnings on May 7. What's the forecast for Nikola stock before its first-quarter earnings and should you buy the stock before the event?
Article continues below advertisement
We're getting towards the end of the first-quarter earnings season. Ford and General Motors have already released their earnings. Looking at pure-play EV companies, Tesla and NIO have also released their earnings. One common thread between these companies' earnings has been the discussion about the global chip shortage. 
Nikola's earnings estimates
Since Nikola isn't delivering vehicles yet, it isn't making any revenues. Analysts expect the company to only start making revenues in the fourth quarter of 2021 when it starts delivering cars. Nikola is expected to start delivering vehicles from its plant in Europe in 2021, while its U.S. plant will only be able to achieve that feat in 2022.
Article continues below advertisement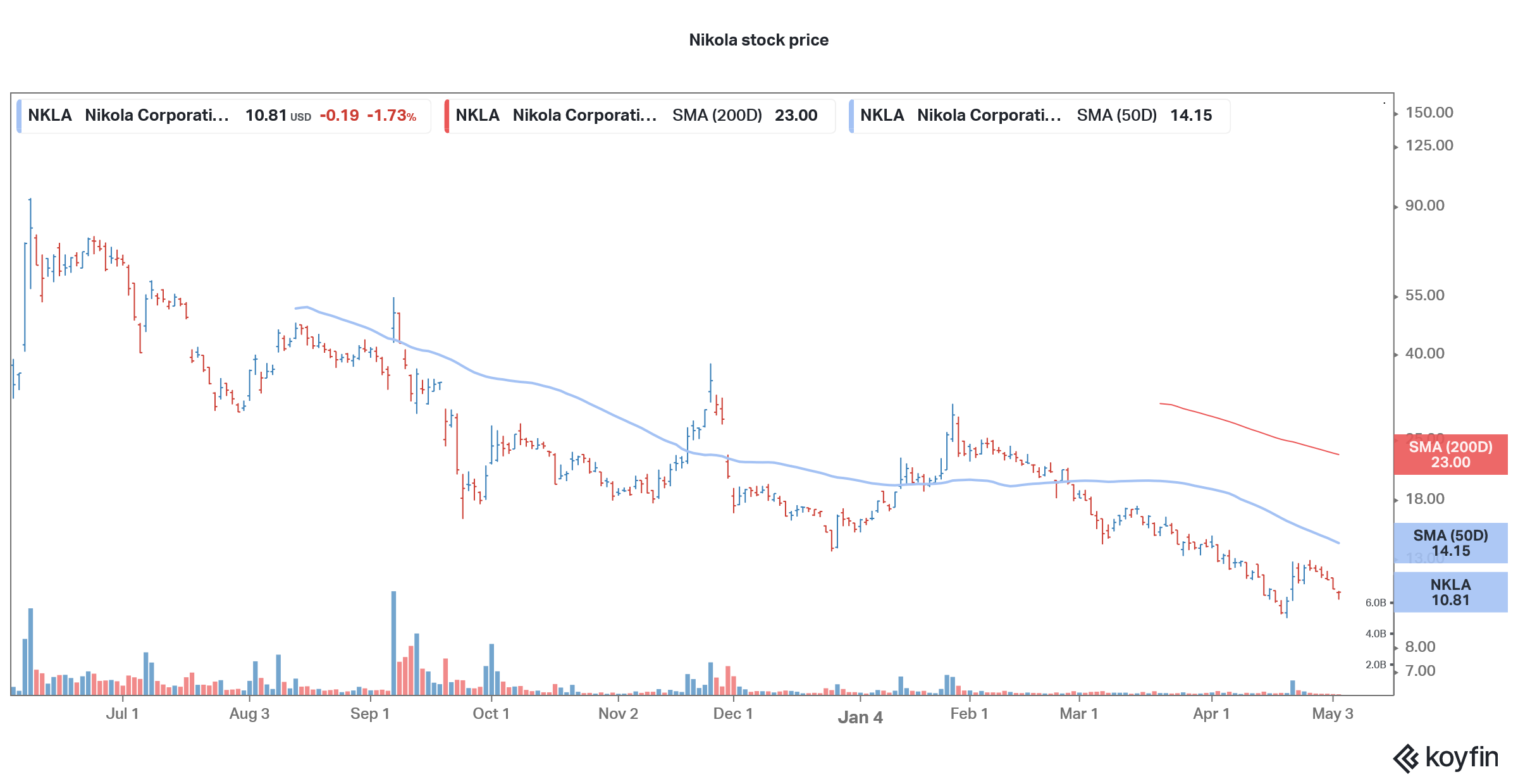 The analysts polled by TIKR expect Nikola to post an adjusted net loss of $107.7 million in the first quarter of 2021 compared to a net loss of $67 million in the sequential quarter. NKLA went public in 2020 through a reverse merger. While it rose sharply initially, the stock has since seen selling pressure.
Article continues below advertisement
Nikola news
On April 22, Nikola announced a collaboration with TravelCenters of America for installing hydrogen fueling stations at two of its sites for refueling heavy-duty trucks. Nikola is working on hydrogen fuel cell-powered vehicles that would need a network of hydrogen fuel refilling stations to be viable. EV companies like Tesla are also investing in developing a charging network.
Article continues below advertisement
Nikola's stock price forecast
According to the estimates compiled by CNN, Nikola has a median target price of $20, which is an 85 percent premium over the current prices. Its highest target price of $30 is 177 percent above the current prices, while the lowest target price of $13 is also a premium of over 20 percent.
Among the eight analysts covering NKLA stock, only two have a buy or equivalent rating, while six have a hold rating. NKLA stock has fallen sharply from its peak and now has a market capitalization of only about $4.2 billion. At its peak in 2020, the company's market capitalization exceeded that of Ford.
Article continues below advertisement
Should you buy or sell Nikola before its earnings?
The market sentiments have been somber towards EV stocks. This is especially true for companies like Nikola, Fisker, and Lordstown Motors, which aren't currently making any revenues. Even Churchill Capital IV (CCIV), which announced a merger with Lucid Motors, has been falling since the merger announcement.
Article continues below advertisement
Nikola needs to execute its business plans for investors' confidence to return. After the euphoria of 2020, 2021 is turning out to be a moment of truth for startup EV companies as investors question their high valuations.
If Nikola can provide a solid roadmap for 2021, the stock could rise after the earnings release. The stock could be a multi-bagger if it justifies its tag of being the "Tesla of trucking." However, Nikola faces execution risk because producing a vehicle is a tedious exercise. Even Tesla faced a lot of issues as it moved up the learning curve.
Article continues below advertisement
Will Tesla buy Nikola?
While Nikola and Tesla are in the same industry, I don't think that Tesla will buy Nikola even though the cash on the Elon Musk run company's balance sheet is four times that of Nikola's market cap.
Nikola is working on fuel cell vehicles, which is something that Musk has been critical of in the past. Also, given its brand name and manufacturing facilities, there isn't a real urge for Tesla to buy a startup EV company like Nikola.