What Are the Best Clean Energy Stocks as the World Goes Green?
Climate change has been a burning issue and governments globally are taking multiple measures to promote clean energy and the adoption of renewable energy. The U.S. efforts took a backseat under the Trump administration. However, things are changing under the Biden administration. What are the best clean energy stocks that you can buy and hold for the long term?
Article continues below advertisement
Among the first executive orders that Biden issued, he rejoined the Paris Climate Deal. He also wants to replace the massive U.S. government fleet with zero-emission vehicles.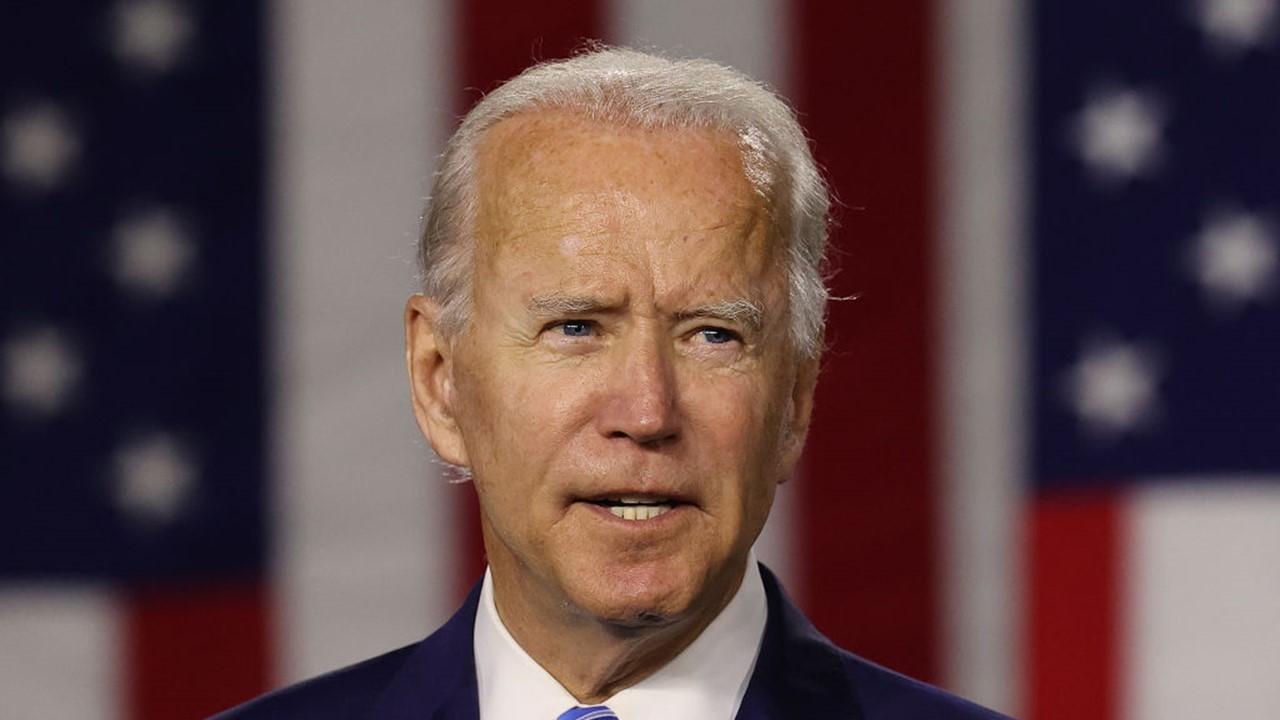 Article continues below advertisement
How clean energy differs from green energy
Clean energy is the energy derived from zero-emission sources. Meanwhile, there's a high degree of overlap between green energy, clean energy, and renewable energy. For example, while hydropower is a renewable energy source, many people don't see hydroelectric power as green energy. Constructing a hydroelectric dam can lead to environmental damage.
Is Nuclear power clean energy?
Nuclear power is another area where researchers don't agree about whether it's green and renewable energy. The U.S. Department of Energy argues that nuclear energy is clean energy and lists three points to support its thesis.
Nuclear energy helps protect the air quality.
The land footprint for nuclear energy is small.
Nuclear energy generation produces very little waste.
Article continues below advertisement
However, many researchers debate that nuclear energy isn't clean or green. They point to the emissions associated with uranium enrichment as well as radiations released from nuclear power plants.
What is classified as clean energy?
There are always two sides to the coin. For example, some people even question whether electric vehicles are good for the environment. They argue that electric vehicles only shift the source of pollution from the vehicle to power plants. The fact that coal, which is one of the most polluting energy sources, still accounts for a large part of electricity generation globally only adds weight to their argument.
Article continues below advertisement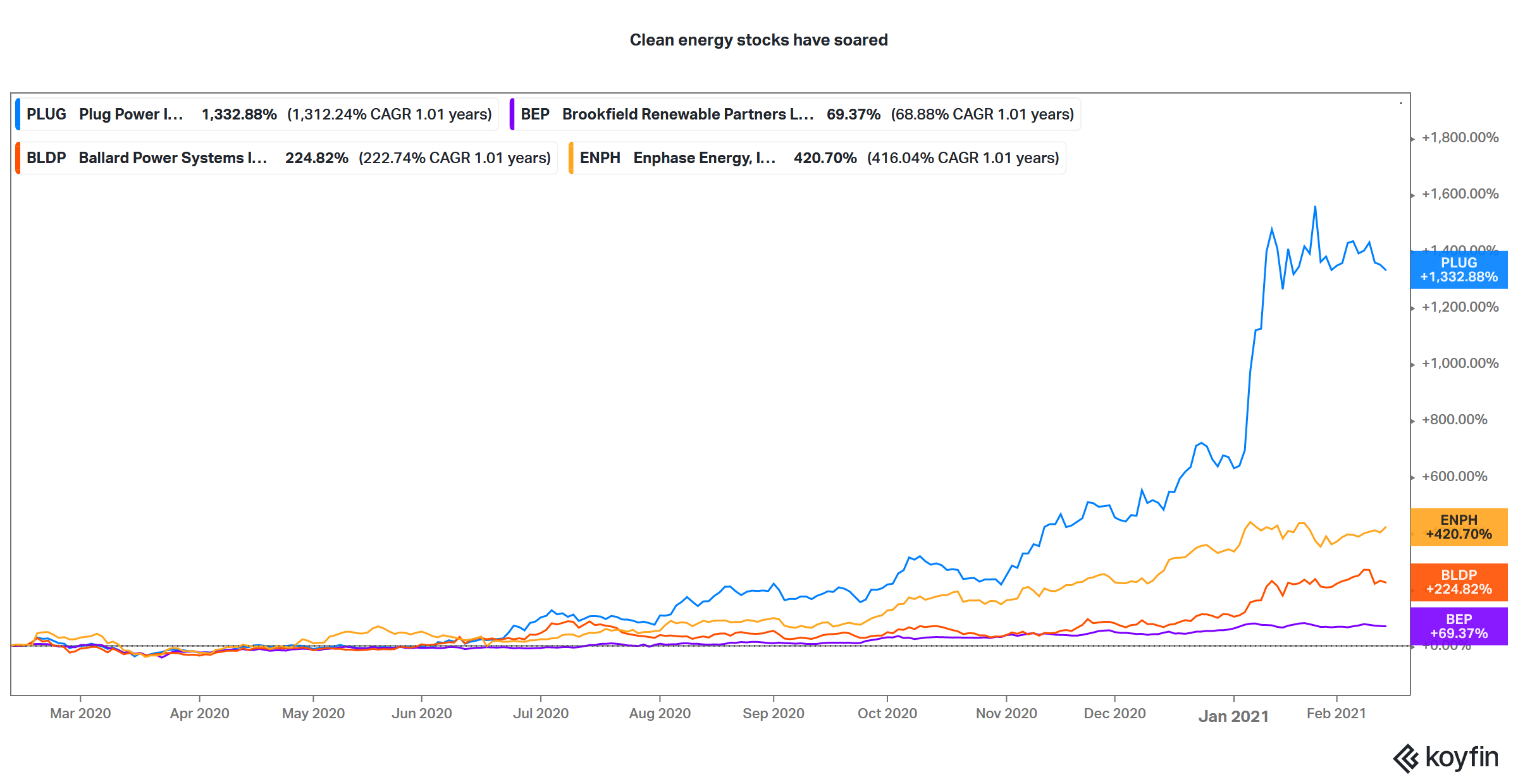 Generally speaking, we can classify solar energy, wind energy, and green hydrogen as clean energy. So, when we talk about investing in clean energy stocks, we should ideally look across companies in these industries.
Article continues below advertisement
Best clean energy stocks
The following look like good clean energy stocks to buy as the world transitions from fossil fuels towards clean and renewable energy.
Enphase Energy (ENPH)
Brookfield Renewable (BEP)
Ballard Power Systems (BLDP)
Plug Power (PLUG)
Enphase Energy is a good solar play
In 2020, Enphase Energy stock gained over 500 percent and joined the S&P 500. The company provides solar energy solutions and micro inventors. The stock trades at an NTM (next-12-month) EV-to-revenue multiple of 19.3x and an NTM PE multiple of 102x.
Article continues below advertisement
However, the high valuations multiples are backed by a strong growth outlook. Analysts expect the company's revenues to rise 61 percent in 2021, while its earnings are expected to rise 48 percent.
Brookfield Renewable is a diversified clean energy play
Brookfield Renewables is another diversified play on clean energy with operations spread across the Americas, Europe, and Asia. It has solar as well as wind energy generation operations. The stock trades at an NTM EV-to-revenue multiple of 13.1x and an NTM PE multiple of 527x. Looking at the explosive growth that clean energy companies are expected to witness, it wouldn't be prudent to look at the NTM numbers alone.
Article continues below advertisement
Hydrogen fuel cell stocks
In 2020, hydrogen fuel cell stocks rallied sharply. They have continued their good run in 2021. In the hydrogen fuel cell space, Plug Power and Ballard Power Systems look like two good stocks. Plug Power stock rallied sharply in January when South Korea-based conglomerate SK Group announced a $1.5 billion investment in the company. Plug Power specializes in fuel cell batteries that can replace conventional batteries.
Article continues below advertisement
Ballard Power Systems has almost four decades of experience in fuel cell technology. In August 2020, the company said that vehicles powered by its fuel cells have cumulatively driven 50 million kilometers, which is equivalent to circling the globe 1,250 times.
While companies like Tesla and NIO are only focusing on battery-electric cars, others like Nikola, Toyota Motors, and Honda Motors are also developing hydrogen fuel cell cars. As hydrogen cars gain more traction, it would lead to higher demand for fuel cells.