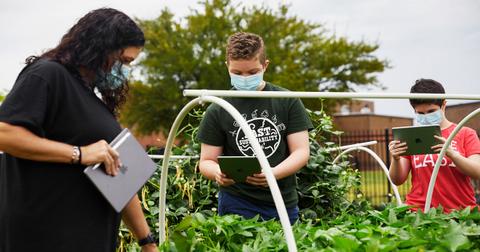 Apple Search Engine About to Take On Google
By Ruchi Gupta

Updated
Apple has accelerated its efforts to make its own search engine. The company has long relied on Google as the default search engine tool for its products. For example, Google has been the default search engine in Apple's iPhone for more than a decade. However, people using the iPhone lately have started noticing that search results come from Apple instead of Google, an indication Apple may be moving away from Google search engine to its own search technology.
Article continues below advertisement
For a company as focused on privacy as Apple is, the pragmatic decision would be to funnel all that money into building their own search engine. $12B/year is quite a funding round. https://t.co/qWwnhBth5W

— Daniel Jalkut (@danielpunkass) October 26, 2020
Apple taking control of search engine for its products as Google faces scrutiny
Google is said to pay Apple as much as $12 billion a year to maintain its position as the default search tool in Apple products. But that arrangement has drawn regulatory scrutiny. For example, the search engine arrangement with Apple has become part of the antitrust case facing Google.
Article continues below advertisement
An Apple search engine would present competition to Google, which relies on search ads for a significant portion of its advertising sales. The advance in the Apple search engine project comes little more than two years after Apple poached John Giannandrea, Google's head of search and an artificial intelligence expert.
Making its own search engine would help Apple mitigate the potential impact of losing Google's billions if regulators block their search engine arrangement. However, it may take time and require massive financial investment before Apple's search engine can rival Google.
Article continues below advertisement
Apple is investing billions into a SEARCH ENGINE to compete with Google.

Do we really want our searches to rely on the company that switches it to DUCKING every time?

All our results gonna be bird porn.

— Tommy Campbell (@MrTommyCampbell) October 28, 2020
Apple making its own search engine marks another step in the company trying to take control of its supply chain. For example, Apple has moved to designing in-house the processor chips that go into its products such as the iPhone and iPad. Additionally, they are shifting Mac's processor chip design from Intel to in-house as well.
Article continues below advertisement
What's Apple search engine for Safari browser?
Google is the default search engine in Apple's Safari browser. However, for those Safari users looking to go beyond Google, Apple offers Bing, Yahoo, and DuckDuckGo as alternative Safari search engines.
(To change from the default, you simply go into Settings > Safari > Search Engine and select your preferred engine.)
What is Apple TV search engine?
You can search for movies and shows on Apple TV with Siri or the search app. Apple is the default search engine for Siri, which by extension makes it the search engine for Apple TV. However, Apple also offers Microsoft's Bing as an alternative search engine for Siri.
What's the search engine for Apple Watch?
Apple Watch doesn't come with an in-built Safari browser. Instead, Apple Watch users can surf the web with third-party browsers available on App Store. Most of these Apple Watch third-party browsers use Google, Yahoo, Bing, and DuckDuckGo as their search engines. Alternatively, you can use Siri to search with Apple Watch. Siri uses Google as the default search engine but offers Bing as an alternative.