Will AMC Stock, Reddit's 'Poor Man's Tesla,' Reach the Moon?
By Mohit Oberoi, CFA

May. 28 2021, Published 8:17 a.m. ET
AMC Entertainment stock rose a whopping 35 percent on May 27 and hit a new 52-week high. It's a meme stock that has hit a new high after the short squeeze in the first quarter of 2021. Most other Reddit stocks including GameStop, Sundial Growers, and Zomedica are trading way below their 52-week highs. What's the forecast for AMC stock in 2021? Will it rise more or crash badly?
Article continues below advertisement
There has been a rally in all meme stocks this week. However, the gains in AMC far outpace the other meme stocks including the Reddit favorite GameStop, which is still only about half of its previous highs.
AMC stock all-time high
AMC stock hit an all-time high of $36.13 on March 23, 2015, and closed at $35.86 on that day. The date is interesting because five years later, U.S. stock markets made their COVID-19 pandemic low on that day. AMC stock closed at $3.15 on March 23, 2020.
Article continues below advertisement
While U.S. markets bounced back sharply from those levels, AMC continued to plummet and hit an all-time low of $1.91 on January 5, 2021.
Article continues below advertisement
AMC's stock forecast and Reddit
However, AMC stock caught the eye of Reddit group WallStreetBets, which capitalized on the fundamental reopening story and AMC stock's tepid valuations to trigger an epic short squeeze in the stock. WallStreetBets has a bullish forecast for AMC and members want it to go to the moon next.
Tesla
Tesla is another stock that went to the moon literally and at its peak, it had a market capitalization of almost $900 billion, which far exceeded all of the leading automakers put together. SpaceX, one of Elon Musk's privately held companies, is actually attempting to take people to the moon. It's also accepting Dogecoins for the moon mission called "DOGE-1 Mission to the Moon."
Article continues below advertisement
There are some similarities between Tesla and AMC Entertainment. Both of them seem to trade at odds with their fundamental valuations. Also, in the most recent earnings call, AMC Entertainment CEO Adam Aron harped on the fact that it's largely owned by retail investors now. In the past, Chinese billionaire Wang Jianlin's Dalian Wanda Group Co. was the major shareholder.
Article continues below advertisement
However, the group has cashed out of AMC Entertainment at a profit thanks to the Reddit-driven rally. AMC Entertainment raised capital by selling shares and capitalized on the short squeeze driven rally.
Tesla is among the rare companies that speak directly to retail shareholders during the earnings call. Musk thinks that retail traders have a better understanding of Tesla stock than the Wall Street pros, some of whom he has mocked during the earnings call.
Article continues below advertisement
AMC stock forecast
Wall Street has a bearish forecast for AMC stock. Its average target price of $6.44, which implies a 75.7 percent downside over the last 12 months. Its lowest target price is a literal low of $1, while the highest target price of $16 is also a discount of 40 percent over the current prices. None of the analysts rate the stock as a buy or some equivalent.
Article continues below advertisement
B. Riley, the only brokerage that was bullish on the stock, also downgraded it to hold. The analysts couldn't justify the stock's soaring valuations. Here AMC looks at odds with Tesla, which at least has some bullish backers like Cathie Wood and Gene Munster on Wall Street.
Is AMC stock overvalued?
From a valuation perspective, it's difficult to build a case for AMC stock since it looks way too overvalued. During the first quarter 2021 earnings call, management highlighted the $813 million cash on the balance sheet, which is the highest quarter-end cash in its century-old history.
Article continues below advertisement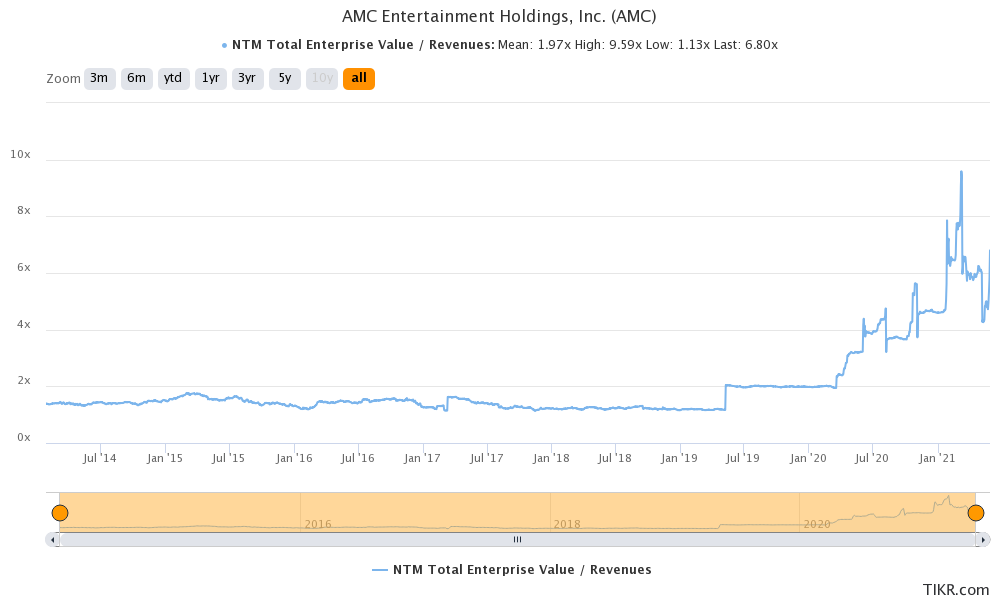 However, the cash hasn't come from core operations. The core operations continue to burn millions of dollars of cash every month from debt and equity issuance. AMC had a debt of around $5.5 billion and another $473 million as deferred rent payments at the end of the first quarter of 2021. The equity issuance, more of which might follow in the coming months, would lead to more dilution.
Article continues below advertisement
AMC stock appears to be in a bubble
AMC stock looks like it's in a bubble. To justify its valuations, AMC might need to post earnings higher than its previous highs. That looks remote if not outright impossible. However, with retail traders dabbling with the stock, it looks like the "greater fool" theory at play. When the euphoria dies, a lot of retail traders could end up holding AMC stock. The stock might not turn green in their portfolios for years.
Article continues below advertisement
Can Aron turn AMC Entertainment into a "poor man's Tesla?" It's certainly a possibility given the euphoria towards the stock. But then, Tesla at least has a story to sell with the autonomous driving and robotaxis, which Musk and several bullish analysts think will drive long-term value.
AMC is a cinema chain company that's grappling with the threat from streaming companies. I don't really see a compelling selling story behind the stock, at least at these prices.