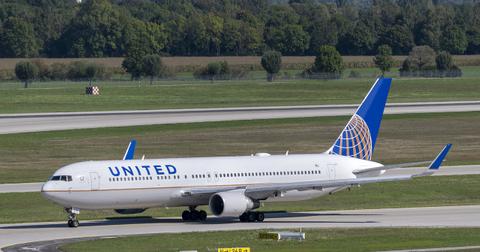 Is United Airlines Stock a Risky Bet for Investors?
By Ambrish Shah

Updated
United Airlines (NYSE:UAL) stock fell 2.4% in pre-market trading at 7:00 AM ET today. The stock fell amid fears about a second wave of COVID-19 infections. A second wave could delay the economic recovery. United Airlines has been losing nearly $40 million a day.
Article continues below advertisement
United Airlines plans to furlough about 36,000 of its workers due to weaker demand and travel restrictions amid the pandemic. The furloughs could impact nearly 2,250 pilots, 15,000 flight attendants, 5,500 maintenance workers, and 11,000 airport staffers.
According to a MarketWatch report, "United told employees Wednesday that not everyone who gets a layoff notice will be furloughed. The company said job losses could be reduced if enough employees accept buyouts or early retirement by a deadline next week." The report also said, "The buyouts come at a price too, however. United said it would take a $300 million charge in the second quarter to cover voluntary departures so far. The company said it was unable to estimate the cost of workforce reductions for the rest of the year."
Article continues below advertisement
At 7:00 AM ET today, Delta Air Lines (NYSE:DAL) and American Airlines (NASDAQ:AAL) stocks fell 1.5% and 1.3%, respectively. The Dow futures fell 0.29%, while the S&P futures fell 0.14%.
Analysts' recommendations and target price
Among the 19 analysts tracking United Airlines stock, two recommend a "strong buy," six recommend a "buy," and 11 recommend a "hold." None of the analysts recommend a "sell." Analysts' mean 12-month target price on the stock is $41.20, which implies a 26.7% gain from the current level of $32.53. The consensus target price for the stock has risen from $38.00 in June—a growth of 8.4%.
Article continues below advertisement
Growth projections for United Airlines
United Airlines' business has been crippled by the COVID-19 outbreak. The company swung to a first-quarter net loss of $1.7 billion or $6.86 per share from net income of $292 million or $1.09 per share in the first quarter of 2019. Excluding the net special items, the adjusted net loss was $639 million or $2.57 per share compared to an adjusted net income of $309 million or $1.15 per share in the same quarter a year ago.
United Airlines' total sales declined 16.8% YoY (year-over-year) to $8.0 billion in the first quarter. However, analysts expected the company to report a non-GAAP EPS of -$3.47 on revenue of $8.2 billion in the first quarter.
Article continues below advertisement
Wall Street analysts expect United Airlines to report an adjusted EPS of -$9.03 on revenue of $1.2 billion in the second quarter. Analysts also expect the company's sales to fall by 57.4% YoY in 2020 to $18.4 billion. The sales could increase by 69.4% YoY to $31.3 billion in 2021. Meanwhile, the adjusted earnings will likely decline from $12.05 per share in 2019 to -$20.62 per share in 2020. Analysts expect an adjusted EPS of $1.61 in 2021.
Stock returns
On Wednesday, United Airlines stock lost 0.1% and closed at $32.53 with a market cap of $9.4 billion. The stock is trading 66.1% below its 52-week high of $96.03 and 82.8% above its 52-week low of $17.80. So far, the stock has fallen by about 63.1% year-to-date.
Article continues below advertisement
Based on the closing price on Wednesday, United Airlines stock was trading 9.6% below its 20-day moving average of $35.97. The stock is also trading 3.5% above its 50-day moving average of $31.43 and 11.2% below its 100-day moving average of $36.64.
United Airlines stock has an upper Bollinger Band level of $41.20, while its middle Bollinger Band level is $35.97. On Wednesday, the stock closed near its lower Bollinger Band level of $30.74, which suggests that it's oversold.