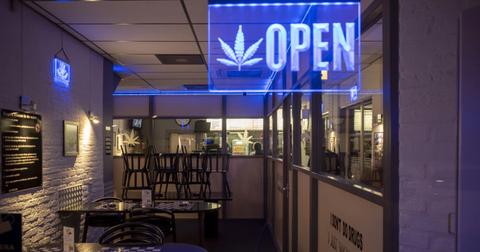 Illinois' Cannabis Sales Soared in June: Which Stocks Will Benefit?
By Sushree Mohanty

Updated
Cannabis sales have been soaring in all of the US states that classified it as an "essential item" amid the pandemic. The new legal market in Illinois has seen tremendous growth from the month it legalized cannabis. Illinois made recreational marijuana legal on January 1. Since then, the month-over-month sales have been strong. The state even recorded good sales in April despite the lockdown. June was a record-breaking month for cannabis sales in Illinois.
Record-breaking cannabis sales in Illinois in June
Marijuana is a relief amid COVID-19
There's a possibility that the rise in cannabis sales is a one-time thing. For now, states have seen the gains. The states where cannabis isn't legal can see the benefits and will push for legalization.
Many states where cannabis is legal found some relief with rising sales. Notably, other sectors' downfall impacts tax revenue. The lockdown forced people to stay at home, which caused panic and anxiety. Marijuana helps people with anxiety issues. People started hoarding marijuana like many other essential items. Unemployment has been rising in the US amid the crisis. Other states like the US Virgin Islands, New Mexico, and Texas also think that legalizing marijuana could help them recover from economic losses.
Good news for cannabis companies
If cannabis sales continue this trend even after the pandemic, it will benefit the state and cannabis companies. The companies struggled in 2019 due to declining revenues. So far, the situation has improved this year, especially for US cannabis companies.
The revenue rose due to sales from three of the company's strong markets—Illinois, Pennsylvania, and California. The markets in Illinois and Pennsylvania contributed to Green Thumb's 268% year-over-year growth in the first quarter.
Both of the companies also recorded a positive EBITDA in their first quarters. Their management teams think that Illinois' market will grow rapidly and have tremendous opportunities. As a result, the companies expanded in the market. Cresco opened its sixth store in Danville, while Green Thumb opened its eighth store in Niles in May. KushCo Holdings also saw continued sequential growth in Illinois, Michigan, and its other markets in its second quarter.
Federal-level legalization will also give Aurora Cannabis (NYSE:ACB), Canopy Growth (NYSE:CGC), Aphria (NYSE:APHA), and others an opportunity to take advantage of the expanding market. So far in July, Cresco Labs has declined by 2.9%. Green Thumb, Canopy Growth, and Aphria have gained 1.03%, 2.1%, and 0.93%, respectively.
To learn more about the marijuana sector, read What to Expect from Marijuana Stocks in July.