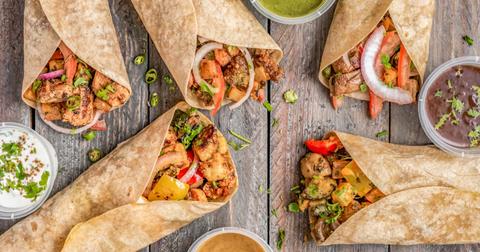 Chipotle Beats Analysts' Expectations, but Stock Falls
By Rajiv Nanjapla

Updated
Yesterday, Chipotle Mexican Grill (NYSE:CMG) reported impressive second-quarter earnings. Driven by strong digital sales, the company posted revenue of $1.36 billion, beating analysts' expectation of $1.34 billion. Its adjusted EPS also came in strong at $0.40, beating the expectation by over 14%. Despite the strong performance, Chipotle's stock fell over 1% in post-market trading hours. As the stock has rallied more than 185% from its March lows, I believe investors are looking to book their profits.
Chipotle's revenue falls
YoY (year-over-year), Chipotle's revenue fell 4.9% from $1.43 billion. The company's SSSG (same-store sales growth) turned negative amid the pandemic restrictions, dragging down the company's sales. The company's same-store sales fell 9.8% in the quarter, and 24.4% and 7%, respectively, in April and May. In June, they grew 2%.
Chipotle's online sales grew over 216% to account for 60.7% of the company's total sales during the quarter. The company has credited its investment in digital assets for the strong growth, and says it will continue to invest in enhancing customers' digital experience. It recently announced the opening of its 100th Chipotlane. Even after dining spaces have reopened, digital sales have contributed close to 50% of sales this month. The company's SSSG has increased by 6.4% in July.
This quarter, Chipotle has opened 37 new restaurants, raising its restaurant count to 2,669. Overall, in the last four quarters, the company has increased its unit count by 570, offsetting some of the sales decline. Meanwhile, 30 restaurants are still closed due to the pandemic.
Chipotle's adjusted EPS falls over 90%
In the second quarter, Chipotle reported diluted EPS of $0.29. Excluding special items, the company's adjusted EPS were $0.40, which represents a 90% fall YoY from $3.99. Lower sales and higher operating expenses dragged down the company's EPS.
Higher labor, occupancy, other operating, and pre-opening costs, along with higher depreciation and amortization expenses, increased the company's operating expenses. During the quarter, Chipotle's labor expenses increased from 25.7% of its total revenue to 28.2%. Wage inflation, COVID-19 assistance pay, and sales deleveraging from negative SSSG boosted the company's labor expenses. An increase in delivery expenses due to higher delivery sales and sales deleveraging raised its other operating expenses.
Meanwhile, Chipotle's food, beverage, and packing costs fell 0.4% due to lower avocado prices, increased menu prices, and a decline in freight and paper costs. Its general and administrative expenses also fell, from 8.5% to 7.5%.
Chipotle is a zero-debt company. At the end of the second quarter, the company's liquidity stood strong at $934.6 million. Furthermore, the company's access to $600 million in credit has strengthened its position amid the pandemic.
Analysts' recommendations and my take
Chipotle's second-quarter earnings appear to have impressed analysts. After Chipotle reported its earnings, RBC raised its price target by $125 to $1,250, while Jefferies increased its price target by $100 to $1,100. Overall, analysts' price target stands at $1,164.19, 1.8% below Chipotle's closing price of $1,185.27 yesterday. Of the 35 analysts covering the stock, 48.6% suggest "buy," while 51.4% suggest "hold." None recommend "sell."
I was bullish on Chipotle even before it reported its second-quarter earnings. Its impressive results have further justified my bullish views. I believe the rally in Chipotle's stock price isn't over, and investors should consider buying, even at these levels.