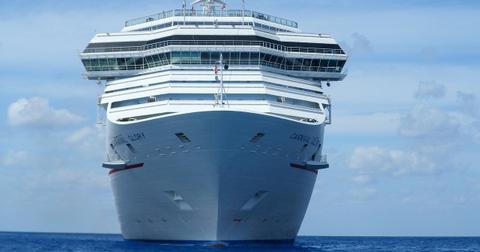 Carnival Stock Rose 7% amid Moderna's COVID-19 Vaccine Hopes
By Ambrish Shah

Updated
Carnival (NYSE:CCL) stock rose by nearly 7% in extended trading on Tuesday. The stock rose due to promising coronavirus vaccine news. Moderna said that its coronavirus vaccine candidate mRNA-1273 produced antibodies in an early trial. The biotechnology company will likely start Phase 3 clinical trials on July 27.
According to a Fox Business report, "According to the results published in the New England Journal of Medicine, mRNA-1273 induced rapid and strong immune responses against the coronavirus and binding antibodies."
Royal Caribbean Cruises (NYSE:RCL) and Norwegian Cruise Line Holdings (NASDAQ:NCLH) stocks also rose more than 7% during after-hours trading on Tuesday. Meanwhile, the Dow futures rose 0.8% and the S&P futures rose 0.5%.
Analysts' recommendations for Carnival stock
Overall, analysts' consensus target price is $15.13. The target price represents an upside potential of 0.6% from Tuesday's closing price. Most of the analysts have stayed on the sidelines when it comes to Carnival stock. Among the 20 analysts, 15% recommend a "buy," 65% recommend a "hold," and 20% recommend a "sell."
On Tuesday, Patrick Scholes of SunTrust downgraded Carnival from "hold" to "sell." He also lowered his target price on the stock from $12 to $10. According to a report from The Fly, the analyst cut the target price due to a delayed cruise sailing re-start date. Scholes also highlighted that Carnival will likely need to raise additional debt or equity to survive, which "is very expensive for a distressed company."
Paul Golding of Macquarie also downgraded Carnival from "outperform" to "neutral." He lowered his target price on the stock from $27 to $18. According to a report from The Fly, "The analyst downgraded the entire Cruise sector on surging COVID cases, the potential for an even more prolonged suspension of ships, and valuation. Reputational risk may be high if cruises cannot limit the spread of infections, increasing the risk that resumption timelines get pushed again, further impacting earnings and liquidity."
Earlier this week, Wedbush and Stifel also cut their target prices on Carnival stock. However, Credit Suisse raised its target price from $12 to $14.50.
Stock returns
On Tuesday, Carnival stock fell 1.6% and closed at $15.04 with a market cap of $10.9 billion. The stock is trading 71.0% below its 52-week high of $51.94 and 92.8% above its 52-week low of $7.80. Carnival stock has fallen 70.4% year-to-date.
On Tuesday, Carnival stock was trading 9.2% below its 20-day moving average of $16.56. Meanwhile, the stock is trading 8.0% below its 50-day moving average of $16.35 and 11.9% below its 100-day moving average of $17.07.
Carnival stock has an upper Bollinger Band level of $19.62, while its lower Bollinger Band level is $13.50. On Tuesday, the stock closed near its middle Bollinger Band level of $16.56, which indicates that it's neutral.
In the second quarter of fiscal 2020 (quarter ended May), Carnival reported revenue of $740 million—an 84.7% reduction from $4.8 billion in the second quarter of fiscal 2019. The company beat Wall Street analysts' consensus estimate of $391 million. The company's adjusted EPS of -$3.30 was below analysts' estimate of -$2.26 per share in the second quarter. However, the company posted an adjusted EPS of $0.66 in the second quarter of fiscal 2019.
Read Why Carnival Stock Is a Compelling Investment Case and What Should You Do with Carnival Stock Right Now? to learn more.