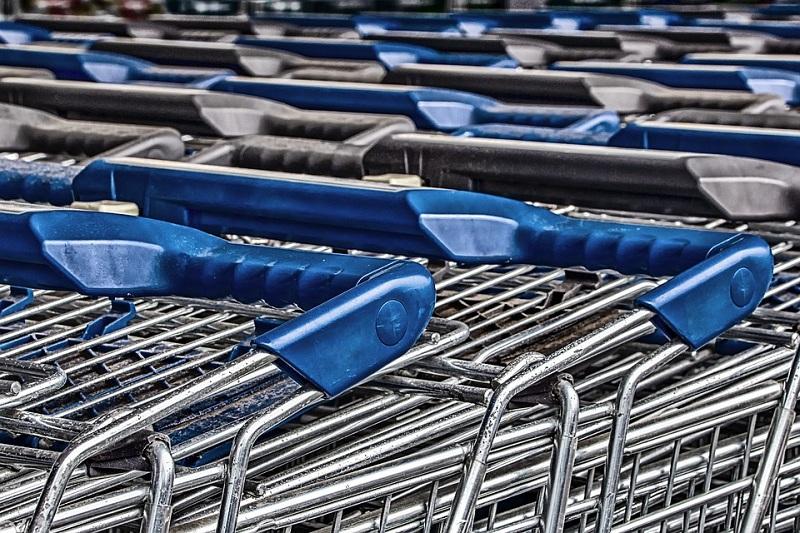 Amazon Gives Walmart Another Headache with Dash Cart
By Ruchi Gupta

Jul. 24 2020, Updated 11:31 a.m. ET
Amazon (NASDAQ:AMZN) is rolling out a smart shopping cart, Dash Cart, to speed up checkout at Amazon supermarkets. For Walmart (NYSE:WMT), Dash Cart may be another reminder of the threat Amazon poses to its grocery business.
Dash Cart features cameras and sensors that identify the items shoppers put in the cart. When they finish shopping, they check out through a special lane that lets sensors automatically identify the items in the cart. Customers are then billed through the credit card linked to their Amazon account.
Article continues below advertisement
Amazon has designed the smart shopping cart for customers who want to make a quick grocery trip. It fits up to two grocery bags. Dash Cart will initially be available at an Amazon supermarket opening in the Los Angeles area later this year. The Los Angeles supermarket will join the supermarket Amazon has opened in the Seattle area. Customers simply walk into the Seattle area Amazon supermarket and select their items. Cameras and sensors track the items they pick and automatically charge them as they exit the store. Amazon's Seattle area supermarket doesn't require the smart Dash Cart, as automatic checkout is already available.
Amazon also runs about two dozen high-tech Amazon Go outlets, where customers are automatically charged as they exit the store. No standing in checkout lines.
In the first quarter of 2020, revenue from Amazon's network of physical stores jumped 8.0% year-over-year to $4.6 billion. The figure includes sales at Whole Foods outlets. Amazon's physical store revenue hit $17 billion in 2019.
Article continues below advertisement
Smart Dash Cart to only intensify Amazon-Walmart rivalry
Households are gradually shifting to shopping for groceries online. However, uptake of online grocery shopping has been slower in the US than in Britain and South Korea. Whereas US households spend just 3.0% of their grocery budgets online, in Britain and Korea, online grocery shopping accounts for up to 15% of household grocery budgets.
The fact that much of grocery shopping still takes place in stores gives traditional retailers like Walmart an advantage. Traditional retailers dominate the grocery market. Walmart, for instance, controls more than 21% of the US grocery market. Kroger has a 9.9% share of the market, and Costco and Albertsons each hold 5.0%.
Article continues below advertisement
Amazon has been setting up physical stores as it seeks to woo more grocery shoppers. It will now count on smart checkout tools such as Dash Cart to encourage more households to shop at its outlets. With people trying to avoid crowded places and queues because of the coronavirus outbreak, Amazon's smart shopping cart technology promises to strike a chord with many shoppers.
But the Dash Cart technology may only intensify the Amazon-Walmart rivalry. Walmart, in its efforts to keep up with Amazon, is set to launch its rival to Amazon Prime membership, Walmart+, later this month. The debut of Amazon's Dash Cart means Walmart has another area to catch up in.