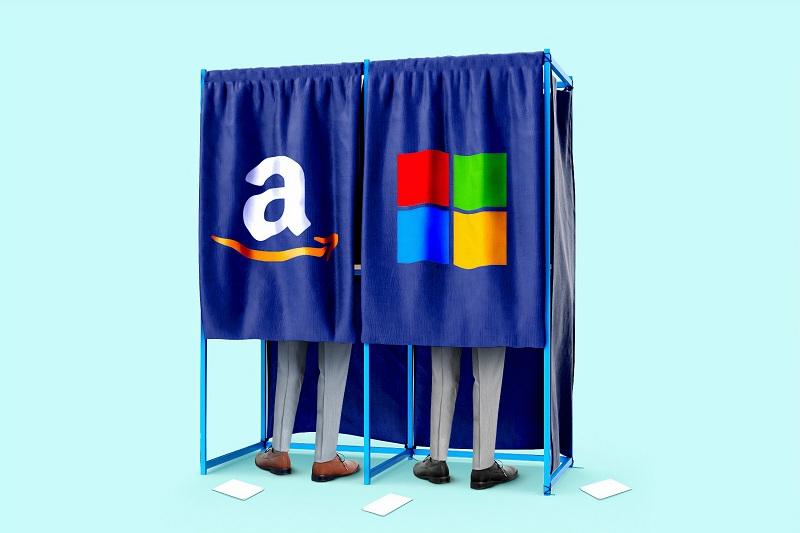 Microsoft Moves on from Mixer, Gives Amazon a Boost
By Ruchi Gupta

Jun. 26 2020, Updated 7:36 a.m. ET
The rivalry between Microsoft (NASDAQ:MSFT) and Amazon (NASDAQ:AMZN) continues to intensify since their interests clash. The companies went to court after Microsoft won the lucrative Pentagon cloud computing contract called "JEDI." The companies have continued to trade barbs since the Pentagon awarded the $10 billion JEDI contract.
While Microsoft insists it won the Pentagon's JEDI cloud contract on merit, Amazon thinks that President Trump did its bidding. President Trump and Amazon CEO Jeff Bezos don't agree on many things.
Despite the JEDI contract upset, Amazon continues to lead the global cloud computing market. The company finished the first quarter of 2020 with a 32% share of the global cloud market compared to Microsoft's 18% share.
Recently, Microsoft acquired CyberX to bolster its Azure cloud business against Amazon and other rivals like Google. Currently, Google is the third-largest cloud company. The company aims to become the world's top cloud company in about five from now.
Article continues below advertisement
Microsoft shuts down Mixer, boosts Amazon's Twitch
In addition to cloud computing, the companies run competing videogame streaming platforms. Microsoft runs Mixer, while Amazon has Twitch.
In 2016, Microsoft acquire videogame streaming service Beam to enter the live streaming games market and bolster its Xbox business. Later, the company rebranded Beam and called it "Mixer." Microsoft needed to catch up in live games streaming because Amazon's Twitch dominated the scene.
Now, Microsoft decided to shut down Mixer. The service will officially close on July 22, which is about a month from now. By shutting down Mixer, Microsoft conceded that it didn't beat Amazon's Twitch or other game live streaming services like Google's YouTube and Facebook Gaming.
Microsoft will fold its Mixer service into the Facebook Gaming platform. However, the decision might give Amazon more power. According to The Verge, the Mixer community rejected Microsoft's decision to transfer it to Facebook. Instead, Mixer streamers plan to decamp to Amazon's Twitch. Microsoft's plan to team up with Facebook to tackle Amazon in the game streaming business might have backfired.
Microsoft thought that the Mixer community would be excited to join the Facebook platform because of its massive audience. Facebook Gaming attracts more than 700 million people who share gaming content every month.
Advertising and retail technology
The companies compete in other areas beyond cloud computing and live streaming gameplays. For example, they both offer online advertising. They also have similar ambitions in retail technology. Microsoft has been building technology to help Amazon rivals like Walmart set up fully automated stores like Amazon Go.