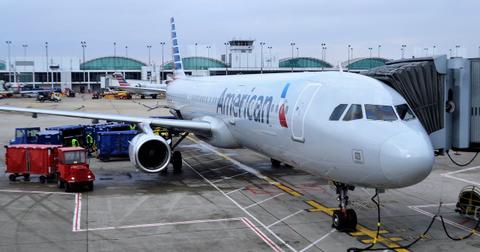 How Strong Is American Airlines' Liquidity Position?
By Ambrish Shah

Updated
American Airlines (NASDAQ:AAL) stock fell in the pre-market trading session today. American Airlines fell 4.4% in today's trading session at 5:46 AM ET. The stock declined on reports that the airline has been selling notes to raise additional funds. The coronavirus pandemic has impacted the airline's sales.
American Airlines plans to raise $3.5 billion in new financing to enhance its liquidity amid COVID-19 travel restrictions. According to a Reuters report, "The company plans to raise $1.5 billion by selling shares and convertible senior notes due 2025…Additionally, the airline said it will offer $1.5 billion in senior secured notes and that it intends to enter into a new $500 million term loan facility due 2024." The report also said, "The company expects to use the net proceeds from the stock and convertible notes offerings for general corporate purposes and to enhance its liquidity position."
Growth projections for American Airlines
On a reported basis, American Airlines reported a net loss per share of $5.26 in the first quarter of 2020 compared to a net income per share of $0.41 in the same period last year. Excluding net special items, the company posted a net loss per share of $2.65 in the first quarter compared to a net income per share of $0.52 in the first quarter of 2019. The non-GAAP EPS missed Wall Street's expectation of -$2.33 for the first quarter of 2020. American Airlines' first-quarter revenue fell 19.5% YoY (year-over-year) to $8.5 billion. The revenue missed analysts' estimate of $8.9 billion.
For the second quarter, Wall Street analysts expect an 89.4% fall in the revenue to $1.3 billion from $12.0 billion in the second quarter of 2019. For 2020, analysts expect a 55.2% fall in the revenue to $20.5 billion from $45.8 billion in 2019. Analysts hope that the 2021 revenue will rise to $33.2 billion.
Analysts also hope that the second-quarter non-GAAP EPS will be lower at -$7.65 compared to $1.82 in the second quarter of 2019. For 2020, the non-GAAP EPS could decrease to -$16.42 from $4.90 in 2019. Analysts also hope that the 2021 non-GAAP EPS will rise to -$1.86.
Analysts' recommendations and target price
Among the 18 analysts tracking American Airlines stock, eight recommend a "sell," six recommend a "hold," and four recommend a "buy." The consensus target price of $14.18 per share implies a downside of 11.4% based on the airline's closing price of $16.00 on June 19. The consensus target price for the stock has risen from $12.75 in May—a growth of 11.2%.
Stock returns
American Airlines stock fell 3.0% on June 19 and ended the day at $16.00. At this closing price, the company's market cap is $6.8 billion. Notably, the stock is trading 54.3% below its 52-week high of $34.99 and 93.9% above its 52-week low of $8.25. So far, the stock has fallen by around 44.2% year-to-date.
Based on the closing price on June 19, American Airlines stock was trading 8.8% above its 20-day moving average of $14.70. The stock is also trading 31.4% above its 50-day moving average of $12.18 and 0.9% above its 100-day moving average of $15.86. American Airlines' 14-day relative strength index score is 56. The score suggests that the stock isn't overbought or oversold.
At 6:42 AM ET today, Delta Air Lines (NYSE:DAL) and United Airlines (NYSE:UAL) stocks fell 1.5% and 2.5%, respectively. Delta Air Lines and United Airlines' target prices suggest potential returns of 20.9% and 8.0%, respectively.
At the same time, the S&P 500 futures rose 0.79%, while the Dow futures rose 0.78%.
Read American Airlines Expects to Burn Zero Cash by End of 2020 and Should You Be Tempted to Sell American Airlines Stock? to learn more.