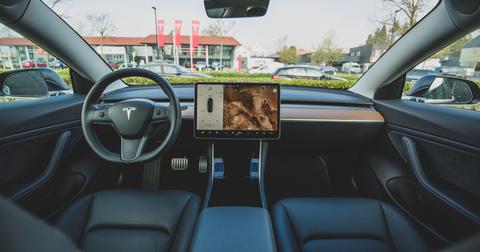 Why Tesla's Rivals Face 'Headaches' in the EV Market
By Anuradha Garg

Updated
Tesla (NASDAQ:TSLA) has been a pioneer in the EV (electric vehicle) market. The company started making commercial EVs when other automakers were producing EVs to just meet emission standards. The other automakers include Ford (NYSE:F) and General Motors (NYSE:GM). Previously, Tesla's rivals used to mock the company and Elon Musk for the futuristic ideas. Now, Tesla has changed the EV game in a major way. Legacy automakers have committed large amounts to electrify their vehicles.
Article continues below advertisement
Tesla's peers offer praise
Tesla has also received praise from its rivals. Volkswagen CEO Herbert Diess said that he "admires Tesla as a company and loves driving Tesla cars." Ian Collins from Volvo's Polestar said, "Tesla is far ahead of everyone else on energy efficiency."
Tesla's advantage over its peers
Tesla has considerable advantages over its peers in the EV space. One of the distinct advantages is the company's substantial investment in battery manufacturing. Due to Tesla's first-mover advantage and scale in EV production, it can produce high-quality batteries at relatively lower costs. Another crucial edge that the company has over other EV-makers is its range. The range indicates the distance an EV can travel between two charges. The range is an essential consideration for consumers looking at EVs. Also, Tesla's robust supercharger network gives it an edge over peers.
Article continues below advertisement
An advantage in software
Tesla also has a software edge over its peers, which has created headaches for other companies. As reported by Electrek, citing leaked internal communications, Volkswagen's CEO admitted that Tesla has a considerable advantage when it comes to software.
Autopilot and software updates
Tesla was the first company to provide over-the-air updates in the auto industry. The company can update software and related features for its customers who have opted for a full self-driving option. According to CNBC in April 2019, Musk said that owning cars other than Tesla "would be like owning a horse in three years." He made the comment in the context of the software and updates that Tesla can provide in contrast to other automakers. Musk even said that Tesla cars are "appreciating assets." Due to software updates and self-driving capability, Musk expects Tesla cars to become more valuable with time.
Article continues below advertisement
Tesla's lead gives Volkswagen CEO "headaches"
Volkswagen's CEO has concerns about Tesla's features and lead. According to Electrek, Deiss said that Tesla's lead gives him "headaches." Since Tesla's autopilot program keeps collecting data from its network, it helps the company improve the autopilot system. During the company's earnings call for the first quarter of 2020, Musk said, "We are collecting data from over 1 million intersections every month at this point. This number will grow exponentially as more people get the update and as more people start driving again." Due to Tesla's first-mover advantage and strong brand recall, it's challenging for peers to rival the company on this front. Most of Tesla's peers have a very small EV fleet. As a result, they rely on internal test fleets or simulations to collect data.
Other automakers need to catch up
According to Electrek, Deiss said that he's putting in new software to "implement the Tesla catch-up plan." He also thinks that other companies have a "long way" to catch up with Tesla. Notably, Tesla has raised the competition for everyone with its lead in various aspects of EV-making. Other automakers have committed more money to the EV segment. However, other automakers won't catch Tesla anytime soon.