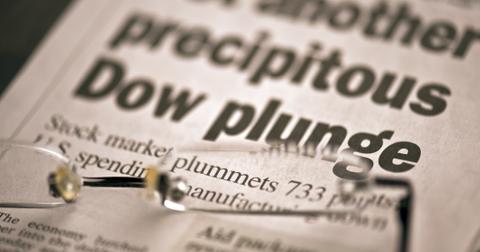 Why the Dow Jones Might Be Painful for Investors in 2020
By Rabindra Samanta

May. 14 2020, Published 9:01 a.m. ET
In March, the Dow Jones Industrial Average Index (NYSEARCA:DIA) fell by as much as 33.5% on a YTD (year-to-date) basis. On May 12, the figure recovered to 17.7%. On Wednesday, Fed Chair Jerome Powell warned about a long recession. He also suggested that we need more policy reform to boost the employment market.
In April, more than 15 million people lost their jobs. In May, the unemployment figure could rise more. The US unemployment rate was 14.7% in April. Just a few months ago, the US unemployment figure was at the lowest level since 1960. The current recession might be more severe than the Great Depression in 1935, which lasted for eight years.
Another contraction in the US economy could drag the stock market. The Dow Jones could fall sharper than other major US equity indexes due to its exposure to different sectors.
Article continues below advertisement
US equity indices 
Among the major US equity indices, the S&P 500 has fallen 11.2%, while the Nasdaq Composite has risen 0.3% on a YTD basis. There has been a sharp decline in the Dow Jones compared to the S&P 500 (NYSEARCA:SPY) and the Nasdaq Composite due to its exposure to industrial stocks.
In contrast, the Nasdaq Composite has around 49% exposure to IT stocks. Industrial stocks accounted for around 6% of the Nasdaq Composite. For the Dow Jones and the S&P 500, the figure is at 13.4% and 7.9%, respectively.
Although technology stocks have also fallen in the recent market rout, analysts expect a quick recovery in tech stocks compared to industrial stocks. In 2019, Barclays confirmed an industrial recession in the US. Last year, the Nasdaq Composite Index outperformed the S&P 500 and the Dow Jones.
Dow Jones' technical levels
On Tuesday, the Dow Jones closed 1.1% above its 20-day moving averages. On the same day, the Dow closed 2.4%, 9.9%, and 11.8% below its 50, 100, and 200-day moving averages, respectively. The 50-day moving average was 12.8% below the 200-day moving average. The "death-cross," when the short-term moving average falls below a long-term moving average, is considered to be bearish for asset prices. The 50-day moving average at 23,900 is an important resistance zone for the index.
Compared to the Dow Jones, the Nasdaq Composite's technical indicators suggest a bullish trend. On Tuesday, the Nasdaq Composite Index was 8.3%, 1.2%, 1.5%, and 4.5% above its 20, 50, 100, and 200-day moving averages, respectively. The 50-day moving average at 8,772 is a strong support zone for the Nasdaq Index. 
Read Goldman Sachs Warns about a US Stock Market Crash to learn more about US equities.