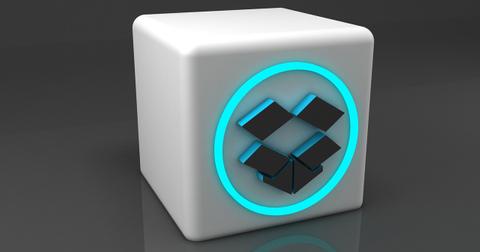 Is Dropbox Stock a Smart Long-Term Buy?
By Ambrish Shah

Updated
On Thursday, Dropbox (NASDAQ:DBX) stock rose 5% in after-hours trading. The company posted its first-quarter financial results after the market closed. The first quarter ended on March 31. The company's shares rose after it beat the top and bottom-line estimates in the first quarter. Dropbox added more paying subscribers on its platform. People started working from home amid the COVID-19 pandemic.
According to a CNBC report, "The company said that coronavirus quarantines and the encouragement of remote work will help its business even as the lockdowns end."
Dropbox's Q1 earnings results
Dropbox generated revenue of $455 million—an increase of 18.0% from the first quarter of 2019. The company beat Wall Street analysts' consensus revenue estimate of $452.23 million. Dropbox posted an adjusted net profit of $69.8 million during the quarter—an 67.4% rise YoY (year-over-year). In the first quarter, the company reported an adjusted EPS of $0.17 compared to $0.10 in the first quarter of 2019. The earnings beat analysts' consensus estimate of $0.14 per share.
Dropbox ended the first quarter with 14.6 million paid subscribers, which was in-line with the estimates. The growth was significant compared to the subscriber count of 13.2 million in the first quarter of 2019. The average revenue per user rose from $121.04 in the first quarter of 2019 to $126.30 in the first quarter.
In the second quarter, Dropbox expects sales between $463 million and $466 million. For fiscal 2020, the company expects sales between $1.88 billion and $1.90 billion.
Wall Street analysts expect Dropbox to report sales of $464.36 million in the second quarter. The figure would mark a rise of 15.7% YoY compared to $401.50 million in the second quarter of 2019. Also, analysts expect the company to report an adjusted EPS of $0.16 in the second quarter compared to $0.10 for the same period last year. Currently, analysts expect a 14.1% and 11.1% rise in the company's 2020 and 2021 sales, respectively. Analysts also expect an adjusted EPS of $0.73 and $0.89 in 2020 and 2021, respectively.
What are analysts saying about Dropbox stock?
Dropbox is covered by 14 Wall Street analysts. Among the analysts, ten recommend a "buy," two recommend a "hold," and two recommend a "sell." Analysts' mean target price on the stock is $27.36, which implies a 25% gain from the current level of $21.89. The consensus target price for the stock has fallen from $27.73 in April—a fall of 1.3%.
After the first-quarter earnings results, RBC increased its target price on Dropbox stock from $28 to $30. Jefferies increased its target price on the stock from $20 to $22.
Stock returns
Dropbox stock rose 7.6% on Thursday and ended the day at $21.89. At this closing price, Dropbox's market cap is $9.4 billion. The stock is trading 16.5% below its 52-week high of $26.20 and 50.5% above its 52-week low of $14.55.
Based on Dropbox's closing price on Thursday, the stock was trading 10.1% above its 20-day moving average of $19.88. Dropbox is trading 16.6% above its 50-day moving average of $18.78 and 18.7% above its 100-day moving average of $18.44. The stock's 14-day relative strength index score of 66 indicates that the stock is overbought.
Dropbox's lower, middle, and upper Bollinger Bands are $18.03, $19.88, and $21.73, respectively. The stock closed near its upper Bollinger Band level, which also indicates that it's overbought.
Dropbox stock rose 4.4% in pre-market today at 7:29 AM ET. The S&P 500 futures rose 1.1%, while the Dow futures rose 1.0%.
Read US Stock Markets: Should You 'Sell' or 'Buy' in May? and Could US Stock Markets Crash in May after Rising in April? to learn more.