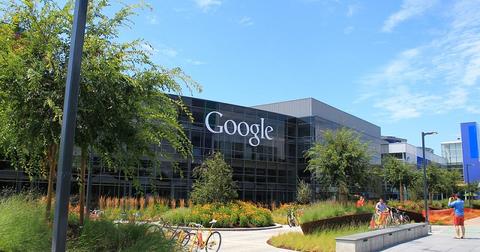 Big News: Google Wins Modest Pentagon Cloud Contract
By Ruchi Gupta

Updated
Alphabet's (NASDAQ:GOOGL) Google has landed a small but important Pentagon cloud contract. The Pentagon has turned to Google cloud for technology to help it detect and respond to cyber threats around the world. According to Axios, the deal's value is in the seven-figure range.
A previous Pentagon contract, called "Project Maven," drew protests from Google staff. As a result, Google decided not to renew the Maven contract. The company gave the Pentagon's JEDI cloud contract bid a wide berth. The company argued that the contract's requirement could clash with its corporate values. Following internal protests over the Maven contract, Google came up with principles to guide its deals with defense clients.
The Pentagon picked Microsoft (NASDAQ:MSFT) for the $10 billion JEDI cloud contract. Amazon (NASDAQ:AMZN) has been protesting the decision. According to Amazon, President Trump influenced the Pentagon's decision to punish CEO Jeff Bezos.
Article continues below advertisement
Google aims to lead the global cloud market in five years
Currently, Google's cloud business lags behind Amazon and Microsoft. For example, Google commanded just 8.0% of the cloud market in the first quarter compared to 32% for Amazon and 18% for Microsoft. However, Google has set its sights on becoming the largest cloud provider in about five years.
According to Gartner, more than $266 billion is up for grabs in the global cloud market in 2020. Defense organizations will likely be among the big spenders on cloud computing as militaries digitize their workloads. Therefore, Google's cloud deal with the Pentagon brings it in the orbit of one of the potentially most important cloud customers.
Diversifying revenue sources
Google's cloud business generated $2.8 billion in revenue in the first quarter, which increased by 56% year-over-year. Although cloud sales contributed only 7.0% of the revenue at Google parent Alphabet, it's a promising business. In addition to the huge growth opportunity ahead, the cloud business has also been profitable. At Amazon, the cloud business contributed less than 15% of the total revenue in the first quarter. However, the cloud business accounted for more than 70% of the operating profit.
Alphabet counts on businesses like providing cloud services to diversify its revenue sources. Currently, the company derives most of its revenue, at more than 80%, from advertising.
At $1,406 per share, Alphabet stock has gained 12% over the past month and 5.0% year-to-date.