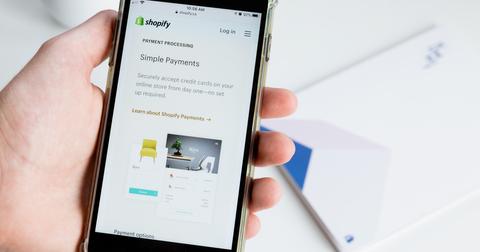 Analyzing e-Commerce Giant Shopify before Its Q1 Earnings
By Ambrish Shah

Updated
Shopify (NYSE:SHOP) stock rose 7.4% on Monday and closed at $658.89 with a market cap of $77.2 billion. The stock was trading 1.0% below its 52-week high of $665.74. Meanwhile, the stock was trading 172.0% above its 52-week low of $242.23.
What can investors expect from Shopify's first-quarter results? The e-commerce giant will likely release its first-quarter earnings results, for the March ended quarter, on Wednesday before the market opens.
Article continues below advertisement
Shopify's Q1 earnings expectations
Wall Street analysts expect Shopify to report sales of $443.11 million in the first quarter—a rise of 38.3% YoY (year-over-year) compared to $320.48 million in the first quarter of 2019. Also, analysts expect the company to report an adjusted EPS of -$0.19 in the first quarter compared to $0.09 in the first quarter of 2019.
Analysts expect Shopify's revenues to rise by 25.5% YoY in 2020 to $2.0 billion. The company's sales could rise by 37.8% YoY in 2021 to $2.7 billion. The adjusted EPS will likely fall from $0.30 in 2019 to -$0.09 in 2020. However, the company could report an adjusted EPS of $0.54 in 2021.
Analysts' recommendations for Shopify stock
Among the 31 analysts following Shopify stock, 13 recommend a "buy"—down from 15 in the last month. About 16 analysts recommend a "hold"—up from 14 in the previous month. Meanwhile, about two analysts recommend a "sell"—unchanged from the previous month. Analysts' mean target price on the stock is $520.24, which implies a 21% loss from the current level of $658.89. The consensus target price for the stock has risen from $492.75 in April—a growth of 5.6%.
Article continues below advertisement
Last week, Canaccord Genuity analyst David Hynes downgraded Shopify stock to "hold" from "buy" with a target price of $600. According to a report from TheFly, "The analyst cites valuation for the downgrade with the shares up more than 80% from this month's lows. Following the rally, Shopify's valuation is now at an extreme, which means it matters." The report also said, "The analyst says that while higher demand for e-commerce is likely in the current environment, he's not convinced that Shopify's gross merchandise volume are as bulletproof as perceived as discretionary spend retreats. If the economy sharply contracts due to the pandemic, demand for the nice-to-haves, which are a large part of the inventory of Shopify merchants, is almost surely to fall."
Stock returns
Based on the closing price on Monday, Shopify stock was trading 19.0% above its 20-day moving average of $553.66. The stock is also trading 39.2% above its 50-day moving average of $473.21 and 43.3% above its 100-day moving average of $459.69.
Shopify's 14-day relative strength index number is 68. The number indicates that the stock is near overbought levels. Shopify has an upper Bollinger Band level of $742.98. The company's middle Bollinger Band level is $553.66, while its lower Bollinger Band level is $364.33. On Monday, Shopify stock closed near its upper Bollinger Band level, which indicates that it's overbought.
On Monday, the Dow Jones Industrial Average rose by 26 points or 0.1%. Also, the S&P 500 and the Nasdaq Composite gained about 0.4% and 1.2%, respectively.
Read Should Investors Exit Shopify Stock amid COVID-19 Chaos? and Shopify Withdraws 2020 Guidance, Stock Falls to learn more.
Stay tuned to learn how Shopify performed in the first quarter.