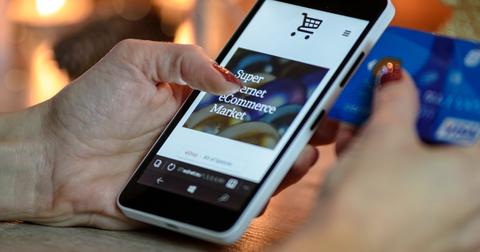 Should Investors Exit Shopify Stock amid COVID-19 Chaos?
By Ambrish Shah

Updated
Shopify (NYSE:SHOP) stock fell in today's pre-market trading session. The stock fell over 3% in today's trading session at 10:46 AM ET. The Dow Jones Industrial Average rose by over 400 points or 1.9%. Also, the S&P 500 and the Nasdaq Composite gained about 1.6% and 0.8%, respectively. The broader markets gained as the COVID-19 cases slow in the US and Europe.
On Monday, Shopify stock rose 9.8% and closed at $392.65 with a market cap of $45.8 billion. The stock price has fallen 8.8% in the trailing five-day period, while it has risen 99.7% in the trailing 12-month period. The stock is trading 33.9% below its 52-week high of $593.89 on February 12, 2020. The stock was also trading 99.0% above its 52-week low of $197.34 on April 9, 2019. On a YTD (year-to-date) basis, the stock has fallen by 1.2% as of Monday.
Analysts reduce Shopify's target price
Today, Raymond James analyst Brian Peterson downgraded Shopify stock to "market perform" from "outperform." Peterson downgraded the stock due to slowing demand amid the coronavirus outbreak. According to a report from TheFly, the analyst "views last week's guidance withdrawal as an indication that trends slowed dramatically in March, with potential for further pressure as the COVID-19 pandemic persists. Longer-term, the analyst expects Shopify will outgrow the broader ecommerce market."
Several analysts cut their target prices on Shopify stock amid the coronavirus pandemic. Last week, Shopify withdrew its guidance for fiscal 2020. In April, analysts made the following downward revisions to the target price:
D.A. Davidson cut the target price to $500 from $675 but maintained a "buy" rating.
Roth Capital lowered the target price to $320 from $490 but maintained a "neutral" rating.
Mizuho lowered the target price to $350 from $500 but maintained a "buy" rating.
Baird cut the target price to $475 from $590 with a "outperform" rating.
PI Financial cut the target price to $409 from $509.
CIBC cut the target price to $450 from $600.
Bank of America Global Research lowered the target price to $350 from $400.
Among the 31 analysts covering Shopify stock, 14 recommend a "buy"—down from 15 the previous month. About 15 analysts recommend a "hold"—up from 14 the previous month. Two analysts recommend a "sell"—unchanged from the previous month. Analysts have an average target price of $496.32 on Shopify. The target price implies a return of 26.4% based on the closing price of $392.65 on Monday. The consensus target price for the stock has fallen from $564.27 in March—a fall of 12.0%.
Shopify's growth projection
Shopify reported sales of $1.58 billion in 2019—a rise of 47.1% YoY (year-over-year) from sales of $1.07 billion in 2018. The company reported an adjusted EPS of $0.30 in 2019 compared to $0.38 in 2018. Wall Street analysts expected the company to post sales of $1.56 billion and earnings of $0.15 in 2019.
Wall Street analysts expect Shopify to report sales of $444.3 million in the first quarter. The figure would mark an increase of 38.6% YoY compared to $320.5 million in the first quarter of 2019. Also, analysts expect the company to report an adjusted EPS of -$0.19 in the first quarter compared to $0.09 in the first quarter of 2019. Currently, analysts expect a 30.9% and 33.7% rise in the company's 2020 and 2021 revenues, respectively. Analysts also expect an adjusted EPS of $0.14 and $0.71 in 2020 and 2021, respectively.
Shopify's stock performance
On Monday, Shopify stock was trading 1.8% above its 20-day moving average of $385.69. Meanwhile, the stock is trading 12.1% below its 50-day moving average of $446.81 and 5.8% below its 100-day moving average of $416.78. Shopify's 14-day RSI (relative strength index) score is 47. The RSI indicates that the stock isn't "oversold" or "overbought."
Shopify has an upper Bollinger Band level of $470.85. The company's middle Bollinger Band level is $389.19, while its lower Bollinger Band level is $307.52. On Monday, the stock closed near its middle Bollinger Band level, which suggests that it's neutral. Shopify's 14-day MACD is -16.55, which implies that the stock is on a downward trading trend.
Read Should Investors Consider Buying Shopify Stock? and Shopify Withdraws 2020 Guidance, Stock Falls to learn more.