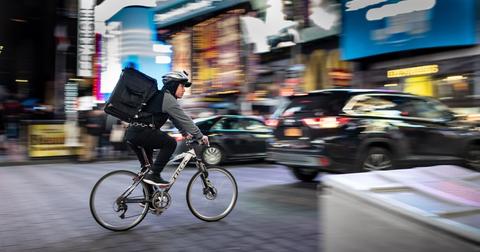 Britain Approved the Deliveroo Deal: Good for Amazon Stock?
By Ruchi Gupta

Updated
Britain's antitrust regulator, the CMA (Competition and Markets Authority), has provisionally approved the Amazon-Deliveroo deal. Deliveroo, which provides online food delivery, mainly operates in Europe.
In May 2019, Amazon (NASDAQ:AMZN) led a $575 million investment in Deliveroo. However, the CMA worried the investment might create a competition imbalance in Britain's online food delivery market. The regulator decided to subject the Amazon-Deliveroo deal into a full-blown antitrust review, which was expected to conclude in June 2020.
Until the review concluded and the CMA made its decision, Deliveroo couldn't access the funds that Amazon provided. Deliveroo faces a biting cash shortage and might go out of business. Therefore, the CMA provisionally cleared Deliveroo to access Amazon's funds quickly so it doesn't go bankrupt.
Article continues below advertisement
Amazon and Deliveroo pursue food delivery dollars
The investment will allow Amazon to purchase a small stake in Deliveroo. Amazon will get a second chance in the rapidly expanding food delivery market. The company operated its own food delivery unit called "Amazon Restaurants." However, the unit shut down last year. Therefore, the Deliveroo deal gives Amazon a path back into the food delivery market.
The global food delivery market generated $2.4 billion in revenue in 2018. The market could hit $6.4 billion in revenue by 2025. Overall, the Amazon-Deliveroo partnership seeks to make the most of the growing opportunity.
The COVID-19 pandemic could accelerate the food delivery market's growth. With lockdowns around the world, people aren't visiting restaurants. Instead, they're ordering food online and getting it delivered to their homes. As a result, the demand for food delivery services has increased. For example, Uber Technologies (NYSE:UBER) reported a spike in the demand for its Uber Eats service.
Amazon gains a foothold in the food delivery industry
Amazon stock has been rising lately. The stock rose by 16% last week. So far, the stock has risen more than 20% in April. The stock has risen amid the growing demand for online shopping. COVID-19 has also boosted the uptake of cloud computing services. Notably, Amazon is the world's largest cloud company.
Therefore, Amazon stock has become a favorite among investors who want to capitalize on the pandemic. The Amazon-Deliveroo deal getting cleared just made Amazon stock more attractive. The investment in Deliveroo gives Amazon a foothold in the food delivery industry, which continues to benefit amid the coronavirus outbreak.