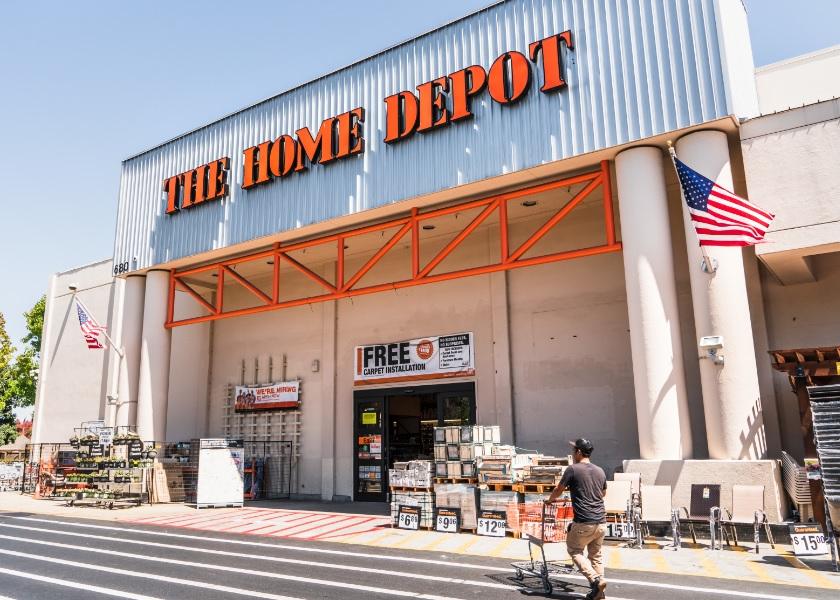 Should You Consider Buying Home Depot Stock?
By Rajiv Nanjapla

Mar. 19 2020, Updated 12:01 p.m. ET
The coronavirus has wrecked financial markets around the world. The S&P 500 Index and the Dow Jones Industrial Average have fallen by 29.6% and 32.7% from their respective peaks. The vicious sell-off has also dragged fundamentally strong companies, like Home Depot (NYSE:HD), down. On March 18, Home Depot hit a 52-week low of $140.63 before closing at $155.63—a fall of 37.1% from its 52-week high of $247.36. So, should you start buying the stock? First, we'll look at analysts' expectations from 2020 and their recommendations.
Article continues below advertisement
Analysts' revenue expectation for Home Depot
Home Depot's management expects its revenue to rise by 3.5%–4.0% this year. They expect the company's same-store sales to grow at 3.5%–4.0%. Management plans to open six new stores during this period. Meanwhile, analysts expect the company to report revenue of $11.40 billion—a rise of 3.4% from $11.02 billion in 2019. I expected that opening new stores and positive SSSG would drive the company's revenue.
Home Depot is investing to expand its digital capabilities, enhance customers' experience, and build additional delivery and fulfillment options to drive its sales. The company has invested to blend its physical and digital platforms to provide a frictionless interconnected experience for its customers. The company will enhance its search functionality, category presentations, product content, and enhanced fulfillment options on its "homedepot.com" website.
Article continues below advertisement
Home Depot has more than 1 million professional customers registered on its B2B website. In the last quarter, the company integrated a third-party CRM system for its professional customers and service teams. Home Depot continues to expand its digital capabilities to meet professional customers' specific needs. Along with these initiatives, introducing innovative products and various marketing and promotional programs could drive the company's sales.
Home Depot's 2020 EPS
Home Depot's management expects its 2020 EPS to be at $10.45. Meanwhile, analysts expect the company to report an adjusted EPS of $10.37—a marginal rise of 1.2% from $10.25 in 2019. Revenue growth and share repurchases could drive the company's revenue. However, the decline in the EBITDA margin, an increase in interest expenses, and a higher tax rate could offset some of the EPS gains.
For 2020, analysts expect Home Depot's EBITDA margin to fall from 16.2% to 16%. A decline in the gross margin and higher SG&A expenses could lower the company's EBITDA margin. This year, the company's interest expenses could rise from $1.2 billion in 2019 to $1.23 billion. Analysts expect an effective tax rate of 24.1% for 2020 compared to 23.6% in 2019.
Moving to share repurchases, Home Depot repurchased 32.8 million shares for approximately $7.0 billion in 2019. The company plans to repurchase shares worth $5.0 billion this year. Share repurchases could drive the company's EPS by lowering the number of shares outstanding.
Article continues below advertisement
Dividends
On February 26, Home Depot's board announced a quarterly dividend of $1.50 per share—a rise of 10% from the previous quarter. The new dividends represent an annualized payout of $6.0 per share. The company will pay dividends on March 26 to shareholders on record as of March 12. As of Wednesday, the company's dividend yield was 3.46% with its stock price trading at $155.63. On the same day, Lowe's Companies (NYSE:LOW), Williams-Sonoma (NYSE:WSM), and Bed Bath & Beyond's (NASDAQ:BBBY) dividend yields were 3.38%, 5.4%, and 12.5%, respectively.
Valuation multiple
The decline in Home Depot's stock price has dragged its valuation multiple down. As of Wednesday, Home Depot was trading at a forward PE ratio of 14.8x compared to 20.7x at the beginning of this year. Meanwhile, Lowe's, Williams-Sonoma, and Bed Bath & Beyond traded at a forward PE ratios of 9.8x, 6.4x, and 9.8x, respectively.
As of Wednesday, Home Depot was trading at 15.0x analysts 2020 EPS estimate of $10.37 and at 13.8x analysts' 2021 EPS estimate of $11.28. The EPS estimates represent a YoY growth of 1.2% in 2020 and 8.8% in 2021.
Article continues below advertisement
Analysts' recommendations
This month, BofA Global Research cut its target price from $255 to $195, while Morgan Stanley has lowered its price target from $260 to $225. However, Instinet upgraded Home Depot to "buy" from "neutral" on March 4. Instinet raised its target price from $240 to $251. Since Home Depot reported its fourth-quarter earnings, Wedbush, UBS, Stifel, SunTrust Robinson, Raymond James, Jefferies, Piper Sandler, and Telsey Advisory Group have all raised their target prices.
As of Wednesday, analysts' consensus target price is $240.42, which represents a 12-month return potential of 54.5%. Wall Street favors a "buy" rating for Home Depot. Among the 32 analysts, 21 recommend a "buy," ten recommend a "hold," and one recommends a "sell."
My take on Home Depot
In the latest quarter, Home Depot had a strong performance and beat analysts' expectations. I'm optimistic about the company's growth initiatives. Meanwhile, the company's valuation multiple looks cheap at these levels. I think that investors should utilize the fall to accumulate fundamentally strong stocks. The stocks will likely deliver strong returns when the market recovers.