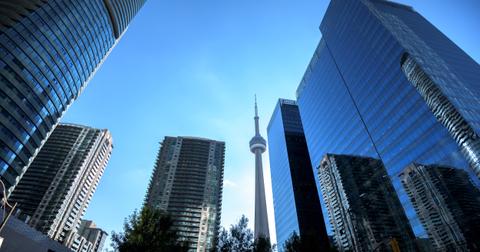 Will Ontario Have Marijuana Lounges and Cafes Soon?
By Rajiv Nanjapla

Updated
On Monday, BNN Bloomberg reported that Ontario's government started collecting input from the public about allowing marijuana consumption in lounges, outdoor festivals, and cafes across the province. The government expects the feedback to help develop future policies for a more open marijuana market. Also, the government won't make any changes to existing marijuana laws. Notably, the government hasn't set a timeline to decide on public cannabis consumption. Any new legislation won't change smoke-free laws. So, smoking or vaping cannabis still won't be allowed in public places.
We don't know if cannabis lounges and cafes will provide economic benefits in Ontario. However, the province expects that public cannabis consumption could improve public awareness and reduce the stigma associated with it.
Article continues below advertisement
In an interview with BNN Bloomberg, Ontario Attorney General Doug Downey said, "We don't have any specific policies that we're looking at. This is a true listening exercise. We want to hear what Ontarians have to say on lounges, cafes, that kind of thing. It's not really predetermined that we'll make any decisions at all but we want to hear from the public."
Legalization of marijuana lounges in other markets
Marijuana lounges are in an early stage of the legalization process. According to BNN Bloomberg, Holland allowed marijuana consumption in coffee shops. Some places in the US and Canada are exploring the possibility of cannabis consumption in public places. Nunavut, a province in Canada, has already allowed the consumption of non-smoked legal marijuana in communities that have permitted marijuana use.
Article continues below advertisement
What are the advantages of marijuana lounges?
Currently, marijuana consumption is prohibited in public places. If people can't consume cannabis in their homes, they don't have many options. Cannabis lounges could cater to people who want to enjoy cannabis, but don't have a comfortable place. Also, marijuana lounges could minimize children's exposure to marijuana. Parents would have a separate place to consume or smoke cannabis.
Sector performance
Overall, the marijuana sector has been struggling. Last year, the ETFMG Alternative Harvest ETF (NYSE:MJ) lost 31.4% of its stock value. MJ has continued its downward momentum this year. MJ is trading 7.5% lower YTD.
Meanwhile, Canopy Growth (NYSE:CGC), Aurora Cannabis (NYSE:ACB), and Aphria (NYSE:APHA) have fallen by 7.1%, 25.4%, and 19.6%, YTD, respectively. Pricing pressure, slower-than-expected growth in Cannabis 2.0 products, and slower opening of cannabis retail stores have pressured the cannabis sector. However, Ontario has taken up the initiatives to expand the retail footprint in its jurisdiction. Ontario Attorney General Doug Downey stated that the province received 700 applications to open new cannabis stores in the state. He said that the allocation process will start on March 2.
We expect the legalization of marijuana lounges and cafes to increase consumption. They could also mitigate the stigma associated with cannabis. So, we expect the legalization of marijuana lounges to drive the sector. Canopy Growth will report its third-quarter results on Friday. Read What to Expect from Canopy Growth's Q3 Earnings? to learn more.