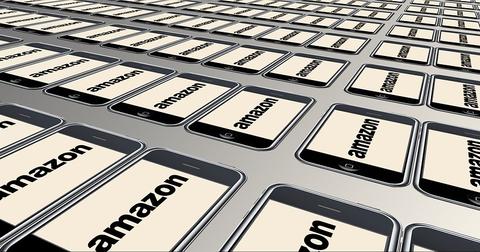 Amazon Sets Up Supermarkets, Store Sales Top $17 Billion
By Ruchi Gupta

Updated
Amazon (NASDAQ:AMZN) is setting up a traditional supermarket chain in an apparent bid to expand its physical store business. Notably, the first of Amazon's supermarket outlets will likely open in Los Angeles' Woodland Hills neighborhood, according to Bloomberg.
The company already operates several physical store brands. For example, Amazon Books stores stock items like books, toys, and devices. Amazon 4-Star stores stock a range of items that are popular with Amazon's online shoppers. Whole Foods stores sell organic food items and mainly serve a niche market. Whole Foods operated as an independent business for years until Amazon bought it for $13.7 billion in 2017. AmazonGo is a high-tech retail outlet that operates without human cashiers. At AmazonGo stores, people pay for shopping with their smartphones.
Article continues below advertisement
Amazon supermarkets could reach a broader consumer base
Therefore, the supermarket chain would expand Amazon's footprint in the traditional retail space. The supermarket chain could help Amazon reach more offline shoppers than it does through Whole Foods outlets and AmazonGo stores. The report stated that the supermarket opening in Woodland Hills will sell packaged consumer goods that Whole Foods doesn't stock.
The supermarkets won't operate cashless like AmazonGo stores, which could help Amazon reach a broader base of offline shoppers and avoid potential clashes with authorities. The idea of businesses going cashless doesn't sit well with a growing number of cities. New York City has passed legislation that will impose fines on brick-and-mortar stores that operate exclusively cashless.
Amazon's bid to expand its offline footprint with a traditional supermarket chain comes as its physical store sales have soared. The company's revenue from physical stores topped $17.2 billion in 2019.
Pickup locations for online orders
The Prime membership program is a big cash cow for Amazon. The company's subscription services revenue, mainly from the Prime membership fee, rose to $19.2 billion in 2019 from $14.2 billion in 2018. Last month, Amazon disclosed that it serves over 150 million Prime members globally. Overall, the number represents a major leap from 100 million Prime members about a year ago.
Prime members enjoy a range of perks from free delivery of their Amazon shopping to free video and music entertainment.
In addition to the subscription fee they pay, Prime members also give Amazon more money by spending a lot more on shopping. As a result, Amazon wants to attract even more Prime members while retaining existing customers. The company has been working to shorten the period that Prime members have to wait for their shopping packages. Amazon could use its supermarket locations as pick up points so that Prime members can receive their packages even faster.