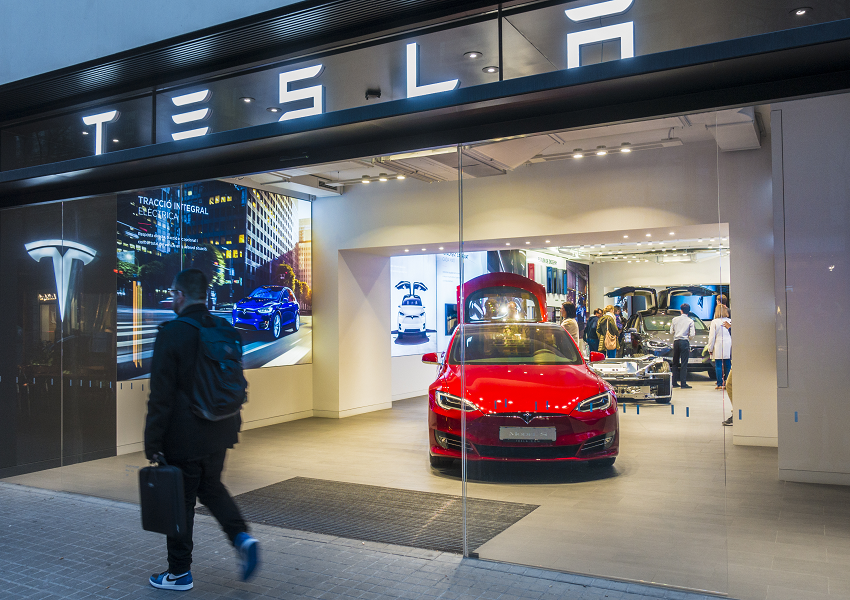 Why Cannacord Thinks Tesla Stock Will Cross $500
By Anirudha Bhagat

Jan. 2 2020, Published 12:37 p.m. ET
A Wall Street analyst thinks that Tesla (TSLA) stock could cross the $500 mark very soon. This morning, Canaccord Genuity analyst Jed Dorsheimer raised his target price on Tesla stock by $140 to $515. The updated target price reflects an upside of 23% from the closing price of $418.33 on December 31, 2019. Moreover, the analyst has reaffirmed his "buy" rating on the stock. Tesla stock was trading nearly 2% higher this morning.
Article continues below advertisement
What could drive Tesla stock past $500?
Dorsheimer is optimistic about the rising adoption of electric vehicles, which he believes would support Tesla's growth in the long run. The analyst wrote to his clients that the adoption of electric cars "will only accelerate in 2020," according to a Bloomberg report.
Dorsheimer also thinks that bearish analysts are underestimating Tesla's deliveries for 2019. According to the Bloomberg report, the analyst wrote that "While bears have feared demand issues as a function of tax credit expiration for Tesla, we suspect a solid Q4 combined with the robust Q3 should put these fears to rest."
Dorsheimer anticipates Tesla would have shipped 369,000 units in 2019. The analyst's projection is higher than the company's guidance of 360,000 units. Tesla is likely to release its annual delivery data next week.
Dorsheimer's 2019 delivery projection is in contrast with Cowen analyst Jeffrey Osborne's. Osborne expects that Tesla would miss its delivery targets by nearly 4,000 units, according to a Bloomberg report. Osborne said in a client note that "demand saturation" for Model 3 "across most mature markets" would hurt overall deliveries.
Article continues below advertisement
Tesla's expansion plans to drive growth
Dorsheimer is bullish about Tesla's China rollout and expansion plans for Europe. He believes these strategies would help the electric vehicle maker to offset slowing sales in the US.
Notably, the US automaker is pushing hard to expand its market share in China, the world's largest electric vehicle market. The company has built its third so-called "Gigafactory" in Shanghai, where it would assemble Model 3 and Model Y vehicles. Reportedly, Tesla would start delivering China-made Model 3s to the public from January 7.
The localization of manufacturing facilities would help the company reduce production costs and improve margins. Tesla believes that China-made vehicles would have a 55%–60% cost advantage over its US-made cars. Therefore, by reducing costs, the company would make its vehicles more affordable to Chinese customers. The strategy would also help it better compete with local players like NIO and Xpeng.
Article continues below advertisement
In Europe, the company is building its fourth so-called "Gigafactory." Citing reports in German newspaper Bild, on December 11, Reuters disclosed that Tesla would open a facility in Berlin. According to the report, the company would invest $4.41 billion to build the assembly plant. Construction of the facility is reportedly going to begin in 2020 and be completed by the end of 2021. The Reuters report states that the Berlin facility would build 500,000 electric vehicles annually.
Dorsheimer is not the only Wall Street analyst who has raised the target price on Tesla stock in recent months. On December 6, Morgan Stanley analyst Adam Jonas increases his near-term bull case target price by $60 to $500. The analyst is optimistic about Tesla's Cybertruck launch and China expansion plans. On December 2, Alexander Potter of Piper Jaffray also raised his target price on Tesla stock to $423 from $372.
Stock performance
Tesla was one of the worst performers among US auto industry players until mid-October last year. However, the stock gained altitude after it reported a surprise profit for the third quarter on October 23. Since then, Tesla stock has gained 64.3%. The stock ended last year with a gain of 25.7% compared with a decline of 23.5% as of October 23.
Analysts' stances have also changed following the company's robust third-quarter 2019 results. About 32% of the 34 analysts had a bullish view on Tesla stock before Q3 earnings. However, that proportion has slightly improved to 33% as of January 2. The average target price on Tesla stock has also gone up to $303.66 from $249.69.