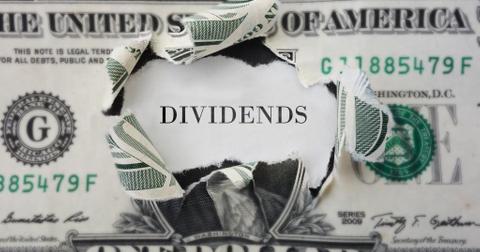 Will AT&T Boost Its Dividends in 2020?
By Ambrish Shah

Updated
As of December 31, 2019, AT&T's (NYSE:T) short-term debt was $11.44 billion, while its long-term debt was $151.71 billion. The company's total debt was $163.15 billion. In comparison, AT&T's total debt was $176.51 billion as of December 31, 2018. The company reported high debt levels after it completed the Time Warner acquisition in June 2018.
As a result, the company reduced leverage using its free cash flow balance and asset monetizations. As of December 2019, AT&T's net-debt-to-adjusted EBITDA ratio was around 2.5x. The company plans to achieve a net-debt-to-adjusted EBITDA ratio of 2.0x–2.25x by the end of 2022.
Article continues below advertisement
AT&T's dividend yield
In 2019, AT&T's free cash flow rose 29.9% YoY (year-over-year) to $29.0 billion. The company's net cash provided by operating activities also increased by 11.6% YoY to $48.7 billion. AT&T's capital expenditures fell by 7.6% YoY to $19.6 billion in 2019.
AT&T has regularly rewarded investors with cash dividend payments despite a high debt balance. In 2019, the company returned $14.89 billion to investors in the form of cash dividends. The returns were more than the cash dividend payment of $13.41 billion in 2018. Wall Street analysts expect AT&T to make a cash dividend payment of $15.01 billion in 2020, $14.82 billion in 2021, and $14.73 billion in 2022.
At the end of Thursday, AT&T's dividend yield was 5.56%. Notably, Sprint (NYSE:S) and T-Mobile (NYSE:TMUS) don't pay dividends.
Analysts' recommendations
Analysts have given a 12-month target price of $39.46 for AT&T stock. The average target price stands at a 5.4% premium to the current price of $37.43 on Thursday.
Among the 31 analysts covering AT&T stock, 13 recommend a "buy," 16 recommend a "hold," and two recommend a "sell."
On Thursday, UBS analyst John Hodulik downgraded AT&T stock to "neutral" from "buy." The analyst decreased its target price on the stock from $42 to $39. According to TheFly, "The analyst points to the company's valuation having recovered to a slight premium relative to Verizon on a enterprise value to expected EBITDA basis, even as its cost cutting continues and competition is intensifying." The report also said, "Given the ongoing weakness in Pay TV and investments in HBO Max, Hodulik is forecasting FY20 EBITDA to decline1.4% from down 0.3% in FY19."
On Thursday, Cowen and Company increased its target price on AT&T stock from $41 to $43.
Article continues below advertisement
AT&T's stock performance
AT&T stock rose 1.03% on Thursday. The stock has generated returns of -4.2% month-to-date and 27.4% in the last 12 months. Notably, the stock was trading 5.7% below its 52-week high of $39.70 and 29.4% above its 52-week low of $28.92. At the closing price on Thursday, AT&T had a market capitalization of $273.4 billion.
AT&T stock closed at $37.43 on Thursday. Respectively, the stock was 2.7%, 2.4%, and 1.9% below its 20, 50, and 100-day moving averages of $38.47, $38.36, and $38.17. AT&T's 14-day RSI (relative strength index) score is 39. The level suggests that the stock is approaching "oversold" levels.
AT&T's lower, middle, and upper Bollinger Band levels are $37.31, $38.47, and $39.64, respectively. On Thursday, the stock closed near its lower Bollinger Band level, which suggests that it's oversold.
On a month-to-date basis, T-Mobile and Sprint have generated returns of 3.2% and -14.4%, respectively. The two companies are waiting for their pending merger deal to close. The Department of Justice and the FCC have blessed the merger deal with certain conditions. T-Mobile and Sprint agreed to divest certain wireless assets to Dish Network (NASDAQ:DISH) in order to create the fourth wireless carrier after the merger deal is closed. Currently, the merger deal is blocked by various state attorneys general due to antitrust issues.
Read Is AT&T Stock a 'Sell' after Its Q4 Earnings? and Why You Should Wait for a Correction to Buy AT&T Stock to learn more.