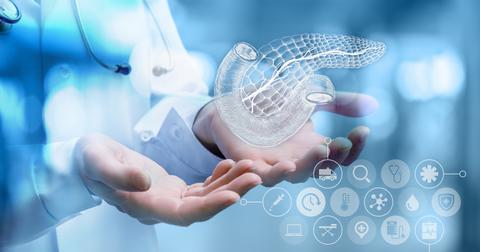 Why Beta Bionics' iLet FDA Designation Is a Catalyst
By Nivedha Elango

Updated
Recently, Beta Bionics announced that its iLet bionic pancreas system had been designated as a breakthrough device. The company received this grant from the FDA on December 10, 2019. The iLet is the first bionic pancreas system in the world that controls sugar levels in the user's blood.
Article continues below advertisement
What is the iLet bionic pancreas system?
Beta Bionics is working toward becoming a pioneer in the industry by creating a bionic pancreas that is fully automatic. The iLet Bionic Pancreas System independently checks and controls the patient's blood sugar levels. The design of the system is small—approximately pocket size. It's an investigational medical device that is wearable effortlessly.
The device is like an insulin pump, for which users must input their intake of carbohydrates and blood glucose levels. A pump uses this information to customize the insulin dose. It also considers insulin injected in previous doses to calculate the required dosage. However, the iLet bionic pancreas system doesn't require that many pieces of information. Users need only update their body weight to start the therapy. Immediately after the initiation, the system starts controlling blood sugar levels. It doesn't require the patient's intake of carbohydrates or previous insulin doses.
Users can use the iLet bionic pancreas system as three different medical devices. Users with diabetes can use the device as an insulin-only bionic pancreas or a bihormonal bionic pancreas, which uses both insulin and glucagon. However, patients with rare conditions that usually result in low blood sugar levels, such as congenital hyperinsulinism, can use its glucagon-only configuration.
Article continues below advertisement
Beta Bionics' take
The breakthrough designation was granted by the FDA to treat pancreas-related conditions, as the administration believes this system provides a significant improvement to other existing treatments. Beta Bionics is striving to get regulatory approval for releasing all three configurations on the market. Management expects the iLet solution to be particularly popular among those living with type 1 diabetes. This breakthrough designation from the FDA provides Beta Bionics with many benefits, such as priority review.
Ed Damiano, President and CEO of Beta Bionics, said, "We believe the iLet Bionics Pancreas System represents a true breakthrough therapy for the management of glycemia, particularly in type 1 diabetes. We are particularly excited by the possibility that the iLet may be able to provide safer and more effective therapy in far more people than current therapies due to its simplicity of use."