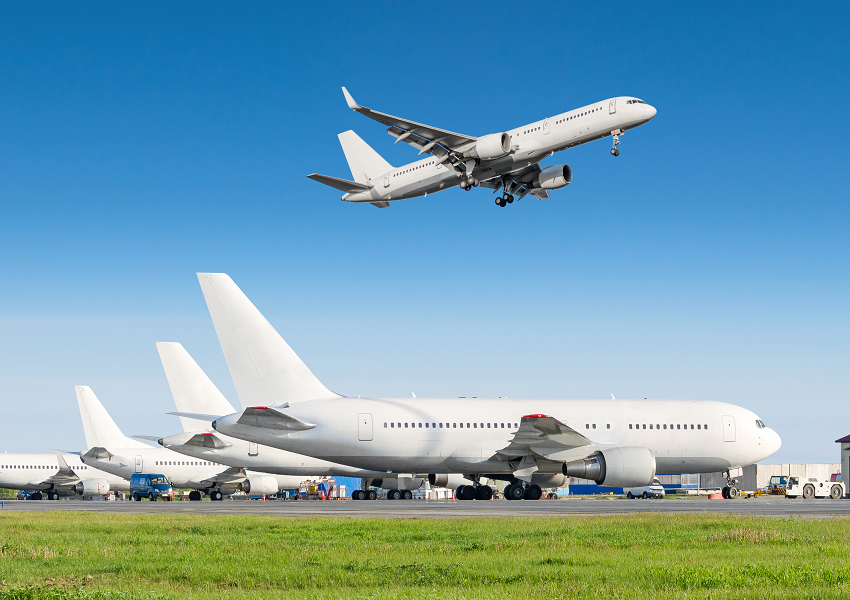 Why Airline Stocks Missed 2019 Broader Market Rally
By Anirudha Bhagat

Jan. 3 2020, Published 8:56 a.m. ET
Airline stocks were among the few industries that lagged last year's broader market rally. The broader US stock market had a remarkable run last year. All three of the major indexes registered double-digit gains. The Dow Jones, the S&P 500, and the tech-laden Nasdaq Composite indexes rose 22%, 29%, and 35%, respectively, in 2019.
However, several issues kept investors cautious about airlines' near-term growth prospects. As a result, most US airline stocks underperformed the benchmark indexes in 2019. The best airline stock performer in 2018, Spirit Airlines (SAVE) ended 2019 as one of the worst performers. The company's shares fell 30% in 2019 compared to a gain of 29% in 2018.
Article continues below advertisement
American Airlines (AAL) stock, the fourth-largest US carrier by market capitalization, lost 11% in 2019. The top three US carriers recorded gains in their respective share prices. However, the gains were less than the benchmark indexes. Delta Air Lines (DAL), Southwest Airlines (LUV), and United Airlines stocks rose 17%, 16%, and 5%, respectively.
The US Global Jets ETF gained 13% last year. Notably, the ETF invests in companies engaged in aircraft manufacturing, passenger airlines, and airport and terminal services.
Why did airline stocks underperform?
We don't think that company-specific problems hurt airlines' stock price last year. Instead, multiple macroeconomic factors made investors very cautious about the industry's growth prospects.
Airlines faced multiple business disruptions during the first quarter of 2019 due to the partial government shutdown and unfavorable weather conditions. Also, the intensified US-China trade war and concerns about a global economic slowdown made investors cautious about airlines' growth prospects. Airline stocks were hit hard in mid-September following attacks on a Saudi Arabian oil refinery, which triggered global geopolitical tensions.
Article continues below advertisement
While the factors mentioned above don't impact airlines directly, they could hurt passenger traffic in the long run. Strained trade relations and geopolitical tensions could trigger a slowdown in the global economy. An economic slowdown situation has a negative impact on the job market, which causes people to postpone or cancel their vacations.
Boeing MAX grounding raised investors' concerns
Investors were also skeptical about a few airlines' growth prospects due to their exposure to Boeing's (BA) 737 MAX aircraft. Notably, Boeing 737 MAX jets have faced a global flying ban since mid-March following two fatal accidents within five months.
Together, Southwest Airlines, American Airlines, and United Airlines own 72 Boeing 737 MAX airplanes. The airlines have suffered thousands of flight cancellations every month since the MAX grounding started in mid-March. Until the end of the third quarter, Southwest and American lost over $700 million in revenues due to the MAX crisis. The two companies expect to lose a cumulative $1 billion in fiscal 2019 revenues.
Article continues below advertisement
United Airlines hasn't disclosed the financial impact of the MAX grounding. Earlier, the company said that it managed to fill some vacant MAX fleets with older planes. However, using bigger and less fuel-efficient jets leads to higher operating expenses. In the third quarter of 2019, United Airlines reported a 5% year-over-year increase in its ex-fuel operating costs.
There's still uncertainty about when Boeing MAX planes will return. Southwest, American, and United have extended the MAX cancellation period. Southwest and American have extended the cancellations until April 13 and April 6, respectively. United Airlines has removed all its MAX fleets from the flying schedule until June 6.
Analysts' ratings and target prices
Wall Street analysts are bullish about most US airline stocks. Among the top four US carriers, they have provided a consensus "buy" rating on United, Delta, and American. The Reuters-polled analysts have a consensus "hold" recommendation on Southwest Airlines.
Analysts are impressed with the airlines' consistently strong quarterly performances in a challenging environment. Despite trade war and slowdown concerns, Delta Air Lines reported robust top-line and bottom-line growth during the first three quarters of 2019.
Southwest, American, and United have managed to improve their operating margins despite massive flight cancellations due to the MAX grounding. In the third quarter, Southwest, American, and United's pre-tax margin expanded by 40 basis points, 80 basis points, and 250 basis points, respectively.
Among the 20 analysts covering United Airlines stock, 15 recommend a "buy" or equivalent rating, while five recommend a "hold." The average target price of $111.35 reflects an upside potential of 24% in the near term.
Delta Air Lines has a "buy" or equivalent rating from 13 of the 20 analysts, while seven recommend a "hold." Analysts' average target price of $66.58 signifies a return of 15% in the near term.
Among the 20 analysts covering American Airlines stock, 11 recommend a "buy," six recommend a "hold," and three recommend a "sell." The average target price depicts an upside of 30% from Thursday's closing price of $29.09.
Six of the 20 analysts covering Southwest Airlines stock have provided a bullish rating. The stock has a "hold" recommendation from 12 analysts, while two analysts have a bearish view. Analysts' average target price of $59.94 reflects an upside potential of 9.7% in the near term.