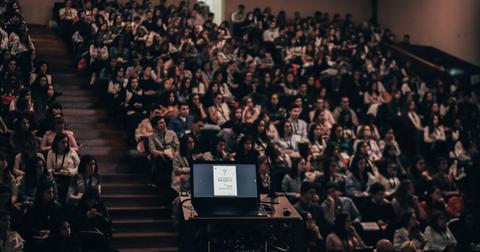 Who Will Shine at CES 2020: AMD, Intel, or Nvidia?
By Puja Tayal

Updated
Article continues below advertisement
Most tech companies use the CES platform to tease their technology planned for launch throughout the year. At last year's CES, AMD teased its 7nm (nanometer) CPU (central processing unit) roadmap and Intel its 10nm Ice Lake mobile processors. The company launched these products in the second half of 2019. At CES 2019, Nvidia launched mobile versions of RTX GPUs (graphics processing unit) and AMD its 7nm Radeon VII GPU.
Could AMD steal the show at CES 2020 again?
AMD had its best product year in 2019 and is now ready for an even bigger product year. During last year's CES, it stole the spotlight. It showcased the world's first 7nm (nanometer) Radeon VII GPU (graphics processing unit) and teased its Zen 2 product portfolio.
This year, history could repeat itself as AMD has lots of product launches lined up for 2020. Although AMD has not unveiled what it plans to showcase at CES 2020, we can deduce its plans from its previous announcements. In a November 2018 interview with VentureBeat, AMD CEO Lisa Su stated that AMD would launch its Zen 3 architecture in 2020. Like last year, Su could provide a glimpse of the Zen 3 portfolio at CES. The portfolio would comprise:
Ryzen 4000 series mainstream processors.
Ryzen Threadripper 4000-series high-end desktops.
Epyc Milan server CPUs.
Article continues below advertisement
A glimpse of AMD's Zen 3 architecture
What we know about Zen 3 architecture is that it is being built on TSMC's (TSM) 7nm+ extreme ultraviolet node. Like Zen 2, which delivered 15% IPC (instruction per clock) improvement, Zen 3 might deliver 15% above IPC improvement. Its Zen 3–based products would come in the latter half of the year like the Zen 2 products. AMD stated that Zen 3 would have 20% more transistors and deliver 10% more efficiency than Zen 2.
In an interview with AnandTech, AMD chief technology officer Mark Papermaster gave a hint about the changes we can see in Zen 3. He explained that AMD improves performance with every new generation by adopting a holistic approach.
He added that apart from process nodes, AMD makes innovations in cache design, memory hierarchy, interconnects, Infinity Fabric, Input/Output chip, and core design. So, we can expect an updated Infinity Band, memory, and cache in AMD's Zen 3 products.
Other possible announcements by AMD
AMD might also unveil its first eight-core Renoir APU (accelerated processing unit), Ryzen Threadripper 3990X, and Ryzen Mobile 3000 series CPUs. Apart from CPUs, PCGamer reported that AMD might launch its RX 5600 XT GPU, which would sit between the RX 5700 and 5500 XT GPUs.
The PCGamer article added that the chip supplier might also give a glimpse of its Navi 21 GPU, which is believed to feature ray tracing technology. This GPU could go inside the semi-custom chips that would power Sony's and Microsoft's next-generation game consoles.
Article continues below advertisement
Intel at CES 2020
After AMD's event, Intel has an event lined up at CES 2020. At last year's CES, Intel unveiled its 10nm Ice Lake mobile platform. If we go by Intel's product roadmap pattern, we could see Intel unveil its 10nm desktop processors.
An October 2018 IT World Canada article, citing Intel Canada Country Manager Denis Gaudreault, stated that the company would launch 10nm desktop CPUs in early 2020. However, Intel's CEO made no mention of the 10nm desktop CPU in the company's third-quarter earnings release. PCGamer is uncertain whether Intel would unveil its 10nm desktop CPU at CES 2020.
More than the CPU, investors and tech enthusiasts should focus on Intel's Xe discrete GPU. The firm has been making this GPU for over two years. Plus, Intel teased a 2020 launch of its first Xe GPU. TechRadar and PCGamesN reported that Intel might unveil more details about its first discrete GPU at CES 2020.
CES 2020 should once again be ground zero for the Intel-AMD faceoff. However, this time, it could go beyond CPUs into GPUs. On the other hand, Nvidia might not introduce any new hardware, although it has many products lined up for the year.
Article continues below advertisement
Nvidia at CES 2020
At last year's CES, Nvidia launched its budget-range RTX 2060 GPU priced at $349, bringing ray tracing to the average user. It also launched the mobile versions of its RTX GPUs for gaming laptops. Nvidia CEO Jensen Huang unveiled 40 new laptops powered by RTX 2080, 2070, and 2060.
However, Nvidia is not presenting this time. Nvidia's events page states, "NVIDIA gaming products are being shown at our partners' booths and suites. We will also be meeting throughout the show with partners, media and others." If it doesn't hold a conference, it is fair to assume there won't be any product launches or announcements.
However, Nvidia cannot ignore the competition from the AMD-powered Sony and Microsoft game consoles with ray-tracing support. According to Trusted Reviews, price is one of the biggest factors for the slow adoption of RTX GPUs. Nvidia's cheapest ray-tracing card costs $350, whereas gamers would be able to buy Sony's PlayStation 5 for an estimated $499.
In such a competitive scenario, Trusted Reviews writes that Nvidia should make its RTX more affordable, either by cutting prices of existing GPUs or launching the cheaper RTX GPUs. However, I believe we may not see any such announcement at CES 2020.
Article continues below advertisement
The next battlefield is cloud gaming with the launch of Google Stadia and Microsoft's xCloud in 2019. According to Trusted Reviews, Nvidia has been testing its cloud gaming platform GeForce Now since 2013, and it is still in its beta version. In our view, it's now time for Nvidia to cash out this opportunity. PCGamesN and Trusted Review believe that Nvidia might make GeForce Now live at CES 2020.
Wrapping up expectations with CES
The CES 2020 event is expected to highlight the competitive landscape of AMD, Intel, and Nvidia this year. This year is important for the gaming market as ray tracing and cloud gaming become the new battlefields.
This year will also show whether AMD can maintain its technology lead in PC computing or whether Intel can reclaim the crown. We could see some major stock price movements in AMD, Intel, and Nvidia this week as CES 2020 begins.