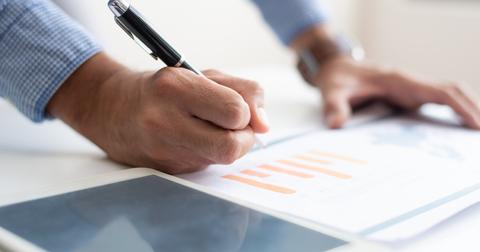 What to Expect from Aphria's Second-Quarter Earnings
By Rajiv Nanjapla

Updated
On January 8, Aphria (APHA) was trading at 6.21 Canadian dollars. This represents zero returns since the company reported its first-quarter earnings of fiscal 2020 on October 15. During the first quarter, the company's revenue came in at 126.1 Canadian dollars missing analysts' estimate by 4.6%.
However, its EBITDA beat analysts' expectations. Aphria reported EBITDA of 16.4 million Canadian dollars against analysts' forecasts of -2.2 million Canadian dollars. It was the second consecutive time the company was able to report positive EBITDA. Very few cannabis companies have become profitable until now. So, the strong EBITDA led the company's stock to rise. However, the weakness in the sector appears to have offset the increase in the company's stock price.
Aphria plans to report its second-quarter earnings before the market opens on January 14. The second-quarter ended on November 30. Let's look at analysts' expectations for the quarter.
Article continues below advertisement
Analysts' revenue expectations from Aphria
For the second quarter, analysts expect Aphria to post revenue of 130.3 million Canadian dollars. Sequentially, this is a 3.3% increase from 126.1 million Canadian dollars in the first quarter of fiscal 2020.
On November 4, Health Canada awarded a cultivation license to Aphria Diamond. The Leamington greenhouse facility possesses 1,300,000 square feet of production space with an annual production capacity of 140,000 kilograms. The added capacity has increased the company's total production capacity to 255,000 kilograms per year.
The company is also focusing on building brand awareness, improving the quality of its products, and nationwide distribution to drive its sales. I believe the increased production capacity could drive the company's revenue during the quarter. However, the pricing pressure could offset some of the increases in revenue.
Article continues below advertisement
Aphria's EBITDA to improve
Analysts expect Aphria's EBITDA to improve in the second quarter. They project the company to report EBITDA of 1.59 million Canadian dollars. This represents a rise of 53.7% from 1.04 million Canadian dollars in the first quarter.
Analysts expect higher revenue and improvement in gross margin to drive the company's margins. They expect the company's gross margin to improve from 21.9% in the first quarter to 26.9%. However, the increase in SG&A (selling, general, and administrative) expenses could offset some of the increases.
Outlook
After reporting its first-quarter earnings, Aphria's management reiterated its guidance for fiscal 2020. The management expects the company to post revenue of 650 million to 700 million Canadian dollars. For the same period, they expect the company's EBITDA to range from 88 million to 95 million Canadian dollars.
Analysts expect Aphria to report EBITDA of 41.2 million Canadian dollars on revenue of 588.4 million Canadian dollars in fiscal 2020. This represents revenue growth of 148.1% from 237.1 million Canadian dollars in fiscal 2019.
Article continues below advertisement
Cannabis 2.0 products
During its first-quarter earnings call, Aphria's management announced that the company plans to focus on vapes, edibles, teas, beverages, and topicals, where it has opportunities to differentiate its products. The company has partnered with PAX, Manna Molecular Science, and Rapid Dose Therapeutics to bring innovative derivative products to the market.
Analysts' recommendations for Aphria
On January 6, Haywood Securities cut its 12-month price target from 12.25 Canadian dollars to 11.75 Canadian dollars. However, on January 2, Schaeffer's Research reported that Jefferies chose Aphria to be its top pick in the cannabis sector. On the same day, Jefferies raised its 12-month price target from $8.30 to $8.40.
On January 8, analysts' consensus price target stood at 12.38 Canadian dollars, which implies a return potential of 99.31%. There has been a gradual decline in the analysts' 12-month price target since the beginning of 2019. In January 2019, analysts' consensus price target stood at 17.81 Canadian dollars, which represents a fall of 30.5%.
Despite lowering their price targets, analysts are bullish on Aphria. Of the 13 analysts that follow the stock, 10 analysts recommend a "buy" rating. Of the remaining three, two gave a "hold" rating, and one gave a "sell" rating.
Comparing Aphria's stock performance with its peers
Aphria reported a strong performance in its fourth quarter of fiscal 2019 and the first quarter of fiscal 2020. Despite the impressive performance, the company lost 20.9% of its stock value from January 1, 2019, to January 8, 2020.
The weakness in the cannabis sector appears to have dragged the company's stock down. The slower rate of the new store openings, thriving black market sales, vaping-related deaths, and mounting operating losses pulled the cannabis sector down.
During the same period, the Horizons Marijuana Life Sciences Index ETF (HMMJ) has fallen by 43.3%. Among Aphria's peers, Aurora Cannabis (ACB), Canopy Growth (CGC), and Cronos Group (CRON) have fallen by 66.5%, 28.4%, and 39.9%, respectively.
For more marijuana-related news and updates, visit 420 Investor Daily.