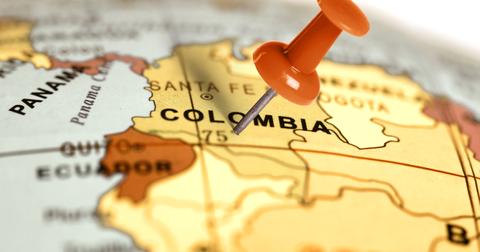 What the Colombia Production Quota Means for Khiron
By Nivedha Elango

Updated
In recent cannabis news, Colombia received its production quota for 2020. As Khiron Life Sciences (TXSV:KHRN) is the only company that can produce high-THC cannabis, the company can benefit from Colombia's production quota. The country received a production quota for high-THC cannabis of 59,420 kg from the UN's International Narcotics Control Board.
Article continues below advertisement
Colombia's high-THC cannabis production in 2020
Colombia received a production quota of 56.5 tons for 2020. This quantity represents 21.84% of the international supply of THC cannabis for scientific requirements. The United Nation's International Narcotics Control Board (or INCB) provides the allotment for the production quota.
The recent quota of 56.5 tons is the highest cannabis quota in Colombia's history for a single year. In total, the INCB allotted 258 tons for the year, and the allocation for Colombia is the second largest. The higher quota for 2020 ensures sufficient medical cannabis for the country's commercial and research purposes.
Although the INCB is not considered a regulatory body by some countries, Colombia adheres to the allocated quotas. If the country's requirements exceed its quota, the country can apply for an additional commercial allocation.
What does this mean for Khiron?
Khiron Life Sciences is a cannabis player with most of its operations in Latin America. Presently, Khiron Life Sciences is the only cannabis company in the country with an allocation to produce THC medical cannabis for commercial needs. In addition, it is also one of the few companies than can export THC cannabis in the country.
The Colombian Technical Quotas Group allocates the commercial quotas inside the country. Due to the production quota for 2019, Khiron was allowed to manufacture and sell 560 kgs of high-THC cannabis. In 2019, the company's production totaled around 65,000 units of high-THC cannabis.
The company already applied for an additional quota from its 2020 allocation of high-THC cannabis. However, the Colombian Technical Quotas Group's decisions on allocating the commercial quotas for 2020 could be announced next month.
Khiron management's take
The company's management believes this year's quota could pave the way for innovative medical cannabis products in the market. Plus, the company expects an additional quota from the country's Technical Quotas Group this year.
Juan Diego Alvarez, Khiron's vice president of regulatory affairs, noted in December, "As the only company with an authorized high-THC quota for cultivation in 2019 to meet the needs of patients in Colombia, we welcome the INCB announcement and congratulate the Government of Colombia on the achievement. The 2020 quota guarantees access to new medical products that can transform patients' lives."