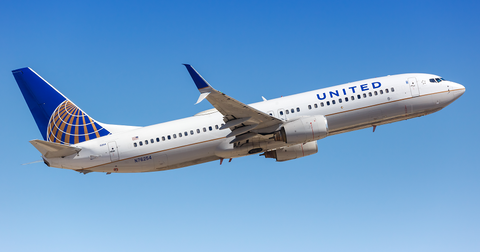 United Airlines Stock Gains on Evercore Rating Upgrade
By Anirudha Bhagat

Updated
United Airlines (UAL) stock gained nearly 2% on Thursday due to a rating upgrade and upward target price revision by a prominent Wall Street analyst. On Thursday, Evercore ISI analyst Duane Pfennigwerth upgraded the stock to "outperform" from "in-line."
He also increased the target price to $125 from $105. Pfennigwerth's revised target price is 12.3% higher than Reuters-polled analysts' average price of $111.35. The analysts' target price reflects an upside of 39.3% from Thursday's closing price of $89.74.
Article continues below advertisement
Why Evercore upgraded United Airlines stock
Pfennigwerth cited United Airlines stock's lower valuation multiples compared to its competitors as the main reason behind the rating upgrade. The analyst wrote to clients that the carrier trades at a "significant valuation" discount, according to an article by TheStreet.
Currently, United Airlines stock trades at a one-year forward PE ratio of 7.5x, which is lower than the sector average of 8.4x. Southwest Airlines (LUV), Delta Air Lines (DAL), JetBlue Airways (JBLU), and Alaska Airlines (ALK) have forward PE ratios of 12.4x, 8.4x, 9.8x, and 10.8x, respectively.
Pfennigwerth is also optimistic about United Airlines' earnings growth potential. The airline has the ability to grow despite ongoing challenges related to the Boeing 737 MAX crisis. Boeing's 737 MAX aircraft have faced a global flying ban since mid-March following two deadly crashes within five months.
United Airlines owns 14 Boeing MAX planes. However, the company has managed to fill most of the vacant MAX fleets with its older planes. Earlier, United Airlines said that the grounded MAX jets wouldn't have a material impact on its financials.
Article continues below advertisement
Despite the grounded MAX planes, the company has managed to increase its seating capacity by 1.9% in the third quarter. In contrast, American Airlines registered a marginal 0.1% increase, while Southwest reported a 2.9% decline in its seating capacity. United Airlines has registered a higher expansion in its margin than its peers. United, American, and Southwest's pre-tax margin expanded by 250 basis points, 80 basis points, and 40 basis points, respectively, in the third quarter.
Analysts turn bullish
Analysts are confident in United Airlines stock due to consistently strong quarterly results and its ability to expand margins in a challenging environment. Following the third-quarter results on October 15, several analysts either upgraded their ratings or raised their target prices.
On November 13, Myles Walton of UBS initiated coverage on the stock with bullish recommendations. He was impressed with the airline's cost structure. He thought that the cost structure would help the airline expand its margins despite challenges ahead.
Article continues below advertisement
On November 1, Citigroup analyst Stephen Trent also initiated coverage on United Airlines with a "buy" rating. He was impressed with the company's strategy of expanding through partnerships and alliances. Trent thinks that the approach will continue to help United Airlines boost its profits and minimize investment costs.
Analysts' stance has changed on United Airlines stock in the last 12 months. At the beginning of 2019, approximately 53% of the analysts had a bullish recommendation on the stock. The proportion has increased to 75% at the beginning of 2020. The average target price has also increased by 6% to $111.35.
United Airlines stock's performance in 2019
United Airlines stock underperformed the broader market last year. The stock gained 5% in 2019, while the Dow Jones and the S&P 500 indexes rose 22% and 29%, respectively. The stock also underperformed the iShares Transportation Average ETF, which rose 18.5% last year. Meanwhile, the stock lagged its peers in terms of growth. Southwest, Delta, Alaska Air, and JetBlue Airways stocks returned 16%, 17%, 11.4%, and 13.1%, respectively.
United Airlines stock was mainly battered by the US-China trade war and global growth concerns. Investors are also skeptical about the company's growth prospects due to its exposure to Boeing 737 MAX aircraft.