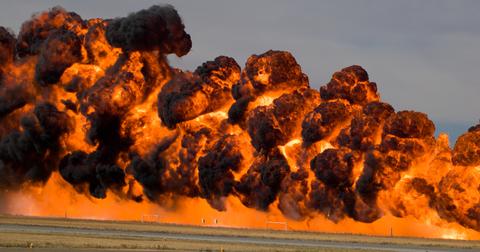 Oil Prices on Fire after US Strike Kills Iranian General
By Rabindra Samanta

Oct. 6 2020, Updated 3:25 p.m. ET
At 6:52 AM ET today, WTI crude oil prices have risen 4.1%. On Thursday, the Pentagon said in an official release that a US-led drone strike killed Iranian General Qasem Soleimani in Baghdad. Renewed tension in the Middle East could benefit energy stocks. Also, based on a FactSet report, analysts are mainly bullish on the energy sector this year.
In a press release, the Department of Defense said, "At the direction of the President, the US military has taken decisive defensive action to protect US personnel abroad by killing Qasem Soleimani, the head of the Islamic Revolutionary Guard Corps-Quds Force."
Article continues below advertisement
More pre-emptive strikes and US interest in Iraq
Secretary of Defense Mark T. Esper indicated that there could be more pre-emptive strikes to safeguard US interest in the Middle East. On Tuesday, Esper announced the deployment of an additional 750 US defense personnel in Iraq. The tension between the US and Iran increased after a rocket attack killed a US contractor in Kirkuk. Read Could US and Iran Tension Impact Oil Prices? to learn more.
Iraq is the second-largest crude oil producer in OPEC amid the US sanctions on Iran's energy exports. Last year, President Trump discussed Syrian oilfields. He said, "We've secured the oil, and, therefore, a small number of US troops will remain in the area where they have the oil. And we're going to be protecting it, and we'll be deciding what we're going to do with it in the future." As of January 2011, Syria's petroleum reserves were 2.5 billion barrels, while Iran's oil reserves exceeded 140 billion barrels.
ExxonMobil (XOM) has exposure to Iraq. Last year, a rocket attack hit ExxonMobil's facilities in Basra. Based on the company's press release, EMIL (ExxonMobil Iraq Ltd), and EMKRIL (ExxonMobil Kurdistan Region of Iraq Ltd) are the company's two affiliates in Iraq.
Violence could rise in Iraq
Iran and Iraq don't have a friendly relationship. Also, the two countries were in a war between 1980 and 1988. There's one big question right now. What was the top Iranian general doing in Baghdad? Based on a Reuters report, Abu Mahdi al-Muhandis, an Iraqi militia commander, was also killed in the airstrike.
Abu Mahdi al-Muhandis was the leader of Kataib Hezbollah. On Sunday, the US carried out an airstrike against Kataib Hezbollah members. Iraqi Prime Minister Adel Abdel Mahdi warned the US about violating the country's sovereignty, based on a BBC report. Even Iraq's prime minister tried to inform the militia group about the attacks.
Article continues below advertisement
The violence in Iraq could escalate. Iran's supreme leader Ali Khamenei responded to General Qasem Soleimani's death. He said, "All Enemies should know that the jihad of resistance will continue with a doubled motivation, and a definite victory awaits the fighters in the holy war," based on a Reuters report. 
Trump card for oil prices
More tension in the US and Iraq bilateral relationship could be significant for oil prices. Ongoing anti-government protests are weakening Iraq's local administration. Also, Iran's influence in Iraq could make the situation worse. 
Iraq's oil supplies could be Iran's next target. In the Strait of Hormuz, the US will obstruct any attempt to sabotage oil tankers' movement. In Yemen, Houthis and Saudi Arabia's peace agreement might be a concern for Iran. Last year, Houthis were responsible for drone attacks on Aramco's oil facilities in Saudi Arabia. However, the Trump administration blamed Iran for the attacks. Oil prices rose 14.7% after the attacks on Saudi Arabia's oil infrastructure. 
The Trump administration has imposed sanctions on Iran. At the same time, the US pressured OPEC members, including Saudi Arabia and others, to keep oil prices low. The rising US oil output also dragged oil prices.
Last year, President Trump tweeted, "Enjoy the low gas prices over the Labor Day weekend! My energy policies have made America energy independent while keeping prices low, just like a Tax Cut. The Democrats 'green' policies will raise your price of gas!" Lower oil prices could be critical for the 2020 presidential election. Any spike in oil prices could increase US consumers' energy expenditure. 
Any supply disruption in Iraq could quickly push oil prices up. In December, OPEC+ agreed to reduce the oil output by another 50,000 barrels per day. At 6:52 AM ET today, the Brent-WTI spread has expanded by 83 cents. The expansion in the spread might indicate the market's fear of supply disruption in the Middle East. Read Higher Brent-WTI Spread: Which Energy Stocks to Watch to learn more.