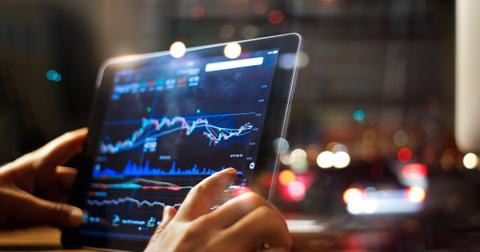 NIO and AAPL, Two Stocks with Unusual Options Activity
By Oleksandr Pylypenko

Jan. 2 2020, Published 9:20 p.m. ET
Chinese electric car maker Nio (NIO) and US consumer-tech giant Apple (AAPL) might not have a whole lot in common at first glance. But investors should be taking a close look at both right now because of their similarly unusual options activity this week.
Article continues below advertisement
Nio's unusual options activity
Nio Limited (NIO) recently reported impressive earnings results, beating revenue and earnings forecasts. More precisely, the company beat analyst's GAAP EPS and revenue estimates by $0.02 and $23.12 million, respectively. And Nio's sales increased 20% to $257 million. During the third quarter, Nio delivered 4,799 SUVs, including 4,196 ES6s and 603 ES8s. This figure clearly exceeds 3,553 deliveries in Q2 and 3,989 in Q1. 
Following the earnings release, Nio stock has rocketed more than 50%, adding $1.4 to its share price. It also added another 12% during December 31's pre-market trading session.
On Tuesday, the stock was under pressure from short-sellers. And it closed the day with an 8% gain. However, further upside may be limited due to a recent run-up and funding concerns. The company ended the third quarter with only $170 million in cash on its balance sheet. Considering its Q3 cash burn rate of $300+ million, we can conclude that the company might go to the capital markets for financing. Also, Nio might issue and sell convertible notes, as a rep stated during the latest Q&A session. In any case, this move could affect the current shareholders, leading to stock price depreciation.   
Moreover, from a technical analysis standpoint, NIO stock is breaking out of the critical resistance level of $4.00. With that being said, recent options bets suggest a high probability that the stock will stay above $4.00 in the coming weeks. So let's take a look at this options trade.
Article continues below advertisement
Options activity in Nio stock
On Tuesday, there was a purchase of February calls for NIO. A trader purchased approximately 2,100 February 21 $4.50 call options for $0.45 per contract. Also, another trader bought around 1,900 February 21 $5.00 call options for $0.34 per contract.
After markets closed, the stock was priced at $4.02. This level means that if the stock reaches the strike prices purchased, the equity has a potential upside of 14.5% and 30.5%, respectively. If the option buyer plans to hold the options the whole time to their expiration, the price they'd need to earn a profit would be $4.95 for $4.5 calls and $5.34 for $5 calls, if we're excluding costs and commissions.  
Since the trade completed, the stock price increased from $3.83 to $4.02 after markets closed on December 31. With that increase in mind, I think the potential common stock upside has plunged from 30.5% to 24.3%—if the stock can reach the $5.00 strike price by the February expiration date.  
Why AAPL is another standout stock this week
On December 30, Apple stock (AAPL) got a compelling outlook from a Citi analyst. Citi analyst Jim Suva said that strong demand for Apple's AirPods Pro and Watches will surprise investors when the company issues its first-quarter figures on February 4.
Suva is convinced that the several-weeks-long AirPods Pro delay during the holiday season was due to strong demand. And he has a $300 price target on AAPL stock. According to TipRanks, AAPL is a "moderate buy" with an average price target of $267.57, representing an 8.8% downside.
Unusual options activity in AAPL
There have been more than 30 bullish options trades in AAPL over the past two trading sessions. For this reason, I want to consider only the largest transaction. On Tuesday, there was a purchase of 13,447 $292.50 January 10 call options for $5.15 per contract. Apple stock closed trading with the share price of 293.65, which means common stock upside potential of about 1.4% if the stock can rise above 297.65 by January 10.
Since the trade was initiated, AAPL's stock price has increased from $291.26 to $293.65 after the market closed on December 31. With that increase in mind, I'd say the potential common stock upside has decreased from 2.2% to 1.4% if the stock could the $292.50 strike price by the expiration date.  
If you're looking for more my Market Realist technical analysis, check out my recent articles Micron's Stock Rally Might Just Be Getting Started and Why Tesla Stock Still Has Big Upside Potential.