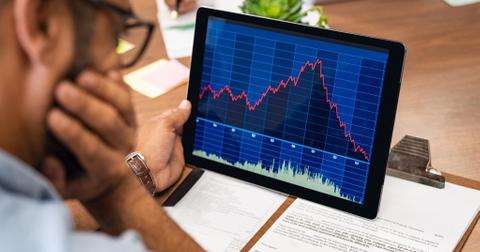 Merger Spotlight: Has Sprint Stock Bottomed Out?
By Ambrish Shah

Updated
On Tuesday, Sprint (NYSE:S) was trading at $4.86—a fall of 6.72% since the beginning of 2020. The company was also trading at a discount of 39.7% to its 52-week high of $8.06 and at a premium of 2.1% to its 52-week low of $4.76. In the last 12 months, Sprint stock has fallen 22%. The stock price fell due to company's pending merger deal with T-Mobile (NYSE:TMUS), high debt levels, and weak financial results.
Sprint has underperformed its telecom peers and the broader equity markets. In the last 12 months, T-Mobile and AT&T (NYSE:T) have risen 17.5% and 24.4%, respectively, as of Tuesday. The S&P 500 Index has risen by 25.8% during the same period.
Given such a steep fall, has Sprint's stock price bottomed out? First, we'll look at analysts' expectations for fiscal 2019 and fiscal 2020.
Sprint's growth projection
Wall Street analysts expect Sprint to post sales of $8.2 billion in the third quarter of fiscal 2019 ended in December. The figure would mark a fall of 4.4% YoY (year-over-year) compared to $8.6 billion in the third quarter of fiscal 2018. Also, analysts expect the company to post an EPS of -$0.05 in the third quarter of fiscal 2019 compared to -$0.03 in the third quarter of fiscal 2018.
Currently, analysts expect a 3.6% and 0.6% fall in the company's fiscal 2019 and 2020 sales, respectively. Meanwhile, they expect an EPS of -$0.16 and -$0.10 in fiscal 2019 and 2020, respectively.
T-Mobile will likely post sales of $11.8 billion in the fourth quarter—a rise of 3.2% YoY from sales of $11.4 billion in the fourth quarter of 2018. Also, analysts expect an adjusted EPS of $0.84 in the fourth quarter compared to $0.75 in the fourth quarter of 2018.
Analysts expect AT&T to post an adjusted EPS of $0.87 on revenue of $47.0 billion in the fourth quarter.
T-Mobile and Sprint merger deal
Today, US Federal Judge Victor Marrero will hear the closing arguments in the T-Mobile and Sprint merger antitrust trial in a Manhattan court. According to a Reuters report, "U.S. wireless carriers T-Mobile US Inc and Sprint Corp are expected to urge a federal judge on Wednesday to let them proceed with their $26.5 billion merger, as a group of states argues the deal violates federal antitrust laws."
The report also said, "The states filed a lawsuit in June in a bid to block the merger, saying it would lead to higher prices for consumers. T-Mobile and Sprint contend that the merger would enable the combined company to compete more effectively with dominant carriers Verizon Communications Inc and AT&T Inc."
In July 2019, the Department of Justice conditionally approved the merger deal. The antitrust regulator approved the deal after the proposed new T-Mobile agreed to sell some assets to satellite TV operator Dish Network (NASDAQ:DISH). Dish will likely create its own wireless network by replacing Sprint. The FCC approved the deal late last year.
During the antitrust trial in December 2019, T-Mobile CEO John Legere testified that Sprint couldn't survive on a standalone basis. The multistate lawsuit is led by New York and California state attorneys general. The states argued that Dish can't replace Sprint as a satellite provider. They said that the company isn't experienced. Dish hasn't deployed a wireless network using the spectrum airwaves it already possessed.
Analysts' recommendations
Among the 17 analysts that follow Sprint, only two recommend a "buy," 13 recommend a "hold," and two recommend a "sell." As of Tuesday, analysts' consensus target price is $6.41, which implies a 12-month return potential of 31.9%.
Stock performance
Sprint stock closed at $4.86 on Tuesday. The stock was 5.8%, 12.1%, and 19.1% below its 20, 50, and 100-day moving averages of $5.16, $5.53, and $6.01, respectively. Sprint's 14-day RSI (relative strength index) score is 26. The RSI suggests that the stock is trading in "oversold" territory.
On Tuesday, Sprint stock closed near its lower Bollinger Band level of $4.88. The value denotes that the stock is oversold. Sprint's 14-day MACD is -0.24, which also indicates that the stock is in a downward trading trend.
I expect Sprint stock to see some pressure in the near term amid merger uncertainty. Read T-Mobile and Sprint Merger Deal, Boom or Bust? and Will a Judge Approve T-Mobile and Sprint's Merger? to learn more. You can also read Investors Keeping Their Fingers Crossed for Dish Wireless.