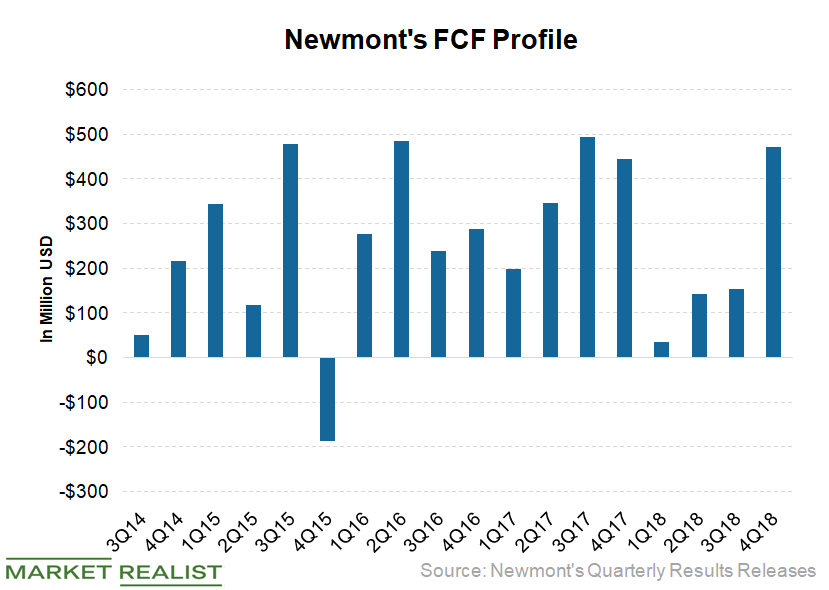 Innovative Industrial Properties Company Overview
By Nivedha Elango

Jan. 11 2020, Updated 1:15 p.m. ET
Innovative Industrial Properties, Inc. (IIPR) is the first company to focus on investing in real estate for medical marijuana companies. The company combines investments from investors and purchase real estate. Then, it leases it to companies that produce and sell medical marijuana. The portfolio of the company specializes in cannabis industry sites and greenhouse facilities. These facilities are leased only to marijuana companies with state licenses.
Initial development
Innovative Industrial Properties, Inc. was established in December 2016. The company has its headquarters in California. Innovative Industrial Properties, Inc. went public in the NYSE in 2016 under the ticker IIPR. It is the first medical cannabis real estate investment trust company to be listed on the New York Stock Exchange.
IIPR's vision is to provide creative capital to the medical cannabis industry. It does this by giving the required critical facilities to the cultivators for lease. Presently, the company's management consists of executive chairman Alan Gold; CEO, president, and director Paul Smithers; and CFO Catherine Hastings.
IIPR's portfolio
IIPR's portfolio consists of manufacturing and greenhouse facilities specialized for medical cannabis products. All the marijuana companies under the IIPR portfolio have the required state licenses. These IIPR facilities are well-situated in the states. Also, they are in environments that are robust for regulated medical marijuana.
By calculating their total investment IIPR's top clients are PharmaCann, Trulieve (TRUL), Green Peak Innovations, Holistic Industries, and Ascend Wellness Holdings (AWH). Other clients include Green Thumb Industries (GTBIF), Cresco Labs (CRLBF), Vireo (VREOF), Grassroots, and LivWell (LVWL).
Other than these, the company provides facilities for California Portfolio, DionyMed Brands Inc, Vertical, The Green Solution. Also, Emerald Growth Partners, MJardin, and Maitri Genetics use their facilities.
Geographical footprint
As per IIPR's investor presentation updated on December 16, 2019,  the company owns 42 properties spread across 13 states. In addition, The company has rentable properties of 2.9 million square feet, including roughly 903,000-square-foot properties that are under repairs or development.
IIPR's total invested capital stands at $588.7 million. This also includes the original purchase prices and the cost of improvements. The capital costs of $588.7 million consist of IIPR's construction funding of $431.2 million and tenents improvement reimbursements of $157.5 million. Also, all the properties under IIPR are 100% leased.
IIPR contracts and revenues
Innovative Industrial Properties buys industrial facilities and retail outlets from medical cannabis players that have state licenses. The properties are then leased back to the operators under long-term agreements. IIPR focuses on marijuana companies that are well-capitalized and have state licenses by going through the rigorous process.
The company functions as a source of capital for medical marijuana companies by buying and leasing back their facilities. This system allows marijuana companies to deploy their resources into other core operations. Furthermore, this will yield more returns compared to the return from owning real estate. IIPR buys all types of real estates from licensed medical cannabis operators. So, these include cultivation sites, processing facilities, distribution, and retail outlets.
IIPR's sale-leaseback contracts consist of deal size, additional expansion plans, and its values, lease term. Also, it consists of base rent for the first year, annual increments in the base rent, security deposits, transaction timeline, and corporate guaranty. IIPR's target deal size starts at $5 million and goes on to more than $30 million.
The company's typical lease term will be in the range of 10—20 years. IIPR's weighted average of current lease periods stands at 15.5 years. IIPR usually charges base rent at the rate of 10%—16% on the investment with annual rent increments of 3%—4.5%. Also, the company generally takes 30—60 days to close the whole agreement process.
IIPR financials
IIPR recently reported its Q3 results for the period that ended on September 30, 2019. The company made $11.2 million in revenue from commercial rent for that period implying an almost 200% increase from the third quarter in 2018. Also, the company reported a net income of $6.2 million for the third quarter. Further, IIPR paid $0.78 per share as a quarterly dividend in October 2019 implying a 30% increase from the second quarter's dividend. It also signifies a 123% improvement from the third quarter in 2018.
Further, IIPR reported $26.1 million in revenue as commercial rent for the nine months of the fiscal year 2019. This implies an increase of almost three-fold of 2018 third-quarter revenue of $9.6 million. This increase is a result of buying new properties and contractual annual rent increments. For the nine months in the fiscal year 2019, IIPR reported $12.6 million in net income and $1.20 per share. To know more about IIPR financials, find Rajiv Nanjapla's updates on IIPR Q3 earnings.
IIPR's share updates
In the past few months, IIPR has been busy resizing its share capital. The company completed a public offering in July that resulted in $180.1 million net proceeds. In September, the company entered into an agreement to sell equities. The company adopted "at the market" share offering program. By this program, the company planned to issue common stock worth $250 million. In the next couple of months, the company issued shares worth $46.9 million through this program.
IIPR's share is currently trading at $78. The share is trading along the same line month-to-date without any significant difference. The company's stock price gained almost 60% during the year. However, IIPR's share lost almost 38% in the last six months.
IIPR recent updates and 2020 outlook
In the last three months, IIPR bought about seven properties. Most of these properties are located in Illinois and Pennsylvania. The company entered into long-term agreements for Illinois properties with Cresco Labs, Grassroots, and PharmaCann. In addition to this, the company entered into long-term agreements with Grassroots, Green Thumb Industries, and PharmaCann for Pennsylvania properties.
IIPR is already working on expanding its portfolio. The company plans to use the growing potential of the medical marijuana market in the US. Further, the company is in various stages of discussions and negotiations for more acquisitions. IIPR's strategy is to improve both existing tenants' partnerships and add new tenants. In addition, the company plans to use the proceeds from the share offerings to buy more specialized cannabis industry real estate properties.
Article continues below advertisement