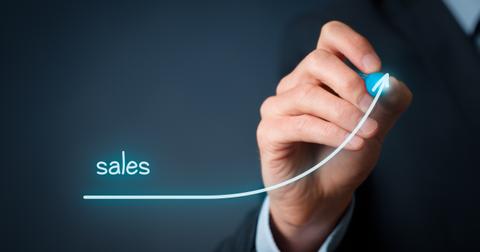 Illegal Sales Continue to Haunt Cannabis Companies
By Rajiv Nanjapla

Updated
On January 23, Statistics Canada announced that the average price of marijuana increased in the fourth quarter. For the quarter, the overall average cannabis price rose from 7.35 Canadian dollars to 7.50 Canadian dollars. During the same period, the legal marijuana price increased from 10.12 Canadian dollars to 10.30 Canadian dollars. Meanwhile, the illegal marijuana price also increased from 5.65 Canadian dollars to 5.73 Canadian dollars.
Article continues below advertisement
The increase in legal cannabis prices widened the gap between legal and illegal marijuana prices. For the fourth quarter of 2019, the difference between the legal and illicit cannabis prices was 4.57 Canadian dollars. The difference was higher than 4.47 Canadian dollars in the third quarter of 2019 and 3.25 Canadian dollars in the fourth quarter of 2018. However, the fourth-quarter price difference was lower than 4.72 Canadian dollars recorded in the second quarter of 2019.
Illegal cannabis sales continue to thrive
Statistics Canada announced that in the third quarter of 2019, Canadians spent 1.5 Canadian dollars on cannabis. Only 38.2% of the purchases were from legal sources. So, 61.8% of the purchases were from illegal sources. Statistics Canada also said that more female customers buy marijuana legally compared to male customers. The report said that 52.4% of the cannabis purchases made by female customers were legal. In contrast, only 38.2% of the purchases made by male customers were legal.
A significant amount of cannabis purchases still occur through illegal sources, which has been a major concern for cannabis companies. Also, the widening price gap could put pressure on cannabis companies to lower their price, which could hurt their margins.
Article continues below advertisement
In the third quarter, 60.7% of the cannabis purchases were dried flowers, which was followed by vapes with 19.5% and edibles with 7.0%. During that period, only dried flower and cannabis oil were available legally. On October 17, 2019, Canada legalized the sales of cannabis-derivatives or Cannabis 2.0 products. However, Health Canada set a notice period of 60 days to approve the products. So, the companies introduced their Cannabis 2.0 products on or after December 17.
According to Statistics Canada, the total sales of dried flowers and oil stood at 971 million Canadian dollars in the third quarter. Of the sales, 572 million Canadian dollars or 58.9% were from government licensed distributors.
Our take on Statistics Canada's data
Statistics Canada's report indicated a strong demand for Cannabis 2.0 products like vapes and edibles. Some of the marijuana companies already introduced their cannabis-derived products. Many other companies will introduce their products soon. As a result, we expect marijuana companies' sales to improve this year. Also, 58.9% of the customers purchase legal product categories, like dry flowers and oil, from authorized sources. So, we expect more people to buy marijuana legally going forward. We hope that all of these factors will drive the cannabis sector this year.
Overall, 2019 was rough for the marijuana sector. During the period, the ETFMG Alternative Harvest ETF (NYSE:MJ) and the Horizons Marijuana Life Sciences Index ETF (TSE:HMMJ) fell by 31.4% and 39%, respectively. So far in 2020, there has been some positive movement in the sector. In 2020, MJ and HMMJ have increased by 1.8% and 4.5%, respectively, as of January 24. Optimism about the introduction of Cannabis 2.0 products helped the sector to rise. Read Did the Cannabis Sector Bottom Out in 2019? to learn more. Canopy Growth (NYSE:CGC), Cronos Group (NASDAQ:CRON), and Aphria (NYSE:APHA) have returned 9.0%, 0.2%, and 2.2%, YTD, respectively.